adimas - Fotolia
Domain-specific BI vendors gain foothold with expertise
While leading BI vendors target large audiences with their analytics tools, many other companies target a single specialized industry and use their expertise to best serve users.
They're tiny compared with the giants of the business intelligence space, and some have only been in existence a few years as organizations have widely adopted analytics, but domain-specific BI vendors touting a specialized area of expertise are popping up across the BI and analytics landscape.
Soundcharts, for example, sells an analytics suite for the music business. The Tessitura Network provides business intelligence, among other services, for arts and culture organizations. Flowhub targets the cannabis industry. Sports Alliance, as its names suggests, is geared toward the sports world.
And there are others.
The challenge for domain-specific BI enterprises as they compete for customers against established BI vendors is differentiation, providing a more adapted analytics platform for a narrow audience based on specialization and expertise than those built for general audiences like Microsoft Power BI or Tableau can.
"Bringing analytics back to the reason they exist -- it's about doing business better," said Dave Menninger, research director of data and analytics research at Ventana Research. "The whole purpose of analytics is to do your job better. The easier we can make it for line-of-business people to do their jobs better, the better we're servicing industries."
If domain-specific vendors are able to overcome the hurdle of establishing differentiation, it becomes their advantage.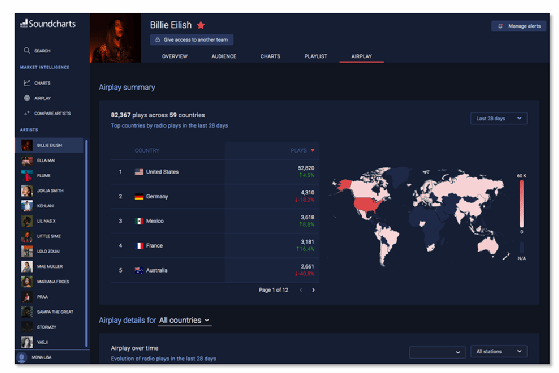 Specialization
Dashboards are all essentially similar.
As a user sits at their desk and views charts and graphs and other data visualizations, whether it's a Tableau or Domo dashboard or one from a domain-specific BI vendor, the look is largely the same.
The difference between what's on the screen of a ThoughtSpot user -- or Power BI, Qlik, MicroStrategy, etc. -- and what's displayed to a Tessitura or Soundcharts user is how the data got to that dashboard.
"The power is in the data model," said John Jakovich, Tessitura's vice president of business intelligence.
Tessitura, which beyond offering BI capabilities is at its core a customer relationship management (CRM) provider, stands out in that it's a nonprofit organization. It began as a result of the New York Metropolitan Opera House's frustration with ticketing and fundraising inefficiencies, and in 2001 the "Met," along with six other cultural organizations, launched the Tessitura Network. Since then, more than 650 arts and culture organizations have joined.
"We've built reporting into an optimized data model," Jakovich said.
With a general audience tool, finding the right data is often difficult. Data is everywhere, and the specific information relevant to a museum or art gallery -- or marijuana dispensary or high school athletics department -- isn't necessarily easy to locate.
If you're not using [a domain-specific] tool you're spending time munging data. We've premunged the data and put a data model on top of it. We're making it easy for them to do analytics by doing the data preparation.

John JakovichVice president of business intelligence, Tessitura Network
Tessitura, because of its narrow audience, can do much of the searching and transforming of data -- data munging -- in advance before embedding the relevant data into the BI application it provides to its members.
"If you're not using [a domain-specific] tool you're spending time munging data," Jakovich said. "We've premunged the data and put a data model on top of it. We're doing the hard work for them. We're making it easy for them to do analytics by doing the data preparation."
Similarly, Soundcharts uses its specialized knowledge of the music business to make analytics easier for industry insiders than can a general-audience BI vendor.
The data used by the music industry is highly specific: it's how frequently a song is played on the radio, how many times a song is streamed, what region an artist is selling more albums than another, where tickets for an artist sell out in just a few hours compared with where they don't sell out at all, and more.
It's not simply sales figures, or operating costs.
"The data we have is not available to grab and put on Tableau," said David Weiszfeld, CEO of Soundcharts. "If you need to see the number of radio plays for an artist, you need to find a company that has that data. Our platform is not showing data that's centralized elsewhere."
Weiszfeld added that while Soundcharts counts many of the music business' largest companies among its clients, many of its customers are small and medium-sized businesses.
Their employees are not, and don't necessarily have the financial resources to hire people with those skills.
"Those people just want to see insights," Weiszfeld said. "They don't want to create an [application programming interface]. We still do a lot of education on how to use data in music. If you use [a general-audience platform], you already know."
Competition
While specialization provides vendors an entry into analytics, it's no guarantee of staying power.
There's a reason Microsoft Power BI, Qlik and Tableau and others have been around as long as they have and have attracted large numbers of customers. They're good at what they do. And they evolve to meet the needs of potential customers.
The next wave of innovation will likely center around augmented intelligence and machine learning, tools that will help BI vendors better understand the habits of users in order to better get them the data they need.
Domain-specific BI vendors, just as they're doing now by using their expertise, will have to find a way to remain apart -- just as they have to separate themselves from competition within their specialized domain.
"We're looking into ways AI can augment our CRM," Jakovich said. "It's already happening in our industry. Our licensees are engaging with consultants to do predictive models -- so how can we premunge data to push those products forward? We're looking at how to make it easier to facilitate AI projects on behalf of our members."
Meanwhile, just as Tessitura is embedding relevant data for its users, general-audience BI platforms are embedding data to streamline the user experience.
"All aspects of BI will have to start being more embedded in applications," Menninger said. "We predict that by 2021 more than half will be. There's no reason to have analysts for analysis -- it should be part of the application."
Still another challenge domain-specific BI vendors will face is that general-audience BI vendors are starting to offer products aimed at specific domains.
SAP, for example, has a whole suite of analytics tools for the sports world. And the multinational software giant is not alone.
"Coming out of the Salesforce-Tableau merger I think you can expect to see more Salesforce [analytics products] that could be domain-specific," Menninger said, adding that Qlik has some domain-specific templates.
But just as some general-audience BI vendors are creating tools aimed at niche audiences, it's possible that domain-specific BI vendors will push back by expanding their areas of expertise.
Soundcharts is still perfecting its data mining of the music business, and according to Weiszfeld there are still types of music data Soundcharts isn't yet tracking. But perhaps in the future, once it's done all it can for music industry insiders, it will look at something new.
"Maybe they would transition into supporting the online video industry, and from there digital media and communication," Menninger said. "They can create a proven business model, and that's their specialty more than the platform."
Next phase
Specialization, just like AI and machine learning from a technological perspective, might be part of the future of analytics.
Maybe, just as some general-audience vendors are starting to offer tools aimed at specific domains, more and more domain-specific BI vendors are going to begin their own operations and target audiences and industries now in their infancy. For example, it might have been hard to imagine a legal cannabis industry in need of analytics 10 to 15 years ago.
Through hyperspecialized expertise, domain-specific BI vendors are showing that they're able to provide their audiences somewhat better data than general-audience BI vendors -- at least for now. So maybe many other vendors will follow them, using specialization as their entryway into a mature market.
"The question is where are the metrics, and are they clean?" Weiszfeld said. "In music, clean data never existed. You want the platform with the cleanest data, things that are relevant only to your industry. If someone is doing the data for all industries -- diaper sales, for example -- they're going to get music wrong."
Then again, maybe, domain-specific BI vendors and general-audience BI vendors will eventually combine forces.
Many of the major BI platforms popular today -- IBM's Cognos, Tibco's Spotfire and SAP's BusinessObjects, for example, were once stand-alone companies. Tableau was just acquired by Salesforce, and Looker by Google.
"It has to do with the business model," Jakovich said. "It's about getting the zeitgeist of what's going on."