Argus - Fotolia
Manchester City F.C. plans to score with SAP Challenger Insights
The reigning Premier League champion is using SAP Challenger Insights, a tablet application based on SAP Cloud Platform, to get insights into player performance and opponent tactics during games.
If Manchester City F.C. wins the Premier League for a second consecutive year, a big assist may have to go to a new SAP mobile application.
Man. City, a prominent soccer team in England, is locked in a tight battle with rival Liverpool to retain the championship in one of the world's top soccer leagues, and the team is looking for any edge it can get. One prime asset in this year's battle is SAP Challenger Insights, a tablet-based application that coaches and players can use during the game to get insights into their players and opponents and then use those insights to make tactical changes.
During last year's championship season, Man. City used the app to build game plans, make halftime adjustments and plan for future matches postgame, according to SAP. But coaches and players couldn't access the app during the game.
In March, the Premier League changed that rule, allowing teams to use small hand-held devices and streaming data on the sidelines during matches. So, Man. City worked with SAP to develop a version of SAP Challenger Insights specific to its needs for in-game use.
Man. City coaches and players use the SAP Challenger Insights app to plan set pieces, such as free kicks or corner kicks; communicate in-game changes to offensive and defensive tactical strategies; and deliver real-time insights on opponent strengths and weaknesses. Coaches can also use it to analyze player performance and determine when to make substitutions and who to substitute.
In-game insights
SAP Challenger Insights gets me ready for the game and gives me a greater understanding about the players I'll be coming up against.

Vincent KompanyManchester City team captain
"SAP Challenger Insights ... gets me ready for the game and gives me a greater understanding about the players I'll be coming up against," said Vincent Kompany, Man. City team captain, in a statement.
"SAP Challenger Insights helps bring the coaches' instructions to life, so I have a constant reminder of how we are approaching each different game," said striker Sergio Aguero, also in a statement.
The SAP Challenger Insights app uses SAP Sports One, software developed in 2013 with sports organizations -- specifically soccer -- in mind, said Fadi Naoum, SAP's senior vice president of sports and entertainment. He said the software was designed to give sports teams an end-to-end system to manage performance and player communication.
"When we started, we were astonished that so many clubs had so many different [technology] solutions for each different area -- for player fitness, for scouting, for performance diagnostics, for video analysis -- and they were using WhatsApp to communicate with each other," Naoum said. "So, this was our big challenge, to build an end-to-end system that would cover all the different areas."
SAP Sports One has more than 60 customers, including Man. City, Bayern Munich and the German national football team. The feedback they gave SAP was used to develop a version they could use during games. So, SAP did. SAP Sports One and SAP Challenger Insights are cloud-based, enabled by the SAP Cloud Platform, and releases with new functionality are delivered every three weeks.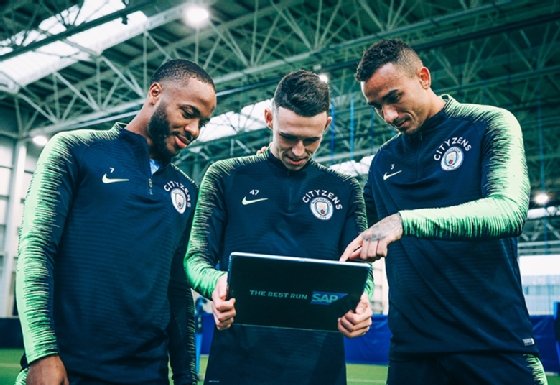 Analyzing player strengths and weaknesses
The app's goal is to provide players and coaches with insights that can help them win games.
"If they are playing a team, and information about who is playing changes, they need to have this information, they need to know who their opponents are and what's more important for the players at halftime to see how your opponents are [playing], what are the strengths and weaknesses," Naoum explained. "With SAP Challenger Insights, you can watch videos, and it's much easier for the players to understand this, rather than just writing it on a board."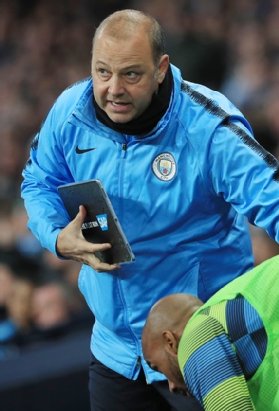 SAP Sports One uses a variety of data from historical information about player tendencies, strengths and weaknesses, to data that streams in during games. But keeping the SAP Challenger Insights application as simple as possible was critical, Naoum said.
"It was important for the players to consume this information quickly, because they don't have much time," he said. "It was important that the system should be very simple to use, as many had said, 'We don't want SAP, because we use it for our accounting system and it's too complicated.' So, we focused on a very useful system that's easy to use."
Manchester City F.C.'s parent corporation, City Football Group (CFG), operates six other professional soccer clubs around the world and has used SAP applications to run operations for years. SAP is CFG's "official cloud software provider," and the organization has developed and implemented several SAP Cloud Platform-based applications for purposes like business development and fan experience enhancements.
Dig Deeper on SAP infrastructure and cloud