Definition
SAP SuccessFactors
What is SAP SuccessFactors?
SAP SuccessFactors is a leading suite of cloud-based talent management and human capital management (HCM) software. Organizations use SAP SuccessFactors to manage various aspects of HR operations, including recruitment, employee performance, HR analytics, payroll and learning activities.
SuccessFactors was founded in 2001; SAP acquired SuccessFactors in 2012 to extend the cloud-based HCM functionality to enterprise systems. SAP SuccessFactors is based on the software as a service (SaaS) model. It is considered the next generation of HCM suites, and its latest iteration is called the SAP SuccessFactors Human Experience Management (HXM) Suite, which offers individualized employee experiences.
SAP SuccessFactors is compatible with various legacy frameworks. According to the SAP website, it's used by over 220 million users in more than 200 countries and territories around the world.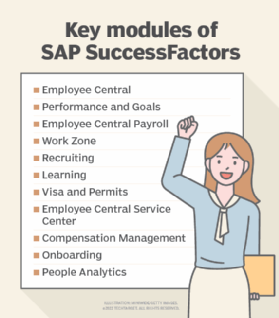 Key features of SAP SuccessFactors
The SuccessFactors suite includes a variety of talent tools divided into modules. The capabilities included in the suite cover the traditional four pillars of human resource management: recruiting, learning and development, performance management and compensation management. The suite also has onboarding and time and attendance software, as well as modules for workforce planning and people analytics.
The following are some of the most used HR and talent management modules included in SAP SuccessFactors:
Employee Central. As the core HR hub of the SAP SuccessFactors product line, Employee Central serves as the HR system of record. It's a data repository that stores employee data, such as addresses, Social Security numbers and national identification numbers, salary and benefits enrollments. It may also contain regulatory compliance records, time tracking and attendance, global benefits administration, and information about job titles and the reporting structure. Employee Central has both manager and employee self-service functions that bring HR closer to the employees and empower them to make some changes without HR assistance.
Performance and Goals. This was the first module made available by SAP SuccessFactors. It provides continuous performance management (CPM) features, enabling employees to measure their performance and progress in real time. Managers can also use this module to communicate with employees regarding their objectives.
Employee Central Payroll. This cloud payroll management software is designed to simplify global payroll processes. Employee Central Payroll automates and accelerates payment processing, enabling timely payments with minimal errors. It also combines processes into a centralized platform localized for more than 48 regions, reducing HR costs.
Work Zone. SAP Work Zone for HR provides a centralized workspace and a dashboard where employees can access several applications. It simplifies functions such as company communications, assigned tasks and help features. Companies can incorporate artificial intelligence-based workflows such as chatbots into the Work Zone.
Recruiting. The recruiting option is geared toward the hiring process and includes the following three core modules:

Recruiting Management, an SAP SuccessFactors mobile and collaborative recruiting management platform;
Recruiting Marketing, a social recruiting marketing platform that includes a search engine optimization career website builder; and
Recruiting Posting, a platform used to post jobs on different job boards.

Learning. This module is SAP SuccessFactors' learning management system. It fosters a continuous learning user experience for employees through the use of social and mobile features. Supervisors create courses that automatically link to staff members and can be tracked via various SuccessFactors tools.
Visa and Permits. This software enables the automation of HR compliance processes. Employees track and manage the progress of their employment visas and work permits and receive notifications of any process hurdles through the visa and permits analytics. This module helps organizations stay compliant with visa and work permit laws and regulations and avoid penalties.
Employee Central Service Center. This comprehensive HR delivery system provides an integrated knowledge base for personalized HR policies and access to the HR helpdesk. Employees can simply click an Ask HR button from anywhere in SAP SuccessFactors to locate the information they need instead of opening a helpdesk ticket.
Compensation Management. The compensation management software enables HR to build and manage strategic compensation programs that reflect the needs of the business, employees and the corresponding budget. It offers easy access to various compensation types, including budgeting, bonuses, merit-based compensation and pay raises in real time. A Variable Pay module enables users to calculate variable-based compensation. It includes features such as historical data, tracking and budgeting.
Onboarding. This module orients new hires and facilitates cross-departmental moves. It also includes offboarding functions to help with the employee departure process. New hires access required documents, interact with colleagues and find an overview of team members through the New Hire portal. HR typically uses the onboarding portal to grant access permissions to new hires.
People Analytics. This module is SAP SuccessFactors' approach to workforce analytics, workforce planning and all reporting for SAP SuccessFactors. Based on SAP Analytics cloud technology, it lets users create workforce management plans and examine the data through the People Analytics portal. It can perform workforce planning using HR data, conduct predictive analysis and modeling, and build various types of reports and dashboards.
History of SuccessFactors
Lars Dalgaard founded the company SuccessFactors in 2001. During its first decade, SuccessFactors acquired five companies to bolster its cloud-based offerings. SuccessFactors went public in 2007.
In early 2012, SAP acquired SuccessFactors for $3.4 billion and made it an indirectly wholly owned subsidiary. It was renamed SAP SuccessFactors. At the time, the acquisition was seen as a major effort by SAP to get further into the emerging SaaS business applications market.
Industry analysts viewed the SuccessFactors acquisition as a significant competitive move against Oracle, SAP's biggest rival in enterprise apps. Soon after, in April 2012, Oracle bought Taleo, a SaaS recruitment and talent management software developer, for $1.9 billion.
SAP SuccessFactors is headquartered in South San Francisco, Calif.
Benefits of SAP SuccessFactors
SAP SuccessFactors provides many advantages for HR departments, including the following:
Scalability. Because of their deployment in the cloud, SAP SuccessFactors modules offer great scalability and unlimited extensibility of resources.
Streamlined HR. The cloud-based integrated suite of applications with its core HR, payroll, talent, analytics and HR process modules standardizes and streamlines HR functions.
Recruiting and HR functions. SAP SuccessFactors offers end-to-end recruiting capabilities and HR selection processes, such as managing people profiles, organizational charts, employee benefits, and time and attendance.
Goal maintenance. The Performance and Goals module provides a simple way for employees to track and maintain professional and personal goals in real time.
Easy onboarding. SuccessFactors makes onboarding a planned process and enables organizations to provide a digital orientation process to new hires. It also facilities the training of new hires in a way that HR can control and schedule.
Performance review and goal management. SAP SuccessFactors offers centrally stored performance reviews to help HR and management promote talent within the organization. For employees, it offers CPM features and metrics, enabling them to measure their performance and progress in real time.
Continuous learning. Organizations can use SuccessFactors to create a learning management policy that fosters continuous learning among employees. Companies can use this platform to plan training courses, award and view certificates, and get reminder notifications for dates.
Challenges with SuccessFactors
While SAP SuccessFactors provides a range HR capabilities, there are some areas that businesses should consider before transitioning to SuccessFactors.
Legacy integrations. As a SaaS vendor acquired by another vendor, SAP SuccessFactors faces the challenges of integrating with the legacy HCM and enterprise resource planning applications of its parent company. A large part of its original customer base added SuccessFactors for the talent management features but kept core HR management systems that came from other vendors. The situation raises difficult questions about whether to add SAP SuccessFactors Employee Central and move entirely to SuccessFactors, a move that presents integration and data migration
High cost. The cost of implementing SAP SuccessFactors is high. Companies are charged on an annual subscription basis; on average, the software fees are $25 to $38 per employee, per month. SAP also charges a one-time implementation fee that is 100% to 150% of the annual software fees. On a $300,000 annual purchase, the implementation fees for an organization would be $300,000 to $450,000. Certain features, such as the SuccessFactors manager reports, are only available at an additional cost.
Limited options for small businesses. SuccessFactors is typically targeted at large organizations and their business processes. It doesn't offer core HR options, such as payroll, time and benefits to companies with fewer than 2,000 employees. This can force smaller organizations to use a different vendor or a multivendor approach for their HR needs.
Third-party sales model. SuccessFactors is based on a third-party network that sells, maintains and runs the system. This can sometimes add additional consulting costs.
Picking the right HR software can be a daunting process for most businesses. Take a look at popular HR software vendors and get more information on their pros and cons.
This was last updated in
November 2022
Continue Reading About SAP SuccessFactors