Definition
human resource management (HRM)
What is human resource management (HRM)?
Human resource management (HRM) is the practice of recruiting, hiring, deploying and managing an organization's employees. HRM is often referred to simply as human resources (HR). A company or organization's HR department is usually responsible for creating, putting into effect and overseeing policies governing workers and the relationship of the organization with its employees. The term human resources was first used in the early 1900s, and then more widely in the 1960s, to describe the people who work for the organization, in aggregate.
HRM is employee management with an emphasis on employees as assets of the business. In this context, employees are sometimes referred to as human capital. As with other business assets, the goal is to make effective use of employees, reducing risk and maximizing return on investment (ROI).
The modern term human capital management (HCM) is often used by large and midsize companies when discussing HR technology.
The importance of human resource management
The purpose of HRM practices is to manage the people within a workplace to achieve the organization's mission and reinforce the corporate culture. When people management is done effectively, HR managers can help recruit new employees who have the skills to further the company's goals. HR professionals also aid in the training and professional development of employees to meet the organization's objectives.
A company is only as good as its employees, making HRM a crucial part of maintaining or improving the health of the business. Additionally, HR managers monitor the state of the job market to help the organization stay competitive. This could include ensuring compensation and benefits are competitive, events are planned to keep employees from burning out and job roles are adapted based on the market.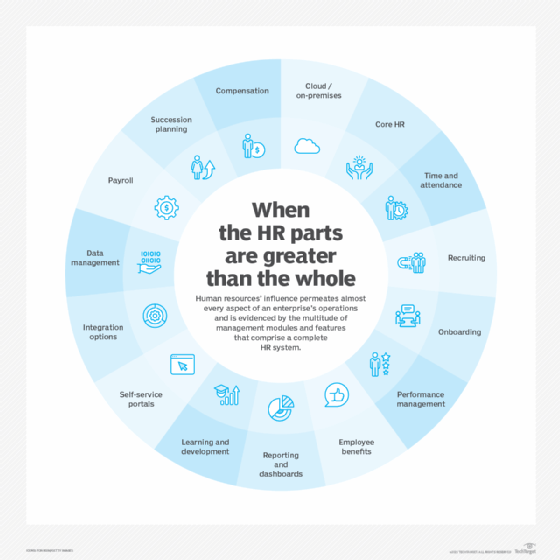 How does HRM work?
HR professionals manage the day-to-day execution of HR-related functions. Typically, human resources is a standalone department within an organization.
HR departments vary in the size, structure and nature of their individual positions. For small organizations, one HR generalist might perform a broad array of functions. Larger organizations have several HR professionals who handle specialized roles, such as recruiting, immigration and visas, talent management, employee benefits and compensation. Though these HR positions are specialized, job functions might still overlap.
Amazon is an example of a large company with multiple types of specialized HR positions. The company's career website lists the following HR job titles:
HR assistant.
HR business partner.
HR manager.
Recruiter.
Recruiting coordinator.
Recruiting manager.
Immigration specialist.
Leave of absence and accommodation specialist.
Compensation specialist or manager.
Benefits specialist or manager.
Talent management specialist or manager.
Learning and development specialist or manager.
HR technology or process project program manager.
HR analytics specialist or manager.
Objectives of human resource management
HRM can be broken down into the following four category objectives:
Societal objectives. These are measures put in place to respond to the ethical and social needs or challenges of the company and its employees. This includes legal issues such as equal opportunity and equal pay for equal work.
Organizational objectives. These are actions taken to ensure organizational efficiency, including providing the appropriate training, hiring the right number of employees for a given task and maintaining high employee retention rates.
Functional objectives. These are the guidelines used to keep HR functioning properly within the organization. They include ensuring all HR resources are allocated to their full potential.
Personal objectives. These are the resources used to support the personal goals of each employee. They include opportunities for education and career development, as well as maintaining employee satisfaction.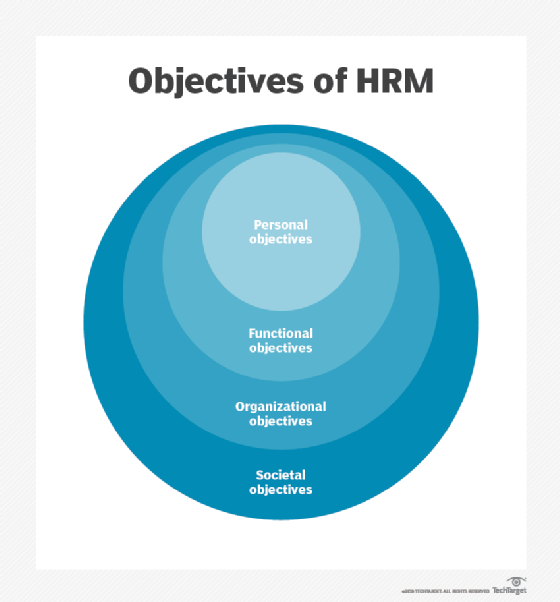 More specific objectives of HRM include the following:
Provide and maintain productive employees.
Make full use of the skills and abilities of each employee.
Ensure employees have and receive the proper training.
Build and maintain a positive employee experience with high satisfaction and quality of life, so that employees can contribute their best efforts to their work.
Communicate company policies, procedures, rules and regulations to employees.
Maintain ethical, legal and socially responsible policies and behaviors in the workplace.
Manage internal and external changes that might affect employees and staffing.
Skills and responsibilities of an HR manager
HRM is typically broken into pre-employment and employment phases, as well as more specific subsections, with an HR manager assigned to each one. Areas of HRM oversight include the following:
HR managers benefit from having skills and experience in a range of areas. The most essential HRM skills that professionals should possess include the following:
Communication. A high-level of verbal and written capabilities is required in most HRM jobs.
Recruitment and talent acquisition. Tasks in this area include writing job descriptions, conducting interviews, assessing candidates, negotiating offers and onboarding new employees.
Employee relations. HR managers must have labor relations skills to address grievances and build positive employee experiences.
Compliance with legal requirements. HR managers must be up to date with employment laws and regulations.
Conflict management and resolution. Mediation capabilities help HR managers resolve conflicts and other difficult situations.
Performance management. Managers must set performance standards and help employees develop skills to achieve them.
Strategic thinking. HR manager jobs require high-level thinking, such as aligning HR strategies with the company's goals.
Analytics. Data analysis skills help analyze workforce metrics and provide insights for decision-making.
Adaptability. HR managers must be able to deal with changing workplace and societal issues on an ongoing basis.
Ethics and confidentiality. These skills require knowledge of confidentiality and privacy requirements, as well as general and industry-specific ethical standards.
HRM software
Almost all areas of HRM have sophisticated software that automates HR processes to varying degrees, along with other features, such as analytics. For example, job candidate recruiting has seen enormous growth in the number of software tools and management systems that match employers and job candidates. Those systems also manage other steps in the hiring process, such as interviewing and vetting.
HRM software is often provided as on-premises systems. However, nearly every area of HR tech has moved to cloud-based software-as-a-service platforms.
There are several vendors in the HRM market, including ADP, BambooHR, HROne, Isolved, Paycom, Paylocity, Personio, Rippling, SAP and Workday.
HRM career opportunities and requirements
A bachelor's degree is typically required for a career in human resource management. Some colleges offer HRM degrees that provide a career path into an entry-level HR position. Another way to land a job in HR is to complete an undergraduate course of study in a related field, such as business administration.
Several years of experience in operations-heavy roles can be valuable when making a career transition to an HR position. For those lacking a relevant undergraduate degree or translatable work experience, there are HR-specific master's degree programs to help build the necessary knowledge, skills and qualifications.
HRM history
Modern human resource management can be traced back to the 18th century. The British Industrial Revolution gave rise to large factories and created an unprecedented spike in demand for workers.
With many of these laborers putting in long hours -- often clocking 16-hour workdays -- it became apparent that worker satisfaction and happiness had a strong positive correlation with productivity. Seeking to maximize ROI, worker satisfaction programs were introduced. Factory conditions, safety concerns and workers' rights also began getting attention in the late 19th and early 20th centuries.
HR departments within organizations began appearing in the 20th century. They were often known as personnel management departments that dealt with legal compliance requirements and implemented worker satisfaction and safety programs. Following WWII, the U.S. Army's training programs were used as a model in some companies that started to make employee training a point of emphasis.
Personnel departments took on the human resources label in the 1970s. The primary factor that differentiates HR from personnel management is the way technology began to be used to improve communication and access to employee information.
HRM trends
Job opportunities for careers in HRM remain strong. Companies are recognizing the strategic difference a good human resource department can make and are investing in them accordingly. As a result, HR jobs are growing in demand.
According to the U.S. Bureau of Labor Statistics (BLS), HRM job titles are expected to grow 5% in the U.S. between 2022 to 2023. Salary prospects remain strong; the median annual salary for an HR manager was approximately $130,000 in May 2022, according to the BLS. For HR specialist positions, median salaries were more than $64,000 at that same time.
Can small businesses use HRM?
Small businesses might have limited resources and a smaller workforce compared to larger companies, making HRM more difficult to implement. However, HRM principles and capabilities can be advantageous for small businesses in the following ways:
Effective hiring. Small businesses can use HRM practices to identify and attract the right talent, ensuring each employee contributes significantly to the company's success.
Compliance. Employment laws apply to businesses of all sizes. HRM can help small businesses navigate the complex legal landscape, reducing the risk of costly legal issues.
Employee development. HRM encourages investment in employee development, which can give small businesses a competitive advantage. Carefully designed training and development programs enhance employee skills and contribute to the company's growth.
Conflict resolution. Small teams are especially vulnerable to conflicts and disruptions. HRM practices provide structured methods to address and resolve conflicts and maintain a harmonious work environment.
Retention and engagement. HRM helps small businesses with close-knit work cultures foster employee engagement and loyalty, reducing turnover and recruitment costs.
Strategic planning. HRM aligns HR strategies with business goals, ensuring every HR initiative contributes to the company's strategic plans.
Scalability. As small businesses grow, their HR needs evolve. HRM practices can scale to accommodate changing workforce requirements and the demands of new organizational structures.
Human resource management is key to enterprise success. Learn how to choose the perfect HR software system.
This was last updated in
October 2023
Continue Reading About human resource management (HRM)