Definition
human capital management (HCM)
What is human capital management (HCM)?
Human capital management is a comprehensive set of practices and tools used for recruiting, managing and developing employees.
HCM connotes an approach to human resource management that views employees as assets to be invested in and managed to maximize their business value. HCM goes beyond the traditional and mostly administrative functions of HR to include more strategic disciplines, such as talent management and employee engagement.
HCM also refers to the category of software that organizations use to automate the recruitment, management and development of their workforces.
Why is human capital management important?
HCM addresses most organizations' biggest investment: people. Investing in human capital can boost employee creativity and productivity, and ultimately, an organization's profitability. Failure to practice HCM can result in missed opportunities, lost revenue and higher labor costs.
HCM can also help organizations stay ahead of major workforce trends, such as the following:
Changing demographics. As the workforce ages, new generations of workers bring different styles and needs. For example, Generation Z and millennials generally have high expectations for work-life balance.
Gig economy. The upsurge in temporary jobs by contractors and freelancers complicates scheduling, contracts and compliance with tax and employment laws.
Complex legislation. Laws and regulations change quickly, and noncompliance can lead to hefty fines and legal fees. For example, in the U.S., the Affordable Care Act, Family and Medical Leave Act, and sexual harassment laws put added pressure on organizations to stay abreast of legislation.
HR data. Organizations collect massive amounts of internal and external data about their workforces. HCM technology can help manage and analyze it.
HCM functions
The functions of HCM software are generally organized into the following categories:
Woven throughout or working alongside these HCM components are several important technologies: analytics, social media, collaboration and mobility (see figure).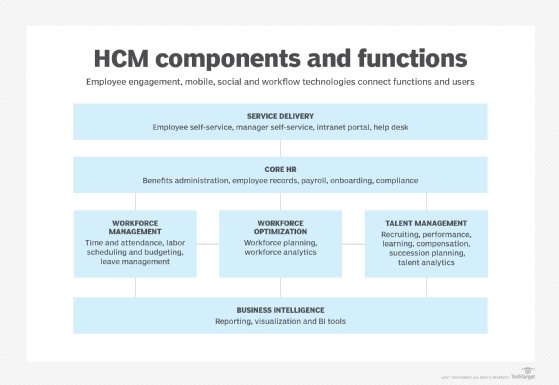 Analytics is the critical element in making HCM more strategic and aligning it with the financial success of a company. Sometimes the analytics tools are localized to a particular HCM function: For example, workforce analytics can assist with workforce optimization. Social media and collaboration tools can facilitate the frequent feedback and communication required for continuous performance management.
HCM software
The HCM category of software includes any application that handles an HCM function, such as recruiting or performance management, regardless of whether it is integrated with other HCM applications or sold by a single vendor.
However, software "suites" that support all of the typical functions of HCM have become the norm. HCM suites are sold either as components of ERP systems or as separate products that are typically integrated with ERP. Among the many vendors are ADP, BambooHR, Ceridian, Cornerstone OnDemand, Infor, Oracle, SAP SuccessFactors, UKG (formerly Ultimate Software and Kronos) and Workday.
Most organizations have a mix of HCM applications, though they usually try to integrate them to work like a single system. It is common to have an older human resource management system (HRMS) running on premises (on the organization's computers) that is connected to a newer talent management or HCM suite running in the cloud, on the vendor's computers and delivered to users over the internet. In recent years, on-premises HRMS has been superseded by software as a service (SaaS) HCM. In this type of cloud computing, the vendor usually runs one copy of the software that is shared by different customers and delivered as a service, which is usually cheaper and more standardized than on-premises software or other types of cloud.
In its 2020 Magic Quadrant report on cloud HCM suites, the Gartner research firm predicted that 60% of enterprises with more than 1,000 employees will invest in an HCM suite by 2025. It noted, however, that they would still need to source 20% to 30% of their HCM needs from other applications.
HCM vs. HRMS
HCM is one of several HR terms that sound similar and are often confused.
HCM is both a set of HR processes and the name of the category of software. In contrast, an HRMS is a set of integrated software applications and other technologies used to manage HR processes, especially core administrative ones like employee records, payroll and benefits. HR professionals will often say they have installed "an HRMS," and software vendors sometimes use the term for their suites, though HCM is more common.
HRMS is nearly synonymous with an older, less commonly used term, human resource information system (HRIS). Some people use HRIS to mean just the core administrative system, and it is the preferred acronym for the IT positions in HR departments.
Of the three, HCM is a much broader umbrella term for HR software and the one most often used by vendors.
Challenges of human capital management
Motivating people to do their best is inherently challenging, but certain areas are notoriously difficult to manage and optimize, according to HR managers.
Employee engagement is the term used to define the emotional connection employees have to the workplace, a factor known to affect productivity, profitability and customer satisfaction. Employee engagement is hard to measure and improve, but companies try numerous methods, such as collaboration tools and employee surveys, and by making key employee processes like onboarding as seamless as possible.
Leadership development requires a serious, sustained effort to recognize employees' potential for leadership positions and provide effective training.
Compensation and benefits has organizations striving to get accurate, comparable data on industry rates so they can adjust their packages to stay competitive.
Succession planning requires a view of future organizational change that is difficult to see amid more pressing needs. Many companies do an adequate job of planning transitions for senior executive positions, but there is growing recognition that the mass retirement of baby boomers will call for succession planning at other levels.
Learning management affects numerous HCM issues, but older learning management systems are often incompatible with newer, web-based training sources, and educational content is hard to curate effectively and affordably.
Employee retention avoids the many negative effects of employee turnover -- loss of institutional knowledge and higher recruitment costs, to name two big ones -- but some companies find it difficult to acknowledge why employees leave, and boosting employee retention requires an HCM strategy that is firing on all cylinders.
History of human capital management
The term human capital dates back to the 17th and 18th centuries, when economists such as Adam Smith aimed to quantify the value of labor productivity and earnings. Economic theories continue to influence HCM by providing support for the concept of employees as investments whose value to an organization depends on how skilled, productive and creative they are.
However, the true beginnings of HCM are found in the precursors to HR. The formalization of worker management into a discipline began with the growth of scientific management theories around the turn of the 20th century, including studies by Frederick Taylor about worker efficiency. Industrial psychology, another discipline born in the early 20th century, addressed the factors besides pay that influence worker productivity, such as the Hawthorne effect, an increase in output caused by being watched.
Meanwhile, the rise of labor unions spurred companies to address worker compensation, safety and health. Some sources say this is also when references to people as a "human resource" first appeared.
In the 1920s and 1930s, worker protections in social programs such as U.S. President Franklin Roosevelt's New Deal led to the rise of industrial and labor relations as a formal discipline in corporations and governments.
Around this time, personnel research became popular in academia and corporations started personnel departments. The field of personnel administration grew rapidly during World War II, and associations were formed to further it as a discipline for hiring, evaluating and compensating employees.
By the latter half of the century, organizations gained more appreciation for the idea that employees should be viewed as assets to be maximized. Some academic and public policy experts began using the term human resource to convey this idea, and personnel management soon gave way to human resource management as the name of the discipline.
Future of human capital management
There are good reasons to believe that today's HCM trends will only intensify, and advanced technologies that have emerged in recent years will begin to realize their full potential.
The new technologies are mostly being used to make HCM processes more automatic, intelligent and easy for employees and HR professionals. AI, including machine learning and natural language processing (NLP) is infiltrating most aspects of HCM.
For example, recruitment chatbots use NLP to engage in realistic text and voice conversations with job candidates. Machine learning parses resumes, saving human recruiters much of the tedium. It also analyzes video interviews and recognizes patterns in the performance reviews of high-achieving employees that it uses to evaluate candidates. Machine learning is also being applied to learning management to make Netflix-like recommendations for online training by analyzing the career paths and performance of employees.
AI-enabled chatbots, along with robotic process automation, are increasingly taking over HCM workflows for HR staff, but also greasing the skids in employee and manager self-service applications.
Such automation of repetitive HR tasks will, in theory, allow HR professionals to spend less time moving documents and answering basic questions and more time engaging in strategic work, such as talent acquisition and succession planning.
Workforce trends that were rising in the past decade have been intensified in the COVID-19 pandemic. In particular, the sharp increase in the number of full-time, work-at-home employees during the pandemic has required HR departments to hire remotely and foster engagement with remote workers through up-to-date training and onboarding tools, as well as team collaboration platforms such as video chat and messaging. These approaches and tools will likely continue, even as workers return to the office.
Finally, the contingent workforce -- temporary workers and freelancers -- will increasingly come under the purview of workforce acquisition strategies that depend on integrated HCM technology to manage full-time, part-time and contingent workers as a single talent pool.
This was last updated in
October 2021
Continue Reading About human capital management (HCM)
Dig Deeper on Core HR administration technology