Definition
core HR (core human resources)
What is core HR?
Core HR (core human resources) is an umbrella term that means the basic functions of an HR department; the basic data captured about employees; and the software used to manage basic HR processes. Core HR is typically used in three distinct ways:
to refer to the basic functions of an HR department;
to mean the basic data captured about employees; and
as shorthand for the core HR software needed to enable the first two.
Core HR functions of the human resources department
Core functions of the HR department commonly include:
employee recruitment scheduling
payroll
benefits administration
internal relations
employee training
compliance and safety
Core HR is sometimes used to mean these basic HR responsibilities in human capital management (HCM).
What is core HR information or data?
In the HR data sense, core HR means the personnel information required to legally employ and administer to employees. This includes:
employee addresses
birth dates
U.S. Social Security numbers or national identification numbers
employment eligibility forms
salary and payroll information
compliance with organizational or government rules
work hours and absence tracking; and benefits information.
Core HR information also includes information such as job descriptions and titles and organizational structures.
What is core HR software?
The term core HR has largely come to mean the core HR software, or technology, that is used to manage basic information and processes pertaining to personnel, in other words, to manage the core HR information. In this category, Oracle HCM, SAP SuccessFactors, and Workday HCM are just a few examples.
Note that core HR technology systems have long been marketed under the labels HRIS (human resources information system) and HRMS (human resource management system), but HCM has begun to displace both terms in recent years.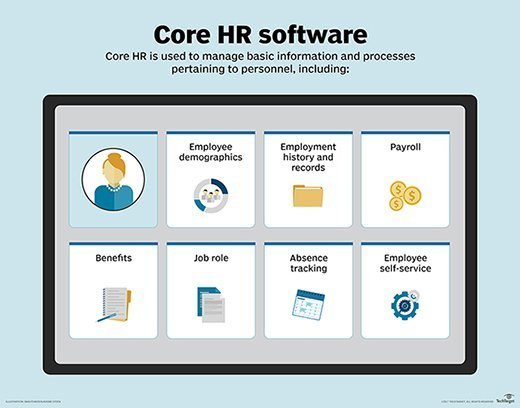 What are the functions of core HR software?
Although functions vary from vendor to vendor and specific software, core HR platforms typically store basic information about an organization's employees in a centralized database. The database contains personally identifiable information (PII) such as employee addresses, birth dates and Social Security numbers or national identification numbers, as well as other information about the employee, including:
job specifics such as title and description;
payroll information such as salary and tax withholding;
enrollment data for benefits such as health, dental and vision;
sick days and vacation days;
documentation for mandatory training; and
worker eligibility forms documenting right to work in country of employment.
Core HR software self-service portal
Many software applications that support core HR functions provide managers and employees with a self-service portal. Depending on the vendor and the company's processes, self-service portals may enable managers or employees the capabilities to make updates to basic employee information, thereby boosting accuracy of such information and avoiding delays in updates; get information on pay and benefits; access training; deliver reports; and more.
Employee self-service portals are increasingly being offered via mobile apps, and represent a particular area where the use of mobile HR is growing.
Integration with talent management, other systems
Software for automating the entering, managing and tracking of core HR records is often integrated with software for related HR processes such as talent management. The software can also integrate core HR with other HR functions such as workforce planning and learning management.
HR department
The concept of what is core to the HR function is evolving rapidly as major cultural shifts occur in employment and as HR technology enables the human resources department to take greater strategic roles within the organization. Core HR software is considered by many organizations to be pivotal in this shift as it frees up time formerly spent on time-consuming administrative duties.
As just a few examples, the information from core HR, including job titles of employees, number of employees in the company and their salaries can be vital for effective HR management. In workforce planning, for example, a precise head count is needed for projecting future labor needs. In learning management, an employee may need training or classes for compliance. And in succession management, job titles and descriptions are helpful for managers and employees.
This was last updated in
October 2021
Continue Reading About core HR (core human resources)
Dig Deeper on Core HR administration technology