Definition
employee lifecycle
What is the employee lifecycle?
The employee lifecycle is a human resources model that identifies the different stages a worker advances through in an organization and the role HR plays in optimizing that progress. This model gives employers a chance to evaluate the experience employees have with the company during their employment so that it can help reduce employee turnover and continually improve employee engagement, productivity and happiness.
In short, the term refers to an employee's journey with the company. Certain stages of the employee lifecycle overlap with core HR responsibilities and might involve using talent management software.
Employee lifecycle is also referred to as HR lifecycle or simply HR cycle. The term might also appear as employee life cycle.
Stages of the employee lifecycle
The employee lifecycle encompasses the following seven stages in an employee's career, beginning with recruitment and concluding with resignation, termination or retirement.
Attraction and recruitment. This stage is considered the moment a potential applicant discovers an employer's brand and considers a career with that company. The employer and employee relationship starts here with the employer showing the potential job applicant why they might want to become an employee. This includes attracting a potential employee with the benefits of working at the specific organization, including the company culture, opportunities for career advancement or compensation packages.

Recruitment. This stage includes all the processes leading up to and including hiring a new employee. Some companies use talent acquisition software that enables them to design and automate all aspects of the hiring process, from using an applicant tracking system, pre-employment screening and scheduling interviews to following up with candidates. Talent acquisition software can help recruiters streamline the hiring process and attract top talent. HR technologies in the cloud are also available to support the entire employment cycle.

Onboarding. At this stage, the employee has accepted the offer to join the company's workforce. During the onboarding process, the employee is given the information and tools they need to work more efficiently and to integrate into the company's culture. Employees learn about the company's policies and procedures as well as their job duties as they undergo training. The length of time it takes for the new employee to get up to speed is called ramp time. At this stage, the new employee is also added to the organization's identity and access management system to control their access to critical information.

Employee development. This stage includes the employee's professional development and the processes the organization uses to give employee feedback, including performance reviews and one-on-one check-ins. Regular employee feedback is an essential component of this stage, as it helps the organization learn what motivates employees and understand how well they've performed against their goals. Frequent feedback can also boost employee engagement.

Many companies use a learning management system or performance management software -- sometimes included in a human capital management suite -- to better manage employee activity, set goals and give timely feedback. Organizations also often use personality profile tools to gather information that can help improve an employee's performance.

Retention. Once an employee is integrated into the company and has a sound understanding of their role, the next challenge is retaining them and ensuring their continued development. Continuous evaluation, recognition and training are crucial at this stage for sustaining employee engagement and retaining the employee. It's more efficient to keep a quality, trained worker than it is to have to hire, retrain and ramp up a new employee. HR professionals typically use talent management software to monitor continued learning as well as succession planning to identify candidates for promotion.

Offboarding. This occurs when the employee leaves the company due to a new job, retirement, a layoff, personal reasons or termination for violating company policy. In any case, the HR department must follow proper procedures and documentation in the offboarding process.

Typically, HR will inform the employee about final pay and benefits. Offboarding is critical for helping organizations maintain a strong corporate brand and gain valuable feedback from exiting employees. This information, in turn, helps companies better retain other employees and improve HR processes.

Continued support. This final stage of the employee lifecycle focuses on the employer and employee relationship after the employee leaves. A former employee who leaves with a positive experience is more likely to recommend that organization to others for business or referrals.

Likewise, an unhappy previous employee could damage an organization's brand as an employer and damage the organization's reputation.
HR should focus on building the best possible workplace experience based on culture, workspace and supported technology.
Importance of the employee lifecycle
Employee lifecycle management is considered a crucial function of the HR department, as it deals with the most valuable asset of the organization -- its employees. A lifecycle program gives employees a consistent series of steps throughout their career with a company, and it enables employers to analyze data that can help them make improvements. This can help improve employee motivation, well-being, longevity and performance.
How to measure KPIs in the employee lifecycle
Key performance indicators (KPIs) are crucial to helping an organization evaluate its progress toward reaching its goals. There are numerous measurable KPIs for each step in the employee lifecycle; some are more applicable than others to how an organization measures and defines its employee lifecycle objectives. The following KPIs are grouped into three categories: recruitment and onboarding, employee engagement and retention, and offboarding.
Recruitment and onboarding KPIs
In addition to tracking company ratings on sites such as Glassdoor or Indeed, or tracking company interactions on social media, an organization can measure the following metrics:
Cost per hire measures the average number of resources the company expended to hire one employee.
Time to hire measures the average time it takes the recruitment team to fill a position.
Pre-hire surveys track the candidate's experience with the recruitment process.
Training surveys identify if the new employee found the hiring process easy or difficult.
Time to productivity shows the amount of time it takes for a new employee to reach productivity once they're in their new role.
New hire satisfaction measures the success of HR's recruitment process.
Employee engagement and retention KPIs
Employee retention rate measures the percentage of employees who stay with a company at least one year.
Internal promotion rates measure the number of employees who are moving up in the company.
Training return on investment measures the impact of training versus the cost.
Employee promotion progression measures the new hire's career progression within the company.
Turnover measures the percentage of employees who leave the organization on their own.
Churnover measures the movement of internal employees across the organization.
Satisfaction with benefits measures how happy employees are with the benefits the company offers.
Offboarding KPIs
Exit interviews measure and track why employees leave the company.
Offboarding score measures how well a company's offboarding process is working and if employees leaving the company had a positive experience.
Retirement rate measures the number of individuals who will be of retirement age and helps show the effects this will have on the organization.
Status change processing measures the time it takes for a termination to be processed.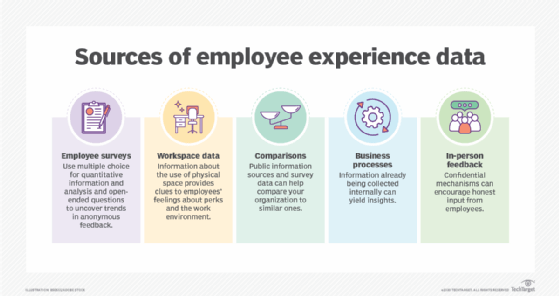 Trends in employee lifecycle tools
The use of 360-degree feedback and artificial intelligence (AI) are two significant trends in the employee lifecycle.
With 360-degree feedback, an employee's co-workers, direct reports and managers offer anonymous online feedback. Such feedback mechanisms have become popular, but aren't without controversy. Some critics fear that such software tools undermine teamwork and employee confidence. But proponents say it provides open and honest feedback.
The use of AI, meanwhile, has been creeping into the different stages of the employee lifecycle. It was first popularized for use in talent acquisition because it helps recruiters sift through high volumes of applicants more quickly. In the past few years, AI has been used more regularly in employee engagement and retention.
Another trend in the employee lifecycle includes the increased use of a hybrid work model as well as increased worker flexibility. Flexibility gives employees the option to work from home, but also lets them select the time of day they do the work. According to a survey conducted by ZipRecruiter, 60% of job seekers prefer remote work. Of this number, 40% are open to working remotely the majority of the time but are also open to other arrangements.
Learn about six different ways to improve employee experience.
This was last updated in
May 2023
Continue Reading About employee lifecycle