7 top-notch tools for increased employee engagement
Cloud apps can help keep employees engaged by soliciting feedback and making it easier to collaborate effectively as a valued member of a team. Here are seven worth considering.
Employee engagement is the extent to which employees feel connected and committed to their company and are willing to work passionately for its success.
In recent years, an entire category of employee engagement tools has sprung up to help organizations measure engagement and take steps to improve it, often through collaboration software that helps employees feel more integrated and productive.
The cost of employee engagement tools can often be justified by the payback from the better business outcomes ultimately produced by engaged employees. The more engaged employees are, the more involved they are in their work and the more likely they are to stay with their companies. The resulting increased productivity and reduced recruitment and training costs to address employee turnover provide further benefits to the bottom line.
In addition, engaged employees are enthusiastic and proactive and often go beyond their job descriptions to take on additional work.
To put it another way, employee engagement generally results in the following:
Higher employee satisfaction.
Higher productivity.
Lower turnover.
Increased profitability.
Less absenteeism.
Increased employee loyalty.
Some employee engagement tools solicit feedback from employees about their organization via pulse surveys that have carefully selected questions aimed at accurately evaluating employee engagement levels and the overall employee experience. Other employee engagement tools emphasize goal-setting and individual performance management, all to the greater end of helping employees feel more vital to their organization's success and giving them the tools and encouragement to succeed. Many of the tools serve these broader goals through the mechanism of project management, with its proven methodologies for organizing work and keeping people on track.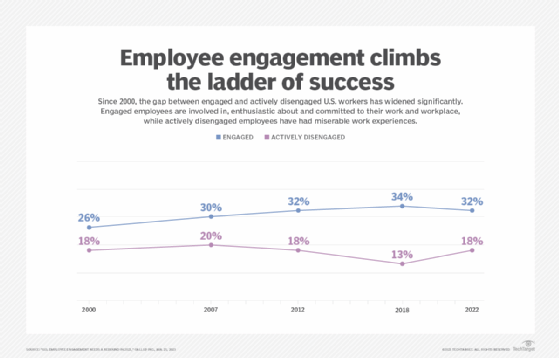 Here are seven of the top tools in the market -- all of them SaaS-based -- to help companies build a corporate culture that fosters employment engagement as part of a broader employee experience strategy.
15Five
15Five is a continuous performance management tool intended to guide employee development and empower people to become the best employees they can be. It facilitates communication between managers and their teams or individual employees via weekly check-ins, pulse surveys, people analytics and employee recognition.
The 15Five platform also helps managers prioritize employee reviews and recognition. It prompts them to set team priorities at the beginning of each quarter and track progress weekly to keep their direct reports on target.
The "Best-Self Review," which the vendor calls a science-based 360-degree review, encourages managers to focus on their employees' growth and professional development on a quarterly basis, which can help employees to become more engaged. It can also empower people to develop their unique strengths and inspire them to do their best work throughout the year.
Using 15Five, managers and employees can discuss the issues that prevent the organization from attaining its goals and objectives as well as talk about opportunities that can help in this area. The software is typically used by managers, directors, vice presidents and C-level executives.
15Five is super easy to use and encourages positive and constructive feedback, according to some customers. One negative aspect is that users purportedly can't customize the way they view their data and some would like more control over the dashboard experience.
Culture Amp
Culture Amp is an employee feedback platform that helps businesses understand what matters to employees and immediately act to improve engagement, retention and performance. Culture Amp, which bills itself as a people and company culture platform, lets employers create custom employee feedback programs, administer employee surveys to determine engagement levels and compare results against their top competitors.
The tool is designed to help companies better understand what drives employee commitment, pride and motivation, as well as improve the employee journey from onboarding to exit.
Culture Amp is aimed at improving the process of surveying employees by helping employers bring anonymous feedback to the team level so that employees can offer more direct feedback to their managers.
The Culture Amp platform provides continuous listening, feedback and development tools throughout the employee lifecycle. It can also help CEOs better connect with their people, enable chief human resources officers to make data-driven decisions and managers to lead their teams.
Online reviewers say Culture Amp is easy to use, works for large and small projects and lets teams collect unbiased feedback easily. Each participant receives their own link for submitting anonymous feedback. One downside is that the survey tool offers a lot of options, so if the survey designer isn't careful, the survey could be ineffective. However, Culture Amp offers resources to prevent this from happening.
Monday.com
Monday.com is a team management platform that helps people plan and execute projects and deliver results on time, whether the employees are in the office, at home or traveling. It can be used by a variety of cross-functional teams in a number of industries. The vendor touts Monday.com's intuitive interface and customization capabilities.
The software includes color-coded boards designed to let users quickly check which projects are in progress, which tasks are finished and where team members are having problems. The boards are organized to indicate when tasks are due and the relationships between assignments.
Monday.com also offers productivity features, such as time tracking, automated notifications, dependencies, timeline views and integrations intended to help teams meet project milestones.
In online reviews, some users report that Monday.com has helped them to manage projects better since employees started working from home during the COVID-19 pandemic and say it was easy to create and assign tasks. Some also say the interface is well-designed and user-friendly.
Others contend it can be time-consuming to set up projects because there are so many automation options.
ProofHub
ProofHub is a project management tool that includes such features as integrated group chats, quick discussions on projects, workflows and boards, and project reports. With ProofHub, teams can easily collaborate and communicate about projects, according to the vendor. The software serves as a centralized workspace, enabling team members to share documents, follow task lists and monitor timelines.
The ProofHub platform is designed to streamline communication, enhance accountability and lets all employees see how their work affects the success of a project and contributes to the organization's broader goals. ProofHub also helps teams track their successes and identify areas where they can improve.
Key features include discussions, notes, Gantt charts, to-do lists, milestones and timesheets. ProofHub also provides a reporting engine to help project managers generate custom reports as well as keep track of resource use and the progress of their projects.
Communication features include group and one-on-one chats and a proofing tool that lets users comment on documents and designs shared on the platform.
Customers say ProofHub is a reliable tool for their teams because it enables members to communicate in multiple ways with chat features and team discussion portals. Although the interface is easy to use, it may take some time to set up the software, according to some.
Teamwork
Teamwork is a project management tool designed to help teams communicate, manage group objectives and establish business processes.
Features include task lists, time tracking, file uploads and messages.
Organizations can use Teamwork to manage everything from delivering client projects to executing marketing campaigns to sprint planning and product launches. The software helps in-house teams and outside agencies improve collaboration, visibility, accountability and ultimately results, according to the vendor.
Teamwork has document management features that allow users to share documents within their team through an online portal.
Dashboards offer visibility into project objectives and project collaboration features enable communication through mobile devices so members can remotely manage projects.
Teamwork can be integrated with such applications as DropBox, FreshBooks, Google and Box.
Customers say Teamwork helps team members collaborate more closely and effectively on projects remotely, which has been helpful during the COVID-19 pandemic. Some say Teamwork has a confusing interface and that it is a bit difficult to set up the software.
Trello
Trello is a tool for managing projects and personal tasks that uses the Kanban visual system to help individuals and teams collaborate better and keep their projects organized.
The collaboration tool organizes projects into boards so team members can see at a glance the tasks and projects that are being worked on, who's working on what and when something is in process.
Teams from sales and marketing to operations and HR can design and customize Trello to fit their needs and the way they work, according to the vendor, Atlassian. Trello integrates with more than 100 other employee engagement tools and related applications, such as Google Hangouts, Slack, Jira, GitHub, Evernote, Salesforce and Slack.
According to the vendor, Trello's features include:
the ability to add files, comments or emojis to discussions as well as tag specific members within comments;
security features, including restricting membership invitations, setting access to observer-only for clients or external team members and controlling who can create public or private boards;
the ability to export team data with one click;
notifications at any time from any device; and
the ability to create Kanban cards and add comments via email. Users can respond to emails or send attachments without logging into the platform.
Trello is simple and enjoyable to use, according to several users who shared their reviews online. Some characterized it as a lightweight tool that's good for 90% percent of tasks but said there are better tools for more serious project management.
Weekdone
Weekdone is a productivity and progress-tracking platform that aims to improve communication between employees and their managers and tie individual goals to the organization's overall goals.
It offers employees an instant overview of what their team members are doing.
This at-a-glance view enables teammates to see who has overdue tasks, which members are contributing to the team and which ones complete their tasks within the allotted time. This allows them to redistribute tasks so they get completed faster without affecting the quality of the outputs, the vendor says. Weekdone also helps managers identify and resolve ineffective processes.
Team leaders can offer personalized feedback and provide customized guidance to each team member. Performance ratings help managers give advice that's most helpful to the employee.
Weekdone enables managers to track the progress their direct reports are making toward their goals and recognize their achievements. It also lets managers set team goals that inform each weekly plan and align with the organization's version.
Weekdone is an incredible tool for helping teams see what their future goals are and their progress toward accomplishing those goals, according to some customers. However, the user interface is cumbersome and not intuitive, others say, so it takes some time to get comfortable using it.