Definition
people analytics (HR analytics)
People analytics, also known as HR analytics and talent analytics, is the use of data analysis on candidate and employee issues to understand their impact on business goals and evaluate the effectiveness of human resources initiatives. People analytics applies math, statistics and modeling to candidate- and worker-related data or big data to see and predict patterns in all aspects of acquiring and managing employees. Using people analytics, HR departments can work alone or with data scientists to gain insights into areas such as talent pipeline issues, rate the effectiveness of retention efforts, understand employee performance and workforce productivity, and assess which wellness and learning programs are working.
In recent years, the people analytics market has experienced rapid growth in vendors, users and revenue, reflecting its importance to HR departments and the organizations they serve. This growth may also reflect the focus on employee experience, as organizations struggle to better satisfy workers.
How is people analytics used?
People analytics can help organizations in their recruiting, performance management, compensation, succession planning and retention efforts. It can help them understand which candidates to hire, which employees are the highest performers, who's receiving adequate compensation and how employee retention can be improved. People analytics can also support gut instinct, for example, by providing evidence that a person with a community college certificate sometimes makes for a better employee than someone with a four-year degree.
The use of predictive analytics in people analytics is an important trend. It can help predict skills gaps, spot candidates who are best for the organization, identify employees who may be at risk of leaving and which ones are truly high performers. Companies use people analytics to predict and address poor performance in salespeople and hospitals use it to understand the employee factors in patient outcomes. Creating new opportunities for revenue by examining customer and labor data and enabling profit growth by analyzing workforce spending are two other real-world applications.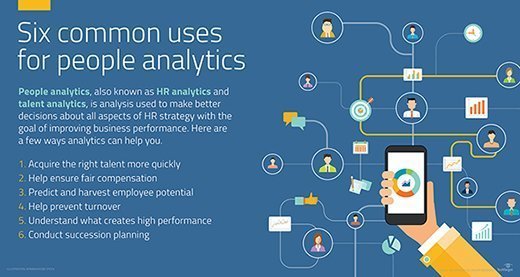 In addition, vendors are developing tools to expand the use of analytics. Increasingly, companies are looking to vendors rather than building their own tools as analytics models become more widespread and use sophisticated technologies such as artificial intelligence (AI). As just one example, some enterprise resource planning (ERP) vendors are including people analytics dashboards meant to help senior executives understand attrition rates, employee costs and employee engagement profiles for specific segments and managers.
People analytics are also increasingly expected to analyze teamwork and organizational relationships, which may take on heightened importance as companies replace hierarchical models with more collaborative ones.
Benefits of people analytics
HR departments are now expected to incorporate employee data analysis into their daily routines because of its potential to improve HR effectiveness and business outcomes. The possible benefits of using people analytics are indeed significant and include the following:
Save time. Sourcing, hiring, training and nurturing employees can be time-consuming and doesn't always directly support strategic objectives. People analytics enables HR team members to focus on the people and programs that will be most beneficial, allowing the HR department to spend more time on actions that will drive bigger results for the company at large.
Improve productivity. Particularly as more employees work from home, people analytics can be applied to data from employee engagement surveys to help understand what keeps workers engaged or what gets in their way. HR analytics can also be used to understand health trends and absenteeism issues and is likely to be increasingly used with contact tracing for COVID-19.
Improve employee experience. An employee's feeling of belonging within the company is often correlated to their morale and productivity. People analytics can enable HR -- and data scientists working with HR -- to determine what employees want and need, thus creating a better social and work environment.
Improve retention. The potential of people analytics to improve employee experience can, in turn, improve retention. Analytics can inform recruiters on the HR team of the reasons for employees' negative feelings while also revealing why employees stay with the company. These analytics can help organizations identify skill gaps within the team and work to fill them in an effort to make the team members happy and keep them at the company.
Create actionable insights. Using data visualization with people analytics helps provide employees with results they can understand. Because employees can see and comprehend their performance data within the greater context of strategic business objectives, they know where to adjust their performance, and a stronger sense of ownership provides the incentive to do so.
Strengthen decision-making. Data analytics provides facts that people can use to inform and empower their decision-making process. Using employee data, people analytics enables HR departments to make decisions that are less subjective and emotion-based and, instead, are more reliant on the statistical likelihood of success.
Potential pitfalls of people analytics
HR data management is still a major concern because HR data is often siloed, incorrect, out of date or inconsistent, but there are other significant pitfalls, such as:
Technology-first focus. People analytics initiatives frequently fail because business leaders and organizational stakeholders take a technology-first approach instead of focusing first on the business or people issue to be solved and how it relates to improving business outcomes.
Data quality issues. People analytics often relies on data in different HR systems to uncover insights. As just one example, small variations in the way data is rendered or incorrect inputs can cause incorrect analyses. The larger the organization is and the more systems it uses, the more profound this issue becomes.
Internal resistance and distrust. Helping HR staff and other business users understand how to work with and accept analytics can be problematic. Workers may distrust why data is being collected and fear it is being used against them. The issue may worsen in times of crisis or as more tools are used to monitor employees' performance.
Bias. The ability of AI to notice a pattern to determine future actions means it can be used to continue biased behaviors, such as hiring or promoting only one race or gender. Another example of bias is the potential negative influence of predictors that suggest someone is likely to leave the company, and managers mistreat the employee based on that. HR departments must, therefore, take an active role in understanding the basis and underlying assumptions of people analytics to prevent such biases from happening.
Legal and compliance issues. Because behavioral and health data and other sensitive information can easily be used to discriminate against employees, HR analytics opens up major areas for potential abuse. HR and legal must work together to ensure compliance, and executives, managers and HR must understand which behaviors tread illegal territory.
The evolution of people analytics
HR analytics was the initial term used to describe the measurement of human resource programs and their effectiveness. It was performed in HR data warehouses, which were primarily the realm of technologists. HR analytics has its origins in industrial psychology studies to optimize production and in thought leadership such as that represented in the 1984 book How to Measure Human Resources Management, written by Jac Fitz-enz. The term HR analytics came into wider use as software providers increasingly offered what they called HR analytics tools.
Other terms also came into use -- especially, people analytics, talent analytics and workforce analytics -- and, today, are often used synonymously.
However, workforce analytics tends to be somewhat distinguished from the others, referring to both to the macro elements of HR strategy -- for example, the effect of changing demographics or issues surrounding skill gaps -- and more narrowly focused workforce planning issues, such as the staffing needed for a particular region or labor costs and productivity.
Important HR metrics to measure
HR metrics help to track the effectiveness of HR initiatives and the effects of talent management trends on business strategies and financial results. They include the following:
Average cost per hire, as well as components such as advertising costs.
Benefits participation rate.
Cost to train each employee.
Training effectiveness.
Time-tracking metrics such as absence rate per manager.
Turnover rate.
Revenue per employee.
Cost of HR personnel per employee.
HR software ROI.
Employee experience and employee engagement metrics.
One point of confusion may be the difference between HR metrics and HR analytics. In essence, metrics describe concrete measures of past performance, while analytics uses those measurements to gain insights or predict future patterns. Metrics typically describe concrete data points, like how many candidates applied, how many employees left the company and other descriptive measures, while analytics looks at answering questions such as what educational background best helps indicate future high performers or why top performers are leaving.
This was last updated in
August 2020
Continue Reading About people analytics (HR analytics)
Dig Deeper on Core HR administration technology