11 actions that will improve employee experience
As an HR leader, improving the employee experience is a critical focus area, but where should you start? Here are 11 action steps you'll need to take.
Understanding what employee experience means is the first step to improving it.
Here's what it's not: free food, an employee survey or an open floor plan office. Those things may or may not serve a purpose in an employee experience strategy, but the concept of employee experience is much more involved.
In the simplest terms, employee experience -- often referred to as EX -- is a worker's feelings, observations and insights about their employment at a particular company. Physical workspace, work-life balance and technology all play a part in whether that experience is positive or negative. Because it is complicated and nebulous, understanding the concrete actions you can take to improve employee experience is critical.
Here are 11 of those steps.
1. Make employee retention a priority
The goal of employee retention is to keep talented workers and decrease turnover. Frequent turnover leads to loss of institutional knowledge and damage to continuity.
To do this, work with business leaders to foster a positive work environment. You need to offer competitive pay, focus on employee engagement and encourage your employees to have a healthy work-life balance. For modern organizations, using HR technology serves an important role in delivering all of these.
Employee retention starts as early as the hiring and onboarding process and continues throughout the employee's time at the company.
2. Brainstorm creative approaches
Design thinking uses varied knowledge and skills to generate creative problem-solving. People with different experiences and perspectives get together and brainstorm new ideas for a real-world problem. That means your HR team can work with other stakeholders and apply design thinking to create a better employee experience strategy.
Design thinking goes beyond short-term perks -- which only offer temporary fixes -- to understand systemic issues and create deeper solutions.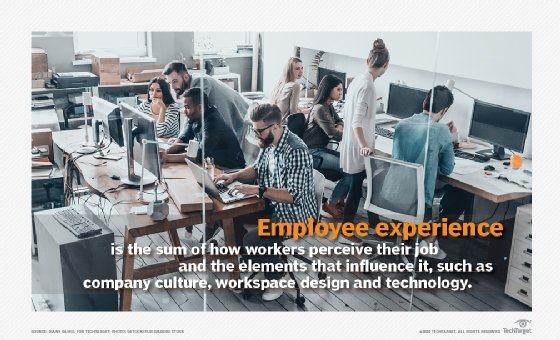 3. Map the employee journey
An employee journey map is an important tool in understanding the employee experience throughout an employee lifecycle. The journey map can be a high-level comprehensive overview of the employee experience, from recruitment to training to final offboarding. You can track an employee's onboarding experience, career development opportunities and other moments that matter and then use the map to identify main areas for improvement and build new strategies based on data from employee feedback and surveys.
4. Understand what attracts employees
Talent acquisition is the ongoing process that employers use for recruiting, tracking and interviewing candidates, as well as onboarding and training new employees. HR can use job boards, recruiting software or social media to find ideal candidates, though some offer more support than others.
Websites such as Monster and CareerBuilder now use algorithms so job seekers can find work better suited to their skill sets, while social media sites like LinkedIn and Facebook use connections and networking to match jobs and then review skills and determine whether the candidate is right for the job.
5. Know the importance of the candidate experience
Candidate experience is a job seeker's perceptions about an organization's recruiting and hiring process. Creating a positive candidate experience should be part of the overall employee experience strategy.
Candidate experience can have a direct effect on talent pipeline and retention. This is especially true because bad experiences can have an exponential effect, thanks to Glassdoor and other social media. A bad experience will prevent a potentially ideal candidate from reapplying, and a current employee who was treated poorly is more likely to take another job if the opportunity arrives. Some companies install HR chatbots to establish early communication and use automated interview scheduling to help prevent bad candidate experiences.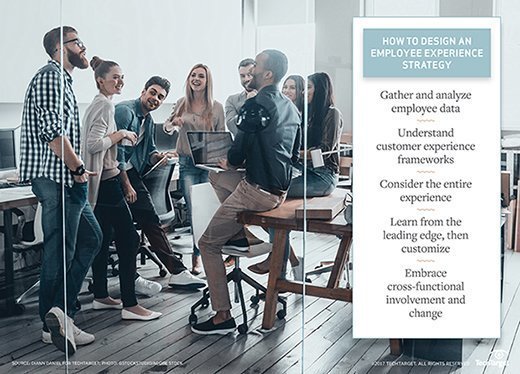 6. Improve onboarding tools and processes
Onboarding is the process of integrating a new employee into the company. Few companies can afford to lose employees from a bad onboarding experience, and yet this happens all the time. Onboarding is one of the most important aspects of employee experience since it creates the foundation for job satisfaction and retention.
New automation options are meant to make onboarding easier and more manageable for employers, with better results. When onboarding is done correctly, new employees begin their job with positive feelings about the company. They should get an accurate representation of what the job entails, acclimate to the company culture and become productive within an efficient timeline. A new employee is more likely to quit if the onboarding experience is bad.
7. Offer lightweight feedback tools
Employee pulse surveys provide feedback on employee sentiment, typically on a more frequent basis than traditional employee survey tools. Pulse surveys can help kick-start an employee experience strategy. Subcurrent's Polly and TINYpulse are some examples of these tools, and typically, employees can complete them in a few minutes. Your HR department can then turn the survey results into graphs or statistics to indicate trends weekly, as opposed to yearly.
Pulse surveys can garner higher response rates because they are quick and easy to navigate. Some sample questions include the following:
Do you feel a sense of purpose in your job role?
What are some challenges you are currently facing?
While surveys can be helpful, understand that they are meaningless unless leaders take action on the information they yield.
8. Understand how to use eNPS
An employee Net Promoter Score (eNPS) is a formula employers use to measure company loyalty. In the simplest terms, an eNPS tool asks an employee focus group to rate on a scale of 0 to 10 how likely they'd be to recommend their workplace to others. ENPS is an important metric for gauging employee experience, as it is easy to use and interpret and can help to show trends.
9. Implement team bonding tools
Collaboration tools can help improve employee communication, no matter what department they are in or what area of the world. Normally, workers in different locations across the globe have trouble setting up convenient times for meetings and conversations. But, with tools such as Slack and Asana, teams can collaborate in real time.
In a COVID-19 world, remote communication tools have become more important than ever. Employees can connect, chat and work together, and managers can have conversations to support continuous performance management. These tools can also be used to request time off, share best practices and track assignments.
10. Organize affiliation groups
Employee resource groups (ERGs) are workplace clubs based around a shared interest or identity. These groups give employees a chance to connect with others in similar situations and are often the foundation of employer diversity and inclusion efforts. Employees usually start ERGs because they are looking for support and community in their workplace.
Tools such as Espresa help automate employee programs and give HR a way to track and manage the groups. ERGs can contribute to a positive employee experience and higher retention rates, since they can boost employees' sense of belonging.
11. Develop comprehensive HR analytics
People analytics focuses on employee drivers that can help the business succeed.
The technology is meant to give HR teams insight into issues affecting employees, which can help improve hiring, company culture and retention. For example, people analytics can help you understand turnover issues, training roadblocks, and recruitment and onboarding issues.
Dig Deeper on Core HR administration technology