agsandrew - Fotolia
Top 2020 HR trends: Employee and candidate experience, AI and more
In 2020, business and HR will need to use technology and lead with the employee and candidate experience top of mind. Here's what to know.
Modern business operations, workforce demographics and the technology landscape are transforming at what can feel like a dizzying pace. These forces all affect how businesses and HR must attract and retain top talent -- or risk high turnover and low job fill rates.
To help put some of these powerful shifts into perspective, here's a look at seven of the most important 2020 HR trends that HR leaders must drive forward.
1. Refined employee experience strategies
Just a few years ago, if business and HR leaders talked about job satisfaction, they used the term employee engagement, which denotes how motivated employees are in carrying out their jobs. Employee engagement conjured up images of surveys and perks, and a somewhat narrow view of job satisfaction measurement. But as the economy improved and workers had more job opportunities, business leaders and HR teams were forced to rethink what their workers wanted.
Enter the term employee experience, which encompasses the totality of how people feel about their jobs -- from culture to technology to physical workspace. Vendors have rushed to recast existing tools or create new ones to address its promotion and measurement.
HR leaders can use journey maps, eNPS, pulse tools and new survey tools to understand the employee experience. Still, leaders must put strategy first. That requires a nuanced, holistic approach that goes far beyond offering fun perks such as free craft beer or conducting yearly surveys. Achieving a great employee experience means putting workers at the core of the business and offering them a great place to work. Involving employees in the company's mission and vision, offering a holistic wellness program, and using self-service HR tools are a few employee experience strategies successful companies use.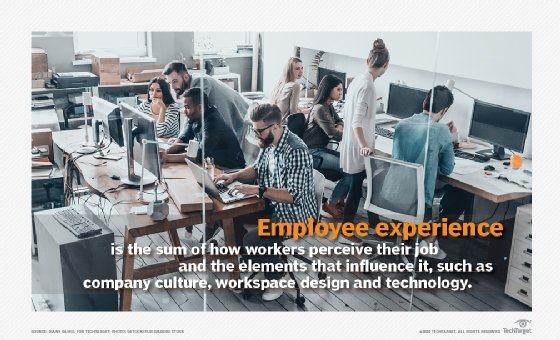 2. Tailored recruitment marketing campaigns
One of the most important HR trends for 2020 is recruitment marketing. HR departments are dealing with an increasingly competitive hiring market. Whether due to skills gaps, high turnover or company growth, virtually all companies know the pain of modern day recruiting. Simply posting a job and expecting the right job seekers to flock to the position is a thing of the past.
HR leaders and recruiters must understand how to sell the culture as an employment destination -- akin to the way travel marketers sell a vacation destination. They need to get strategic about social recruiting, and tailor campaigns and messaging for different social media platforms. They need to be able to create different candidate personas and understand how AI and other technology can best support recruiting.
3. Attention to the candidate experience
Thanks to a strong economy and forums for giving feedback, job seekers have more power and a louder voice.
The candidate experience is a recruitment trend that's heating up among HR trends in 2020. Thanks to a strong economy and forums for giving feedback, job seekers have more power and a louder voice. Treating candidates poorly translates into poor employer branding, and few companies can afford that luxury. Candidates can take to Glassdoor and other social media sites to share their negative experiences. Plus, candidates who aren't treated well are unlikely to be future candidates, should the company need them.
Despite all the talk about experience, many companies have a labor-intensive application process. They share little information about what will happen after a job seeker applies, don't respond to applicants, create an intimidating interview process or don't treat candidates with respect.
A modern applicant tracking system that offers a positive experience and interface is critical, in addition to having mobile functionality. Candidate relationship management tools can help manage the process across touch points. Newer AI recruiting tools, such as those that help spot diversity issues, can also help.
4. Widespread use of HR AI and chatbots
AI can help cut down on administrative tasks so HR can take a more strategic role. Robotic processing automation (RPA) software can help with onboarding and managing compensation and payroll tasks. AI tools can support people analytics, and much more.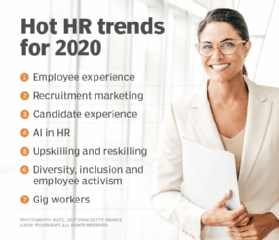 One is recruiting. For example, there are tools to help fight bias by ferreting out job position language that alienates certain populations, tools to create a shortlist and personalized job offer letter and tools to notify candidates who didn't get the job, in turn, helping to fight the abovementioned black box issue.
Concern over AI and bias is growing, however. For example, high-profile incidents of bias show that AI is not the neutral technology vendors would have people believe but is prone to the same issues that govern human bias unless people are careful. Several states are enacting laws that demand visibility into where and how AI is used.
5. More attention to upskilling and learning
Top talent is scarce, and many companies are facing skills gaps. Issues such as high turnover and recession worries have forced businesses to look within for talent and figure out ways to develop it. These methods include upskilling, or giving employees new skills within their current areas; reskilling, which involves training workers for new jobs; succession planning, or grooming employees to replace retiring leaders; and new learning tools.
Companies can use online learning platforms to upskill employees. Some companies -- especially those in sectors rampant with skills gaps areas such as manufacturing or technology -- have realized they need to take more ownership in grooming the next generation of employees by partnering with schools or considering nontraditional candidates. HR leaders will have a number of new learning platforms to choose from as vendors rush to meet this need.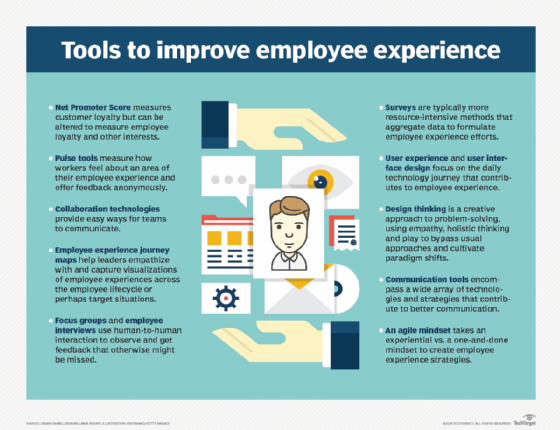 6. Comprehensive diversity strategies
Diversity and inclusion, employee activism, and multigenerational-multiracial workforces are the new realities for today's business and HR leaders. In the last few years, the #MeToo movement and demonstrations of employee activism show that more workers will fight injustice. As part of this, diversity and inclusion issues are only becoming more important. Many previously excluded groups -- including women, racial minorities, LGBT members -- have been raised with or have developed much higher expectations of what they have a right to. Adding to this complexity is the fact that four generations -- baby boomers, Generation X, millennials and Generation Z -- are all in the workforce.
Business and HR leaders must understand the unique needs of their companies, albeit through the lens of the larger landscape, and create strategies to deal with these modern issues. To name just a few, companies should prioritize user experience when choosing technology, create solid approaches to diversity and inclusion and have proactive strategies to deal with employee activism.
7. Focus on gig economy and privacy laws
Companies turn to contingent workers for any number of reasons, and HR teams will need to develop new ways to recruit short-term workers, since protracted talent searches aren't cost-effective. In addition, they need new strategies and technologies for functions such as performance management.
Another area of added complexity is privacy. Many experts believe GDPR was just the start. As privacy concerns grow, privacy laws will too, with California's CCPA an example of this. Such laws affect candidate processes, how HR teams should collect and retain employee data, and more.