Jason Stitt - Fotolia
Kroger rushed to launch on-demand pay, and it's not alone
In the face of the pandemic, The Kroger Co. sped up the rollout of an on-demand pay platform to 400,000-plus employees. These platforms saw sizable growth in 2020.
The Kroger Co., a $132 billion grocer, was preparing for a long-term on-demand pay pilot project when the COVID-19 pandemic arrived.
The global crisis pushed Kroger to immediately roll out DailyPay Inc.'s on-demand pay system to a couple of divisions to test the technology. Then, over the next several weeks last spring, the grocer decided to make the program available to its 400,000-plus workers.
"We don't typically put in a new vendor benefit in a four-week time period," said Theresa Monti, vice president of total rewards and HR systems at Kroger, who was a panelist at the virtual HR Technology Conference and Exposition this week.
But with a pandemic underway, "we stepped back and said, 'What can we do to help our associates?'" Monti said. That led to a decision to speed up the on-demand pay installation, which gave employees access to some part of their pay before a regular pay period, she said.
Kroger is not alone
Kroger is far from the only firm rolling out on-demand systems. The on-demand pay or early wage access market grew in the U.S. from $6.3 billion in 2019 to $9.5 billion last year, a 51% increase, according to The Aite Group LLC, a research firm focused on the financial services industry.
"Employers are really starting to understand the need for this product as they observe how financially fragile a significant portion of their workforce is," said Leslie Parrish, a senior analyst at Aite.
Parrish said the number of on-demand pay vendors has grown and that she expects consolidation in time. "Perhaps this will someday just be part of all employers' payroll services, and not offered at an additional fee per transaction," she said.
We don't typically put in a new vendor benefit in a four-week time period.

Theresa MontiVice president of total rewards and HR systems, The Kroger Co.
Kroger said its average hourly rate is $15.50, up from $15 last year. With comprehensive benefits factored in, the average hourly rate is over $20, said Gary Millerchip, the firm's CFO and senior vice president, in a March 4 earnings call with investors.
On-demand pay "has been surging in popularity, especially in the last year, and we believe that on-demand pay is here to stay," said Mike West, vice president of real-time money movement platform Visa Direct and a conference panelist.
DailyPay users typically pay a $1.99 fee for a next-day pay transfer and $2.99 for instant access to their wages. The model could cost nothing for employers, which have the option of subsidizing or covering the employee access fee, said conference panelist Jeanniey Walden, DailyPay's chief innovation and marketing officer.
Kroger offers its employees two transaction options: There is no fee for next-day transactions, but same-day transactions are subject to a fee, according to Monti. Most requests are for next-day transactions, she said.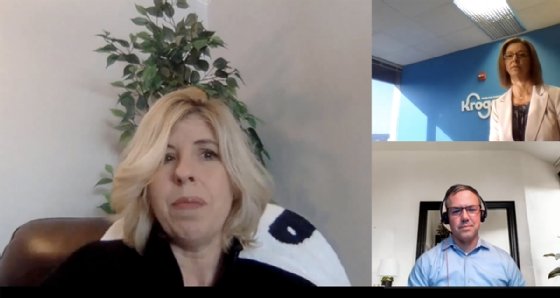 Plus, because employees who choose to use the on-demand pay system are paid by DailyPay, employers don't have to change their pay systems, Walden said.
The on-demand pay option helped Kroger in another way. The recent bout of extreme cold and snow in Southern states, especially in Texas, meant that mailed paychecks weren't reaching employees. So Kroger used the DailyPay system to distribute pay to those employees, Monti said.
Patrick Thibodeau covers human capital management and ERP technologies. He's worked for more than two decades as an enterprise IT reporter.