Definition
payroll software
Payroll software automates the process of paying salaried, hourly and contingent employees. Vendors of human resources technology and specialized payroll companies often sell payroll software as a stand-alone system.
Payroll software is increasingly a central component of integrated, multifunctional human capital management (HCM) systems. Compared to paper-based systems, payroll software significantly speeds the payroll process while reducing errors and enabling managers to more easily customize paychecks for individual employees.
Payroll software features
Standard functions in most payroll software systems include automatic calculation of deductions for withholdings, such as taxes, insurance and retirement contributions. Payroll software also commonly processes direct paycheck deposits, generates tax forms and deducts wage garnishments. Payroll administrators can also configure systems to print checks for employees not enrolled in direct deposit.
Many payroll systems include self-service capabilities that enable employees to view and download payroll checks online on mobile devices and computers and to change deduction amounts.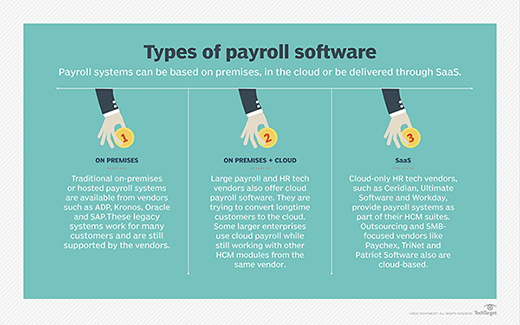 Some payroll software systems are also configurable by HR administrators and IT staff, enabling them to adjust accumulations, balance periods and balances and to place workers in various pay groups.
Other payroll management features include setting gross-to-net income and running payroll balance and calculation reports.
Some payroll systems work with payroll data analytics modules that can create customized audit reports and track local, national and global payroll spending trends.
Country-specific payroll software
The largest payroll software vendors provide customized systems for the U.S. and some other countries using local currency and by processing those countries' taxes and other compliance obligations.
ADP offers payroll services in more than 120 countries, according to the company. Workday has payroll systems for Canada, the United Kingdom and France, in addition to the U.S. Ceridian has versions for the U.S., Canada and the U.K. Ultimate Software has versions for the U.S. and Canada.
Some HCM vendors, such as SAP, rely on third-party, independent, multicountry payroll outsourcing (MCPO) vendors to provide payroll services in countries for which they don't have native versions.
This was last updated in
April 2018
Continue Reading About payroll software
Dig Deeper on Core HR administration technology