Share this item with your network:
Technology insights for the data-driven enterprise

James Thew - Fotolia
5 secrets for a successful employee experience framework
The complexities of formulating a good employee experience strategy can be intimidating. Here are five tips to ease the process of establishing a great employee workplace.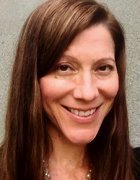 By
Today's employees want more -- more flexibility, more choice and more attention to their needs. And smart companies...
Continue Reading This Article
Enjoy this article as well as all of our content, including E-Guides, news, tips and more.
are giving it to them.
Indeed, the term employee experience has been elevated to boardroom discussions, but there's no cookie-cutter framework that works for all companies. Each company has its own mission and challenges. Employees, too, are different, and getting into their minds and understanding their emotions require new tools and methods. Here are five steps to creating a successful employee experience framework.
Start with the employee-customer connection
Organizations with highly engaged employees outperform their competitors by 147% in earnings per share, according to one Gallup study. Employee experience -- of which employee engagement is an important part -- is increasingly recognized as critical to a company's success and directly linked to a company's mission and vision.
Ranked as a Glassdoor Inc. Best Place to Work, SAP is one such company. "A happy employee is going to innovate, feel included. They're going to take chances, ... and that has an impact on profitability," said Dan Healey, vice president of HR at SAP North America.
Weaving your business strategy into your overall people strategy -- and in turn into your employee experience -- is critical, added Brigette McInnis-Day, COO of SAP SuccessFactors. "SAP's mission to improve people's lives every single day shapes a very tight people strategy and anchors the employee experience," she said.
Veterans United Home Loans, which provides Veteran's Affairs (VA) loans for home mortgages and refinancing, realizes the benefits of its employee experience framework as demonstrated in high Glassdoor ratings and a ranking of 12 among the top 50 organizations on the "People's Companies that Care" list. Employee experience is inextricably tied to Veterans United's mission to be the leader in the VA loan industry and ensure that veterans and their families have a positive experience toward becoming homeowners, said the company's chief people officer, Amanda Andrade. Those mission-driven values guide the back-and-forth conversation around employee experience as well. "When we talk with employees, we focus on how we're living out our values [and ask], 'How do you feel you're living them out?'"
Use new tools to understand employees
Creating an employee experience framework begins with an assessment of employee needs -- from the worker's perspective. And that shift in perspective is likely to require new tools.
Forrester Research analyst Andrew Hewitt suggested that organizations can use employee experience journey mapping to examine the emotions and pain points experienced by different employee personas. An employee experience journey map can uncover the myriad barriers to employee success, including a lack of the right technology support. He offered an example of a salesperson who doesn't have mobile access to customer records while on the road. That's a big technology issue that potentially can be solved, he said. Companies can then map different potential strategies and technologies to address the issue.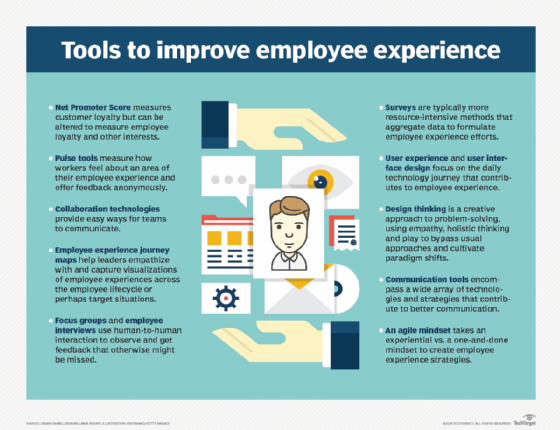 An accurate employee experience journey map requires empathy with employees -- a requirement shared by design thinking, another tool in the employee experience toolkit. Design thinking -- embodied by principles like empathy and holistic thinking -- helps leaders "brainstorm challenges in the organization, come up with creative solutions and break out of historical precedent to imagine new solutions," Hewitt said.
At SAP, design thinking strategy sessions were held worldwide when the company decided to reinvent its overall people strategy a few years ago, according to McInnis-Day.
Another method that's often overlooked is simply to ask employees questions. Similar to conducting focus groups or interviews with customers, formal interviews with employees can help leadership better determine what workers want. Of course, even in a great workplace, employees may not be entirely forthcoming in a non-anonymous setting, and in a rigid culture, they're very likely to be close-mouthed about what aspects of working at the company they don't like.
Don't forget the human side of employee experience
An employee experience framework should tackle major complexities, including work location flexibility, support from managers and colleagues and nuanced views of wellness. A company that fails to consider the depths of such issues is missing the difference between simple engagement and overall experience.
There has to be a ton of feedback loops to come around the world at different levels of the organization.

Brigette McInnis-DayCOO, SAP SuccessFactors
For Veterans United, employee experience is "about how connected employees feel to the work they're doing and the people that they're serving and to their co-workers," Andrade said. That sense of community is a critical element -- and so is communication. As part of its employee experience framework, the company fosters day-to-day connections among employees through various methods. For example, employees can start an interest group on any topic, and the company helps to publicize these groups on a myriad of communication channels. Executives often attend these groups.
As just one part of this whole-person approach, Veterans United is among the companies giving greater recognition to the concept of employee financial wellness, with classes and an app aimed at helping employees.
SAP also takes a whole-person approach. "We want employees to be the best version of themselves -- everything they are and everything they want to be," Healey said. To that end, he pointed to three priorities he believes contribute to SAP's success in the employee experience arena: the company's investment in multifaceted lifelong learning, partly to future-proof employees; more meaningful recognition programs; and better offerings for working parents.
As a testament to the company's commitment to a holistic view of employees -- inside and outside the organization -- SAP has also partnered with Arianna Huffington's Thrive Global to give SAP employees and SuccessFactors users more comprehensive ways of managing wellness.
Consider the day-to-day technology issues
Hewitt said that when implementing employee experience technologies, companies and their HR teams have to get down to the daily level of technology experiences. "That's the big thing companies have been missing," he noted.
A happy employee is going to innovate, feel included. They're going to take chances, ... and that has an impact on profitability.

Dan Healeyvice president of HR, SAP North America
The technologies employees use during their workday -- daily journey -- encompass a wide swathe of old and new tools that enable employees to do their core work and beyond. Those tools include everything from an employee's computer to SharePoint for collaboration, Slack for communication to the right degree, chatbots to deal with low-level functions or get information from back-end systems, and robotic process automation that frees employees from repetitive work.
Veterans United also sees the technology platform used in processing loans as a critical factor in the employee experience as well as the usability and stability of its technology systems in general. Communication is paramount in this area as it is in all areas of the company -- for example, updates to new rules that are shared regularly, encouraging employee feedback, and a help desk that's connectible via instant messaging.
SAP also focuses on giving employees a fulfilling daily technology experience. Connectivity is critical for the highly distributed workforce, McInnis-Day said. An important part of the company's employee experience framework is "delivering technology and being well-connected even if you're not in the office," she said. One of the critical aspects of employee experience, she believes, is "having access to data to drive decision-making." The technology that delivers it "doesn't have to be beautiful," she reasoned, but it does need to be easy to use and work well, and it will "make or break" the success of a company and its employee experience efforts.
Focus on continuous feedback
"A lot of companies operate in a bubble," Hewitt said. "They think they're doing right things for employees, and they think employees are happy and motivated to work at their organization."
When SAP executives recrafted the company's employee experience framework as part of its new people strategy, getting input from employees was critical. "There has to be a ton of feedback loops to come around the world at different levels of the organization," McInnis-Day said. Nuance and inconsistencies are natural, she pointed out, since different people will want different things.
We give [employees] opportunities for meaning in their work and in their work experience.

Amanda Andradechief people officer, Veterans United Home Loans
In other words, an employee experience framework cannot be cookie-cutter, and it requires getting initial and frequent feedback from all employees -- not just executives or managers. At SAP, feedback comes from several pathways, including surveys, but Healey said one of the biggest sources is SAP Talk, the company's constant dialog program.
SAP Talk is a future-focused rating-less performance management system that also helps companies get feedback from employees on what's working well -- and what isn't. In other words, the tool boosts employee experience efforts because it allows the company to have ongoing discussions with employees, and those discussions function as a feedback loop for employee experience efforts.
SAP Talk hits on something important. Creating an employee experience framework is participatory; employees need to take ownership, and feedback is a part of that.
Veterans United's Andrade said the company's mission to enhance the lives of employees at work has a "collective focus on personal accountability and the group as a whole. Rather than culture consumed by employees, we all pitch in [to create our employee experience]," she said.
The company uses surveys as one way to gather employee experience feedback to help executives understand how strategies should be adjusted going forward. For example, when a training class is rolled out, stakeholders gather feedback, then change the offering accordingly; it's a process of constant iteration. They use that approach in virtually every area of the company -- from the overall employee experience to specific elements like support technologies used -- and Andrade believes it pays off.
"Humans want to feel purpose and want to feel like they're able to be productive and give to others," Andrade said. "We give [employees] opportunities for meaning in their work and in their work experience."
Technology and the totality of the workplace experience are critical to an employee experience framework for Veterans United and SAP. Conversations are laced with the recognition that, at the heart, it's about the people.
"Despite the benefits of technology, [it] can't empathize, collaborate and innovate, and that's going to make people even more indispensable," Healey said.
"Human beings add something way bigger and better than just machine [learning] and analytics. They add the inspiration. They add the intelligence on top," McInnis-Day said. Employees are what "differentiate whether or not the customer engages with SAP or our technology."
Dig Deeper on Employee experience