Share this item with your network:
Technology insights for the data-driven enterprise

Rawpixel - Fotolia
Workplace engagement yields employee diversity and inclusion
Vimeo's Charmien Fugelsang uses various survey and analytics methods to measure employee engagement, foster a culture of belonging and root out unconscious bias.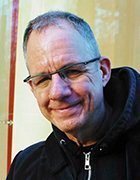 By
Do employees feel like they belong at their company? Discovering the answer to that question involves the right...
Continue Reading This Article
Enjoy this article as well as all of our content, including E-Guides, news, tips and more.
technologies bolstered by a company's desire to establish a diverse and inclusive culture.
If employees feel valued, if they have confidence in a company's products and leadership, that will turn up in employee engagement results, said Charmien Fugelsang, vice president of talent at content creation firm Vimeo Inc. Those results will indicate to a company whether employees "really feel like they're included in critical decisions [and whether] they feel their voice is valued," she said.
Workplace engagement will also reveal if employees believe they have the right tools and access to opportunities for growth. But the most important indicator is whether employees "believe in their leaders [and] in the potential of the company's product," Fugelsang said.
Vimeo is located in New York, where the labor market is highly competitive. Fugelsang said Culture Amp, a self-service SaaS employee engagement survey platform, allows the company access to a localized benchmark of what other New York tech businesses are experiencing. The platform offers the same type of analysis that a consulting firm might provide, Fugelsang said. It sorts the data in multiple ways -- including by gender, race, ethnicity, tenure, age and other metrics -- and makes suggestions in response to the analysis.
Culture Amp integrates with BambooHR, which provides the company's HR services. Vimeo also uses Slido, a system that offers real-time pulse survey polling and integrates with Slack.
Data alone isn't enough
Fugelsang doesn't rely exclusively on the data, however. The next step is post-survey collections -- employee focus groups that are organized to discuss the survey data, she said, noting that the focus groups add weight to the data. "One thing I have noticed about leadership -- especially if they get results they don't entirely like or agree with -- is a tendency to explain away and not take the feedback seriously," she observed.
At Vimeo and many other companies these days, there's increased emphasis on diversity and inclusion, both of which are related to workplace engagement efforts and get to the heart of one of Fugelsang's core questions: "What does it mean to create a culture of belonging?"
As a result, the company took several steps. It shares more information about its recruiting efforts with employees; improved its internal leadership development efforts; makes its résumés blind to hiring managers, a process that involves removing personally identifiable characteristics; and offers unconscious bias training to the entire staff to bring more structure to its candidate interviews.
That meant creating "a culture where everyone who is at Vimeo feels that they belong, feels that they can speak -- even if their opinion is dissenting from the majority -- and feels that they can be their best person, best self, at work," Fugelsang explained. "That's really what we're focusing on."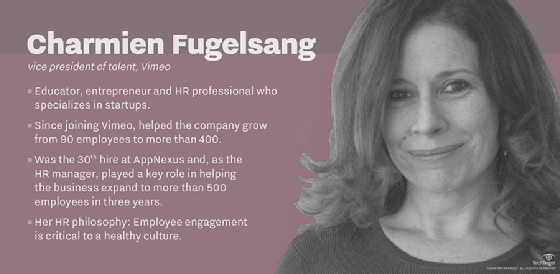 About two years ago, Kerry Trainor, who oversaw much of Vimeo's growth, stepped down as CEO. That departure was followed by an increase in resignations. After a long search, Vimeo moved one of its executives, Anjali Sud, into the role of CEO. Since Sud's appointment, the level of resignations has dropped to tech industry norms in New York, Fugelsang said.
Evolution of workplace engagement
One thing I have noticed about leadership ... is a tendency to explain away and not take the feedback seriously.

Charmien Fugelsangvice president of talent, Vimeo
About a decade ago, employee engagement centered on hiring candidates that were considered a "culture fit" in the organization. Companies would have something akin to a culture-fit ambassador who would be part of an interview committee to assess a candidate's "fitness." That has changed because of the potential for unconsciously adding bias into the interview process. In other words, "Is this person like me?" Fugelsang said.
If an organization is conscientiously focused on workplace engagement, employee confidence in the company will show up in surveys and productivity, she noted. Surveys and analytics provide a concrete measurement of how HR is performing. "Without that," Fugelsang said, "HR can be a little mushy in its accountability."