The 7 most impactful employee experience apps
HRIS platforms and online surveys are obvious vehicles for improving employee experience and engagement, but don't overlook collaboration, help desks and other tools of daily life.
Employee experience has overtaken employee engagement as the buzzword in HR technology. In theory, if you provide an optimal experience to employees, they will naturally be more engaged and stay with the organization significantly longer.
But do certain applications impact employee experience more than others? The comprehensive human capital management (HCM) application suites from vendors such as SAP SuccessFactors and Workday certainly play a major role, since they are designed to support the entire employee lifecycle and provide a good user experience. Niche apps designed for HR or for cross-functional use can also be valuable in providing a positive employee experience. Whether your organization's strategy is focused on making the most of an end-to-end HCM suite, a collection of best-of-breed applications or a combination, several important applications provide a better employee experience.
Benefits and drawbacks of employee experience apps
There are numerous benefits to using employee experience apps, such as improving productivity, fostering greater engagement and enhancing employee retention. Employee engagement and productivity are important to the bottom line and boost retention. An improved work culture makes it easier to hire and retain employees, keeping recruiting costs down and facilitating timely movement of talented individuals into critical positions. It can also lead to a better customer experience.
One of the main drawbacks of employee experience apps is the technology overload employees may face. While younger employees and millennials may be comfortable using technology throughout the day and even after normal business hours, older workers may find it overwhelming or draining. Older employees may be less comfortable with using smartphones and mobile apps and some may not own a smartphone. Some employees might object to installing work-related mobile apps on their personal smartphones. In that case, evaluating whether to provide devices versus employing a BYOD policy needs to be considered.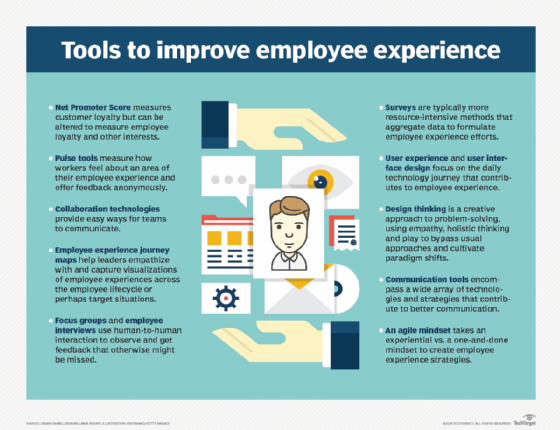 What to look for in employee experience apps
Applications should be easy to use and improve a user's ability to get their work done more effectively. They should also fit your organization's user experience strategy and you should be able to integrate them into other apps and systems to optimize efficiency and productivity. Availability of mobile apps is important to ensure employees can be productive when traveling or away from their desk.
Some vendors provide integrated suites of applications designed to provide employees with an optimized experience that can enhance productivity and collaboration. Microsoft Office 365 is one example of a suite designed to optimize productivity.
1. HRIS
Your human resource information system (HRIS) -- or as it's commonly called, human resource management system (HRMS) -- is still one of your most important HR applications. It's where employees go to perform necessary HR tasks, albeit mostly on an occasional basis. Being able to perform tasks that some employees might consider mundane quickly and easily without reading a user manual might not wow employees, but it will definitely improve the overall employee experience.
The HRIS functions employees tend to use the most are employee self-service, performance management and career development. Self-service activities include recording time worked, requesting vacation, viewing and electing benefits, changing employee data and viewing org charts. Most cloud HRISes also provide mobile apps that allow workers to perform self-service activities on the go. Popular vendors include ADP, Ceridian, Oracle, SAP SuccessFactors, UKG (formerly Ultimate Software) and Workday.
However, older HRISes might not include all of these features. For example, org charts are common in cloud HRIS products but typically aren't provided in legacy systems. In such cases, you might need to find an external application you can integrate into your HR landscape.
2. Collaboration
Modern collaboration tools, like Slack, SAP Jam, Trello and Facebook Workplace, offer employees a different way of collaborating on projects, initiatives, shared activities and more in real time without needing to be in the same place at the same time. In some cases, these tools can be integrated into your learning management system to add a social collaboration aspect to your training and learning programs.
Collaboration tools provide features such as groups, shared spaces, notifications, chats, repositories for documents and files, simultaneous editing of documents and commenting. They can enable teams -- particularly teams that are spread out geographically -- to track, manage and contribute to various projects and initiatives. Generally, when these types of applications are well implemented and work as intended, employees tend to feel the benefits and view their employer more favorably as using the latest technologies.
3. Experience management, surveys and feedback
Experience management (XM) is a fairly new category of enterprise software. XM tools enable organizations to gather and evaluate employee feedback on the experience of customers, vendors, suppliers, employees and other stakeholders. They can use the feedback to craft the experiences of the various groups and optimize engagement and perception, ultimately increasing sales and profitability. Companies that use XM software to measure employee experience can use the data to optimize, enhance and generally improve employee experience and engagement. Qualtrics, in which SAP is the majority investor, is one of the leading providers of XM software, with Medallia seen as a growing competitor.
Some organizations use survey tools, such as SurveyMonkey and SoGoSurvey, to gather feedback from employees. These tools also provide reporting and data analysis that can help to measure employee satisfaction, experience and engagement.
4. Service management
Most employees have to open some sort of a help desk ticket or seek out information on a process, problem or particular topic in their everyday jobs. While service management is more of an IT function than an HR one, these tools are increasingly crossing over into the HR realm, enabling employees to open tickets for HR-related issues. Some service delivery applications, such as ServiceNow, also integrate with HRISes. Effective ticket management and access to a well-organized knowledge base or information repository are certain ways to maintain a positive employee experience.
5. Intranet
Although a little old-fashioned compared to current enterprise software, your intranet can still be a great place for employees to find information that can complement the experience provided by the other HR systems. Some companies can enhance employee experience by upgrading from a traditional web-based intranet to collaboration tools, like Microsoft SharePoint or SAP Jam.
6. Health and well-being
Another new trend in HR is technologies and strategies to improve health and overall well-being. If there's one way to improve not only the workplace experience of employees, but also their health and work-life balance, then this is it. Health and well-being applications cover a range of issues, such as sleep tracking, meditation and mindfulness, stress management, fitness and diet.
Specialized applications are available – such as VirginPulse, LimeAid and Castlight Health – and some HCM suites include health and well-being applications or integration to the more common applications.
7. Audio and video conferencing
While technically not an HR tool, audio and video conferencing software that doesn't work properly has a negative effect on your workforce and their perception of meetings. The same is true if the software has low functionality or lacks dial-in features, perhaps because the company wasn't willing to pay for them. On the other hand, conferencing software is an important enabler of collaboration, which itself often has a positive impact on employee experience. Zoom, Webex and GoToMeeting are some of the more popular audio and video conferencing platforms used in enterprises. Some organizations also use collaborative platforms like Microsoft Teams for their audio and video conferencing needs.