New SurveyMonkey SMS feature available for enterprise users
The new SurveyMonkey SMS collector enables enterprise plan customers to send out web links to surveys via text message. The vendor claims this will elicit a higher response rate.
SurveyMonkey has added an SMS collector for its enterprise customers to solicit surveys through texting.
The SMS collector sends out surveys through text message via a web link, and recipients can click on the link and respond to the survey through a mobile browser. According to SurveyMonkey, this has been one of the company's most requested features from enterprise users.
As of now, the service is one-way and enterprise users can only send the surveys. However, SurveyMonkey said it hopes to eventually allow recipients to take the entire survey through text messages.
A potential use case for this service, in addition to enterprises reaching out to customers, is for internal review and employee engagement. The SurveyMonkey SMS feature enables companies to reach out to employees in a new way to gather feedback for self-assessment, employee and team skills assessment, manager effectiveness, career training and development, and promotion readiness.
SurveyMonkey provides templates for performance review that include customizable questions for surveys on 360-degree feedback, employee review, inclusion and belonging, management performance, department and team performance, employee satisfaction, and employee and human resource.
The hope is that the SMS collector will garner quicker feedback, as according to SurveyMonkey, most text messages are read within three minutes. Text messages also have higher open rates than email messages, therefore leading to a higher survey response rate, according to SurveyMonkey.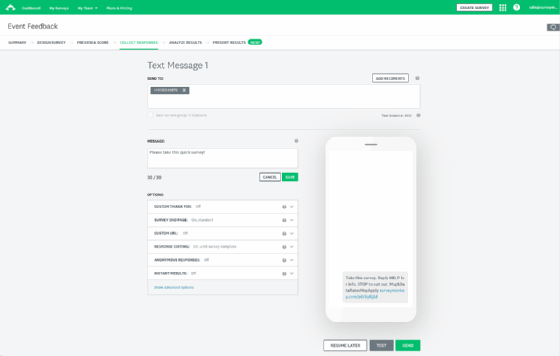 Additionally, SurveyMonkey claims SMS is simpler and offers an easier way of communicating with customers. Enterprise users can send any type of question or survey, and they are all optimized for mobile.
There are three different types of team plans: Team Advantage, which is $25 per user, per month; Team Premier, which is $75 per user, per month; and Enterprise, which requires a phone call for pricing information. The SurveyMonkey SMS collector is only available to Enterprise customers and will be a paid feature priced as an add-on.
Dig Deeper on Core HR administration technology