SurveyMonkey launches Build with AI to create surveys faster
The vendor releases generative AI capabilities to let users build custom questionnaires quickly and incorporate prompts that will yield better responses from customers.
SurveyMonkey on Wednesday launched its latest generative AI tool, Build with AI.
Build with AI lets customers use a natural language prompt to create surveys in what the vendor said is less than a minute and provides guidance for drafting surveys and improved insights for survey responses. Build with AI was engineered using generative AI technology from OpenAI. Its capabilities are part of SurveyMonkey Genius, SurveyMonkey's suite of AI tools.
Build with AI is generally available now and free for all SurveyMonkey users, according to SurveyMonkey.
Creating surveys faster with less expertise
Build with AI's custom survey generation tool gives users the option to start with one of SurveyMonkey's suggested prompts, which include customer satisfaction, employee experience and event feedback, or write their own prompt to create the survey. After inputting the prompt, the survey is automatically generated.
In this way, SurveyMonkey is not only letting organizations create surveys faster but also helping less-experienced team members create surveys, according to IDC analyst Lou Reinemann.
"That's a great opportunity to expand the market of who is creating and administering surveys," Reinemann said.
In addition, the tool is an apt addition to SurveyMonkey's portfolio, as SurveyMonkey has been collecting data about and providing survey creation services since its founding in 1999. SurveyMonkey is demonstrating its commitment to advancing survey products by releasing Build with AI, according to Reinemann.
"It's making use of that history of survey questions and how good their responses were, which is great. That's what they should be touting because they have all that data," Reinemann said.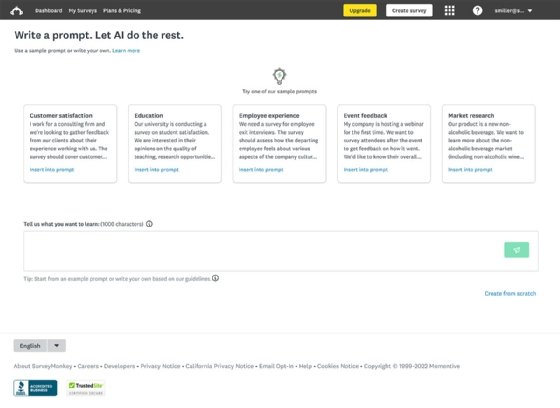 A niche offering in a broad CX market
However, SurveyMonkey may appear to be somewhat of a niche vendor compared to survey creation stalwart Qualtrics, which is well known not only for providing survey creation tools but also many other CX tools, according to Reinemann.
Lately, Qualtrics has been adding more employee experience management capabilities and provides tools for brand and product experience as well.
"Qualtrics offers significantly more capabilities today than just surveys in the CX world," Reinemann said.
But SurveyMonkey has no plans of branching out into other CX product offerings like Qualtrics, according to a SurveyMonkey spokesperson.
Structured data versus unstructured data
In the world of CX, surveys fall into the voice of customer category. VOC tools are used to gather and analyze customer sentiment and customer feedback. The process of gathering this customer feedback is called data listening.
That's a great opportunity to expand the market of who is creating and administering surveys.

Lou ReinemannAnalyst, IDC
Data listening can be structured, such as a survey, which asks direct questions, or unstructured, such as social media comments, product reviews on review websites and messages on online forums. In addition, surveys bring the information directly from the customer to the organization, while these other forms of communication do not.
The main challenge for all VOC vendors is finding out where end users are leaving online feedback about brands and how brands can interact with customers in these locations, Reinemann said.
"The channels … are being added fast and furious these days -- different communities, different communication sites. And you have to be able to stay on top of those different ones to know what your customers are saying and, hopefully, engage with them so that they know you're listening," Reinemann said.
Ensuring customer data privacy
To protect customers' data, SurveyMonkey does not train its AI systems on customer data, according to Geet Chopra, SurveyMonkey's director of product management.
SurveyMonkey conducted research and found that many enterprises would rather not share their data with third parties, because then it becomes exposed to the third parties' customers, Chopra said.
"Customers would actually prefer to opt out of any data sharing," Chopra said.
Now a configuration setting in SurveyMonkey's survey building product is disabled by default to prevent any customers from sharing their data with third parties. However, in the long term, SurveyMonkey plans to enable that setting for specific data, to let users create more personalized surveys and experiences within SurveyMonkey, Chopra said.
Mary Reines is a news writer covering customer experience and unified communications for TechTarget Editorial. Before TechTarget, Reines was arts editor at the Marblehead Reporter.