Rawpixel - Fotolia
Transformational HR in 2020: 7 strategies for agility and tech mastery
CHROs and their teams must grow their people, business and technology skills as they focus on curating the employee experience. This roadmap will guide leaders and departments.
Transformational HR is part digital transformation, part employee experience superpowers and part learning how to pivot at a moment's notice.
"This is the most exciting time to be part of HR because everything is changing, and I think we're really just realizing we could do and be so much more value added," said Beth Clutterbuck, chief human resources officer (CHRO) at e-discovery vendor Relativity, in an interview at the IamPhenom conference in early March before coronavirus dominated HR conversations. "But we're not going to get it all right -- we're going to try some stuff that is going to only partially work."
HR transformation efforts in 2020 and beyond must address talent management and technology challenges with creativity, empathy and a tech-savvy edge. Here are seven ways to accomplish this initiative based on advice from experts and attendees at the conference.
Understand the difference between employee experience and user experience
Over the last few years, conversation around employee experience and candidate experience reached a fever pitch as business and HR leaders scrambled to improve retention rates and better appeal as a talent destination. The true definition of both employee experience and candidate experience is using empathy to create a holistic look at emotions, physical workspaces and technology, but many people have narrowed the focus to technology only.
"I think we're conflating user experience and employee experience," said Steve Goldberg, vice president of the HCM practice at Ventana Research, during a panel on employee and candidate experience.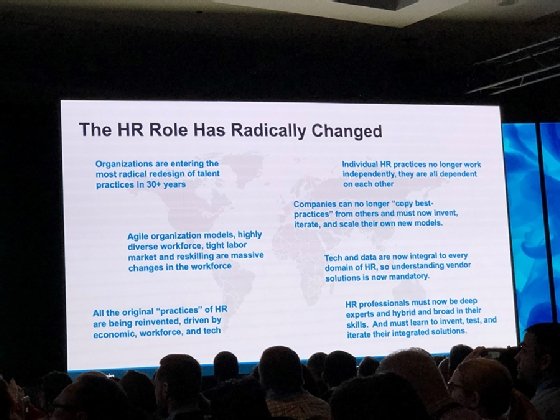 Although user-friendly technology is critical to employee and candidate experience, it's only one component of a positive experience. You can't just throw perks at the problem. A people-focused, respectful culture and the work itself are what matter. This will especially hold true during difficult times such as in the responses to the Covid-19 outbreak and repercussions.
As to what matters, take the example of Dropbox.
Working at the cloud storage provider included multiple perks, such as access to the No. 1 chef in Silicon Valley, said Josh Bersin, founder of the HR learning center the Josh Bersin Academy, in a keynote. Questioning whether the massive spend on perks was worth it, Dropbox's HR leader conducted focus groups and learned that employees would rather have a bonus, and better managers and productivity tools.
"The job matters," Bersin said. "[And in many companies] the No. 1 obstacle to getting the job done is bureaucracy."
Bureaucratic or ill-equipped managers, meetings upon meetings, clunky performance reviews and other processes are the kinds of things preventing workers from being productive and having a good experience, Bersin said.
Some forward thinkers in the HR realm believe leaders may even need to take the long view on providing a great experience.
"This concept of hanging on to your talent only because it serves you is so outdated," Clutterbuck said. "Things are changing so fast that we should say, 'If we want to give you [as the employee] the best talent experience, and we realize that we can't provide you the next level, we're going to need to help you find your next job externally."
Creating a great experience even for exiting employees can create brand ambassadors and "boomerang" employees -- people who have had such a great experience that they sell the company to potential employees or come back when the right opportunity appears, Clutterbuck said.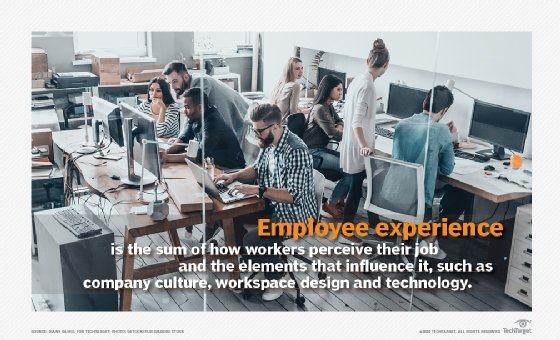 Become a diversity and inclusion advocate
Thanks to a confluence of social forces, diversity and inclusion have become a more high-profile national conversation. But bias plays out in a myriad of ways such as prejudices against veterans, those with different religious beliefs or physical abilities, and older workers. The latter issue is getting more attention as workers fight back, such as in the PwC and Google age discrimination lawsuits.
Solutions to these issues must be based on comprehensive strategies. One tip is to look at what has worked so far.
Global IT company Unisys, for example, looks at where its interview process succeeds in including a more diverse set of people, and uses that information to help understand how to do things better, said Amit Parmar, global vice president of talent and HR at the company, in a panel on AI.
Creating a diverse and inclusive environment requires addressing policies and culture, and likely grappling with some difficult questions. Technology alone cannot solve the problem -- and, in some cases, has the potential to carry out biases more quickly -- but it does have the potential to help.
Hilton Hotels & Resorts has used a number of different tools in an effort to attract a diverse group of candidates, said Sarah Smart, vice president of global recruitment at the company. The hotel chain also measures the results of its diversity efforts on an ongoing basis.
"You have to measure all the time, not just once," Smart said.
Champion internal employee mobility initiatives
As talent acquisition challenges grow, internal mobility -- the ability of workers to reskill, upskill and be promoted -- is becoming critical to transformational HR. Internal mobility is especially critical for retention.
Seventy-five percent of respondents have left a job due to a lack of growth and development opportunities, according to a study by Lighthouse Research, said Ben Eubanks, principal analyst at the firm, in an interview. On the other hand, 95% said they would have stayed if they had had some sort of opportunity in front of them.
If you don't help employees envision a career path at your company, they'll envision somewhere else when the recruiter gives them a call.

Ben EubanksPrincipal analyst, Lighthouse Research
"If you don't help employees envision a career path at your company, they'll envision somewhere else when the recruiter gives them a call," Eubanks said.
Some companies are ahead of the curve in their internal mobility efforts. For example, Credit Suisse has a program called Internals First, where recruiters look to internal candidates for a job before they call anyone external, Eubanks said.
Creating internal mobility requires HR to bridge silos so managers don't hoard talent, that is, discourage current employees from looking internally for new opportunities.
To work on more than an ad hoc basis -- think one-off recommendations -- internal mobility programs need to be powered by technology. Talent management software to capture and inventory internal skillsets is one common system organizations can turn to.
Upskilling and reskilling for new jobs must be a part of any internal mobility program, and multiple technology tools help to address this. As organizations focus more on delivering upskilling and reskilling in the flow of work, tools such as learning experience platforms can provide personalized instruction. In addition, some tools can help identify opportunities to internally fill job needs and provide real-world experience, such as the Phenom Gig tool that takes a gig-style approach to short-term internal assignments. There are also tools that workers can use to self-educate, such as online classes.
Recognize the complexities of data and people analytics
One of the most critical pathways of transformational HR -- and one of the trickiest -- surrounds data. Various HR technology systems collect data at every stage of the candidate and employee journey, but human resource leaders and their teams struggle with how to use data and whether they can use it. And if it's not a data-driven HR team, rolling out analytics too early won't work.
For example, when Marsh & McLennan Companies hired a data scientist to create modeling algorithms to help HR understand turnover, many in the organization weren't ready for it, said Rahel Schellenberg, global head of HR information solutions at the global professional services firm, during a panel discussion.
"They didn't believe we could predict what a human would do," she said. "We weren't ready for analytics."
Two years ago, Schellenberg renewed the analytics effort thanks to changes in leadership and more data-readiness in general. Leaders everywhere would be wise to take note and understand how important change management is in focusing on data.
"[It] depends on how ready you are, the size of [the] company, [and] how ready your HR team is," Schellenberg said. "You really have to have a team to build a foundation."
Realize the impact of compliance
With data privacy laws growing -- from GDPR to California's Consumer Privacy Act of 2018 to name just two -- HR teams must focus on security while balancing the increased use of AI to automate more stages of the process.
For example, Illinois recording law explains that if video interviewing technology with AI is used to hire someone, the records of that interview must be deleted after 30 days, Eubanks said. In addition, if the new hire quits 30 days later, the process must start all over again. You can't go back to the interview of your next candidate because it would have had to be deleted.
"This tug-of-war is a very real challenge," Eubanks said. "I don't know that it's going to go away."
Lead in HR's transformation
Many HR experts and leaders believe hierarchical organizational models are going by the wayside in favor of a more agile approach.
"Thirty-five percent of companies say they operate as a network," said Bersin in a keynote in which he cited his organization's research.
These kinds of companies have teams as their center, which shift and change as needs arise, he said. In this more agile approach, managers don't dictate the trajectory of people's careers or job descriptions, levels and titles. Instead, managers lead projects and people lend their skills across cross-functional teams.
"Organizations are changing, and we have to build HR teams that mimic that," Bersin said.
Make upskilling yourself a priority
A transformational HR approach requires a mindset that thrives on growth. "Be open for opportunities that come across," Schellenberg said.
This advice is critical for women but also applies to others who aren't a part of the dominant culture.
"Women are more likely to feel they have to prove themselves and be totally ready for new opportunities, whereas guys raise their hands right away," Schellenberg said.
It's easy to keep your head down and do the work, but that's a mistake. It's important to upskill yourself, Clutterbuck said. Learn about design thinking, take marketing courses to understand how to speak to different personas and learn from other groups -- for example, talk with developers and ask them what they're interested in. And make time to brainstorm how to tackle transformational HR challenges.
"You have to create the space [for creativity] because if not, you'll never get to it," Clutterbuck said.