peshkova - Fotolia
Josh Bersin on employee experience, fighting HR tech overload
The fever pitch surrounding employee experience -- combined with the glut of tech promising to deliver it -- has left HR overwhelmed. Here's advice to help simplify matters.
The time has come to exercise technology cautiousness and examine what actually makes workers happy. That's the advice of HR technology guru Josh Bersin.
We sat down with Bersin, founder of the Josh Bersin Academy, a professional development school for HR, at last week's IamPhenom conference in Philadelphia, held by the talent experience software provider Phenom.
Here, Bersin discusses how HR and IT should deal with the exponentially growing HR technology landscape and whether technology is actually the key to a great employee experience.
In terms of the HR technology buying team, how would you characterize collaboration between HR and IT teams?
Josh Bersin: It's complicated. We're at a stage of the HR tech market where there's way too many tools. It's out of control. HR needs IT so that IT can put together an architectural strategy for all these tools. We can call it part of the employee experience or the talent experience. We don't want the employees to have to log into 15 different things or download different apps to use all of our HR systems. We want [things like] single sign-on and security. We have GDPR, we want to make sure the data's consistent, and we don't have different data elements being collected in different places or replicated data in different places. And all these tools have AI so they're all intelligent data collection systems on their own.
So, the IT people are getting more involved than ever. IT departments need to be much more like systems integrators and really look at how these things are going to fit together and slow down the buying.
How can IT help HR leaders address the tech overload?
Bersin: The new model is starting to evolve to be like the iPhone -- you can find any app you like, download it, run it and then delete it if you don't like it. That's really where IT needs to go. Companies have to figure out some form of plug-and-play strategy.
More of the vendors are building interfaces to the big HR platforms, and some of the big vendors like Oracle, SAP, Workday, ServiceNow and ADP are becoming more integration platforms. So, if you're an ADP customer, if you're a Workday customer, there are tools [from other vendors] that have been [preset for integration]. You can just select from that list so they're kind of ecosystems.
Focus on the employee experience and the big problems before [you] go out and buy all the tools.

Josh BersinFounder, Josh Bersin Academy
But a lot of companies have multiple geographies; they go through acquisitions; they actually have five HR systems, [for example]. So, vendors like IBM and some of the big integrators are now spending a lot of time helping companies connect all these things together because there's not one easy plug-and-play architecture yet. We've reached that stage where integration and ease of use is more important than a really cool feature that was built from a vendor we'd kind of like to have.
HR leaders are being told they need all these exciting or new technologies. What's your advice for them?
Bersin: HR leaders need to make sure they slow down the process a little bit and focus on the employee experience and the big problems before they go out and buy all the tools.
Let's suppose we want to have a well-being app -- mindfulness, exercise, fitness, diet -- there's a million of those. But HR leaders need to consider:
How are employees going to get to it?
How are they going to log into it?
What platforms are they going to build around it?
Is the IT department going to support it?
What versions of the operating system will it run in?
Where will the data go?
Who's going to secure the data?
How much of the data is even legal for us to even look at?
So, more of these decisions have to get slowed down and reviewed by IT. Good HR departments have an HR tech committee and it includes the buyers, the specialists who need to know what the products do and then somebody in IT, and somebody in the data -- and sometimes there's an analytics group -- and they all work together. They look at the options and they make sure the pieces fit and form a reasonable architecture.
What tools should they tackle first, especially as it relates to employee experience?
Bersin: You have to know how the company is doing it today. So, for example, if you're shopping for a new recruiting system, all the critical stakeholders should come together to discuss it. And some of them are going to get excited about a lot of things. But you need to get under the covers of that and look at what core technology you already have. You have to do [a request for proposal] from the standpoint of the purchasing department, but that doesn't tell you that much. What you really need to do is pick a product you like and then pilot with a small number of people and see how well it works.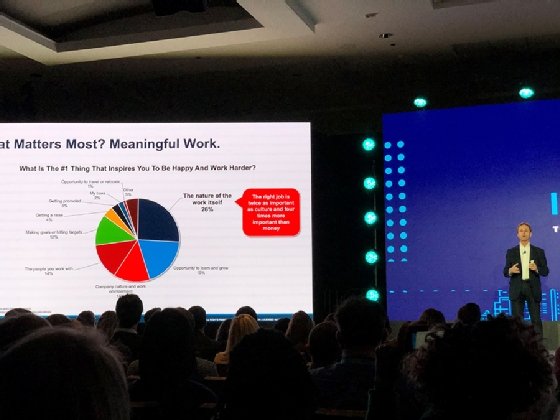 A lot of vendors are selling tools as the key to the employee experience. What do you think of that?
Bersin: Vendors have oversold HR technology as the key to employee experience. If what you had was bad or you didn't have anything, technology can help. Everybody gets very excited about the technology.
The more important things at work are the work itself, the managers, the way you treat employees, the pay, the sense of fairness, the sense of inclusion [and] employees' opportunity to grow. Those are the things that really drive the employee experience. The software doesn't do that.
Next Steps
Does AI belong in HR?