Andres Rodriguez - Fotolia
Employee engagement best practices still rely on the human touch
Employee engagement tools can play a critical role in worker productivity and retention, but they need the constant nurturing of executives, managers and HR leaders.
When it comes to recruiting new employees or hanging onto existing ones, HR practitioners, analysts, consultants and technology vendors are quick to extol the virtues of "engagement" as critical to the success of a product or project -- and for good reason.
Studies have shown that an engaged workforce turns in better results. Gallup reported, for example, that companies with high levels of engagement realize higher productivity, better retention, fewer accidents and higher profitability.
Given the role technology plays in workforce and talent management, it's not surprising that many vendors gear their products toward engagement. For years, companies like CultureIQ and Culture Amp have offered platforms designed to help customers take the pulse of their workforce through surveys, analytics and feedback tools.
More recently, however, vendors of even the most prosaic workforce devices -- such as time clocks -- hype their ease of use as contributing to employee engagement best practices: "Drive employee engagement using automated time and attendance software," one software provider's website expounds.
Those companies may be pushing the envelope of messaging, according to some industry observers and executives. "The way that I look at it, technology is an enabler. Technology is a tool," said HR author and consultant Debra Corey, chief pay-it-forward officer at DebCo HR and co-author of Build It: The Rebel Playbook for World-Class Employee Engagement. While technology is "absolutely critical and absolutely vital to employee engagement," she noted, employers must be sure to get "the basics right and the foundation right."
Even when using best-in-class technology to support the employee experience, "you still have to have that ecosystem around it to culturally promote engagement," added Pete Tiliakos, principal analyst at NelsonHall.
Balancing technology with humanity
No matter what technologies HR puts to use, the dynamics of that ecosystem are driven by a company's managers, said China Gorman, managing director of the HR tech conference Unleash America. "I would say the primary engagement strategy is having great leaders at every level of the organization," she reasoned. "If there's technology that helps managers from the supervisory level up to the divisional level really understand what the [company's] values are, understand how to behave in a way that supports those values, that helps them engage, then, yes, technology can help."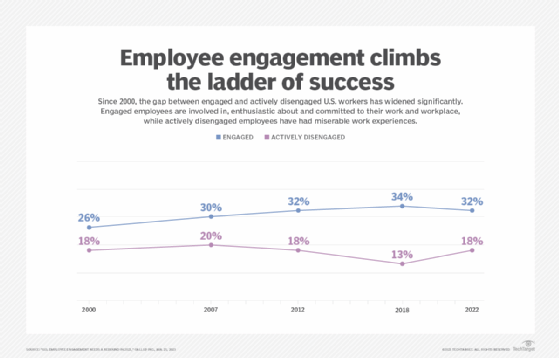 Technologies can be used to measure, communicate and gather data, but employees are engaged according to the relationships they have with their leaders, their co-workers and the work itself. "If employees don't have any kind of intrinsic connection to the work they're doing or with their co-workers, if they don't respect or trust their leaders," Gorman said, "there's no amount of money you can spend on technology that will improve engagement. Period."
Corporate leaders must recognize that their behavior -- not technology -- sets the foundation for building employee engagement best practices. While the chief executive doesn't necessarily have to lead the way, Gorman explained, "I think you have to have the majority of the C-suite, the direct reports to the CEO, who do get it and who are absolutely committed to creating a culture in which every stakeholder -- employees, contractors, part-timers, interns, suppliers, customers, everybody -- can really thrive."
That commitment also includes middle managers and line managers. "Each and every manager needs to absolutely understand their role," Corey said. "A manager can be the difference between having a good experience and a bad experience."
Managers occupy a unique position within the organization, she pointed out, because they can be "choke points. It's almost like you've got this funnel of great information that's flowing and flowing and flowing, and then, all of a sudden, you've got this choke point and it's not going any further."
HR, for example, might design the best employee-recognition program possible and implement the best technology to support it yet see disappointing results if managers don't actively use the platform to express appreciation for their people. In this situation, "they're not helping to create a recognition culture, and the program has absolutely no chance of working," Corey said.
"If companies want to successfully compete and win in a competitive workforce, they must have ... managers and executives who are committed to employee engagement, together with the most advanced technologies," advised David Ludlow, group vice president at SAP Labs. "Neither one can work successfully without the other."
When technology goes off the rails
Management teams need to be on the same page, when it comes to investing in and getting the most out of HR engagement software, "If you get managers and executives in the organization to buy into using it appropriately, then technology becomes the most effective tool you could ever imagine because of its power as a communication engine," said Gregg Lederman, president of employee engagement at engagement platform provider Reward Gateway. "But when it's invested in and not effectively used, it becomes a disengagement product. It becomes an inhibitor of engagement."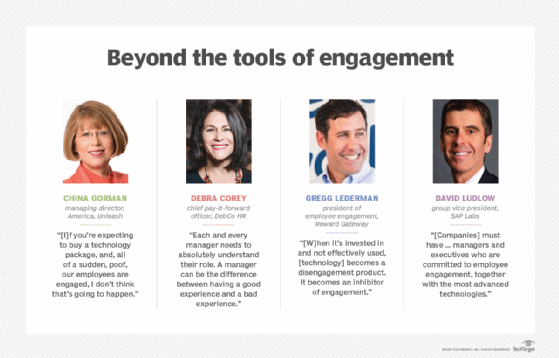 There's technology engagement and there's people engagement -- both equally important parts that require a delicate balance in employee engagement best practices. "Technology can absolutely hurt engagement efforts," Ludlow said. "Even modern technologies can be misused or relied upon too heavily to help drive engagement."
Making the assumption that technologies can replace certain human elements when communicating with employees can be particularly dangerous, according to NelsonHall's Tiliakos, who cited scenarios in which managers rely on apps or video chats to communicate with subordinates instead of face-to-face conversations.
Managers need to have discussions at a level that helps them understand what an employee needs and, in turn, fulfills the manager's needs. "I don't think you can get that from a platform," Tiliakos conjectured. "You have to sit down and have a conversation with someone and get into what's going on in their world to really understand it."
"I don't think there's a silver bullet engagement tool," Unleash's Gorman added. "[I]f you're expecting to buy a technology package, and, all of a sudden, poof, our employees are engaged, I don't think that's going to happen. When all is said and done, the behavior of leaders engages employees or it doesn't."