Many paths on quest to build an employee experience platform
Roots in case management and help desks give vendors like ServiceNow a leg up. HCM vendors have workflows and bots that provide similar functions. Each side needs the other.
Technology cuts two ways in the quality of the employee experience. User-friendly HR systems with seamless connections can remove obstacles and empower workers, while disjointed, hard-to-use ones can have the opposite effect, dampening productivity and shaking employee confidence in the organization.
For several years, HR technology vendors have used a better employee experience as both an ambitious goal and a marketing phrase for all manner of products, from recruitment applications to pulse surveys. Now, some claim to sell a full employee experience platform. The idea is to have an integrated suite of applications that can handle an employee's entire journey in a continuous workflow from pre-hire to departure and make the experience as pleasant, engaging and productive as possible.
But employee experience often means something smaller, tantamount to a vendor saying that employees will have a better experience while using their software. In that case, the technology isn't built for the purpose of improving the employee's overall experience at an organization.
"When a lot of technology vendors talk about employee experience, in fact, what they're talking about is a better user experience," said Bill Docherty, managing director of the human capital practice at Deloitte Consulting. "They use it as a way to talk about how they're revamping their product."
In addition, several users, analysts and vendors reported that the more high-minded goal of assembling an employee experience platform is easier said than done, in large part because the human capital management (HCM) systems where HR transactions have to be executed aren't always easy enough for people outside of HR departments to use. The technical issues of integrating with those systems can also be complex. A handful of vendors have made real progress, though, and some organizations with a serious approach to employee experience have been able to piece together de facto platforms with help from systems integrators.
What is an employee experience platform?
Independent analyst Josh Bersin is credited with introducing the concept of the employee experience platform and sketching its prerequisites in an early 2019 blog post and white paper on his website. EXPs, as they are sometimes abbreviated, have their roots in case management and employee portal software, he wrote, likening them to a type of middleware that connects HR workflows across systems.
Several components are essential in Bersin's schema (see infographic).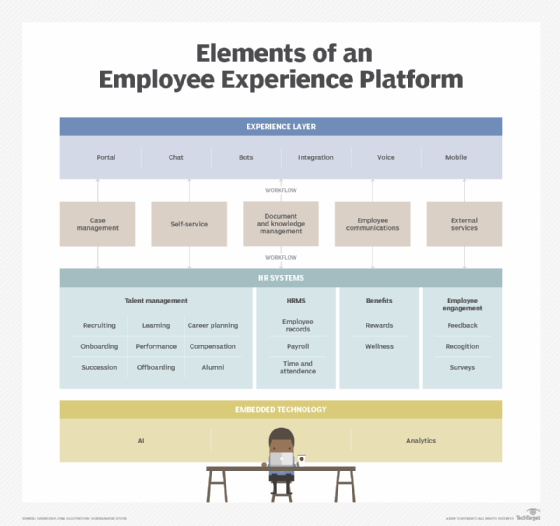 There must be a strong employee self-service capability alongside a help desk system to answer HR questions from workers. Answers might come from a search engine or chatbot, but often, they're from an actual person. A document repository or knowledge management system holds the general information, corporate policies and procedures that employees and help desk agents refer to. A workflow engine hands off messages, documents and data between people and systems.
A platform's UX, or experience layer, typically centers around an employee portal from which workers ask questions, initiate workflows and, if necessary, open applications. Companies also use the portal to share news and push out messages that reinforce the corporate culture, a big contributor to the employee experience.
Other technologies and capabilities are also needed to make the whole setup efficient and responsive.
"That experience layer has to be intelligent," Docherty said. "It has to have an idea of who that user is, what their persona is and the ability to present a tailored experience." The system should know exactly where individual employees are in their organizational journey and offer customized content that helps with their current tasks, he said. "A one-size-fits-all portal isn't going to work."
AI, another key ingredient, predicts what employees are trying to do and offers suggestions. It also provides the ability to use case data to optimize service delivery and is behind the natural language processing (NLP) that lets search engines and chatbots understand spoken and typed queries.
A strong analytics capability is also required in a complete employee experience platform. Managers can use the analytics to monitor the performance of the EXP itself, spot process bottlenecks and measure employee engagement, since it's fairly easy to see who is using the platform and for what purposes.
Sometimes, an employee engagement platform gets labeled as an employee experience platform. To really earn the name, though, a platform must go beyond collecting employee feedback and fostering engagement to improve the overall experience of using workplace systems and help employees feel valued and successful.
How technology impacts the employee experience
Experts in employee experience are careful to position technology as just one coequal member of a triumvirate of contributing factors that also includes culture and the physical workspace. Technology can't always overcome a toxic culture that elevates bad bosses and makes workers feel unappreciated, nor can it mitigate the debilitating effects of a nonergonomic workspace in an office with indoor air pollution.
"It's really a significant shift in culture," Docherty said. "A lot of organizations are starting to realize that the technologies, the processes [and] the philosophy they bring to providing exceptional service to their customers, that it's just as important to replicate that in providing an exceptional experience to their employees."
But employee experience is "a much more holistic process," he added. "It spans all of the different workflow processes that employees deal with day in and day out." And it demands an answer to this question, as Docherty put it: "How can you provide an optimal experience across that entire employee lifecycle?"
Designing an employee experience platform involves the same kind of workflow analysis used to optimize the customer experience at e-commerce sites, according to Docherty.
"One of the things we think is important is to completely track an employee's journey through that user experience and understand where are they getting stuck," he said. "When did they get to a point where they found difficulty in completing that journey in a self-service manner, and when did they decide to open up a ticket or pick up the phone and call the service agent?"
Zensar's homegrown EXP digitizes employee lifecycle
Leave it to a software developer to regard automation as the route to a better employee experience instead of an impediment.
"We empower our employees to be their best version," said Vivek Ranjan, senior vice president and chief HR officer at Zensar Technologies, an enterprise software maker and consulting services provider based in Pune, India. "Obviously, we have to ensure that we provide an ecosystem where they are able to. So, we did a very extensive 'insighting' just to understand, from pre-onboard to retired, what those experiences are."
Zensar then went about digitizing the employee journey, using AI and analytics to find automation opportunities in the moments that matter to individuals. The company used its existing co-creation model, which gives employees a say in product development, to redesign its HR processes, he said.
The result was a homegrown, mobile-friendly employee experience platform dubbed Talent@Zensar that is integrated with Skillsoft learning management and SAP SuccessFactors HXM (see screenshot).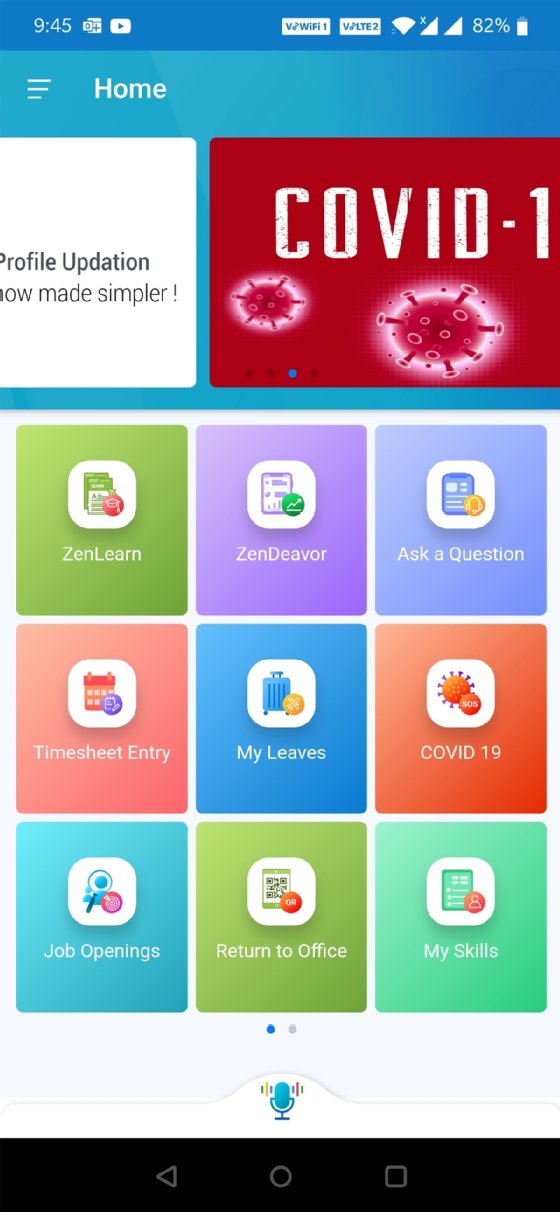 "It's not just the app or the platform which is there, but end-to-end, complete reengineering and transformation of our processes and system so that we are able to provide that intuitive experience to our employees," Ranjan said. Zensar then productized the employee experience platform, rebranding it Humané and offering it this year as a SaaS offering to its customers.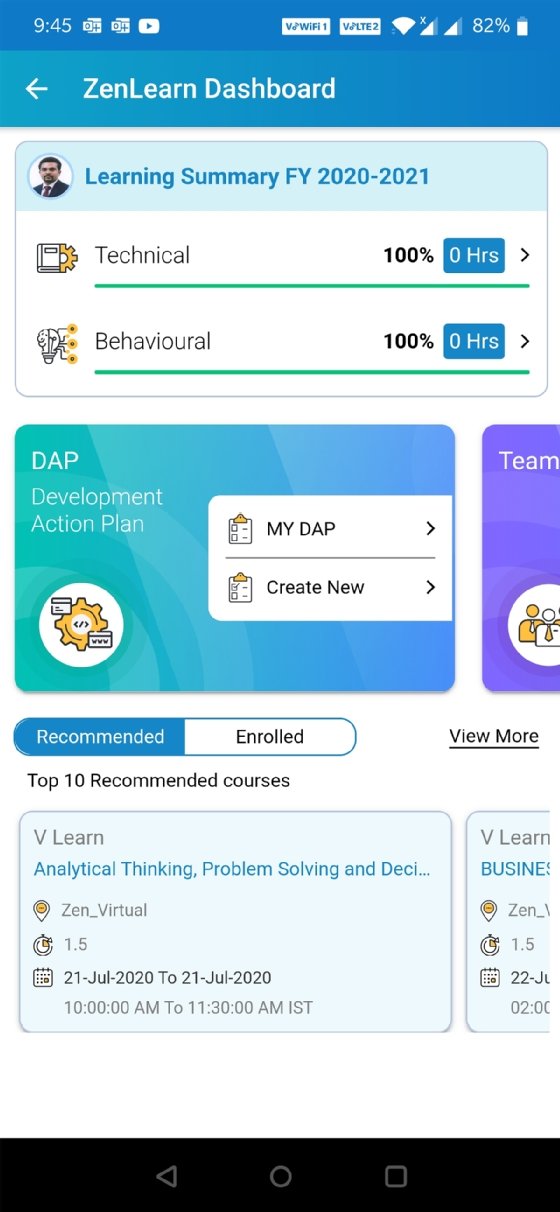 The platform uses AI to give employees "nudges" about next steps, such as taking some training in Skillsoft, which, in the past, they might have chosen without knowing the exact relevance. Now, integration between Zensar's enterprise applications enables Talent@Zensar to pull in a demand forecast from the company's Salesforce CRM showing the types of products customers might want. The platform uses SuccessFactors data about employees' career aspirations and performance to determine if they have the skills needed to produce the new products or need additional training in Skillsoft.
"When they see the connection between the demand and their reskilling and upskilling, then automatically they get very enthused and excited about taking the training," Ranjan said. The mobile application also provides one-touch communication that lets employees contact senior managers directly if a special need arises during the COVID-19 pandemic.
Employee experience platform vendors
In his blog post, Bersin named as key players Deloitte (with its ConnectMe product, since rolled into Human Capital Platform), GuideSpark, IBM, PeopleDoc, PeopleSpheres, ServiceNow, Spencer, TI People and Willis Towers Watson. He noted that many other vendors were entering the scene and made a case that the intelligent chatbots from vendors such as Leena AI, Mya Systems and Workgrid Software and the ones that HCM vendors are embedding in their suites also play a role in the emerging market.
A year and a half later, he sounded impressed by how the concept and market have taken off and humble about how imperfectly his vision fits the reality.
"It's become massive," Bersin said. "In fact, it's the fastest-growing part of the HR tech market. As far as becoming one platform, it didn't evolve quite the way I was expecting. There seem to be a whole bunch of tools that fit in that space, and other than ServiceNow, no one's tried to establish sort of a core platform. A lot of what I wrote about is true -- it's just kind of manifesting itself into many, many subcategories."
PeopleDoc, acquired by UKG (then known as Ultimate Software) in 2018, is a prime example of how a vendor can start from a small niche in the HR technology ecosystem to eventually build out an employee experience platform. The company began in 2007 selling technology for unified file management and, two years later, developed a cloud version for HR after hearing strong demand for such a tool.
Today, Nestle, with 330,000 employees, is the largest customer using PeopleDoc's platform, which uses robotic process automation to communicate with HCM systems and handle workflows.
"It's just a way to centralize within PeopleDoc every single process that could call all the systems on the back end," said Jonathan Benhamou, the vendor's co-founder and chief international sales officer. "It's really like a unified experience and a one-stop shop for the employee."
Meanwhile, HCM suite vendors are embedding EXP features. "They're all doing this," Bersin said. "It's a matter of how fast they do it and how much of it they do." For example, Oracle, SAP and Workday all have chatbots and UIs that are based on an employee journey map, he said.
However, Bersin and other experts strongly indicated that ServiceNow is the 800-pound gorilla. Other vendors on Bersin's list named ServiceNow most often as their chief competitor, and based on a perusal of vendor spec sheets, it checks more of the boxes than any of the others.
"They're sort of flipping the whole view of the world and saying, 'If you think about the employee experience first, it really doesn't matter what's on the back end,'" Bersin said, referring to ServiceNow's experience layer that insulates users from underlying applications and data sources. "That's not a bad message."
ServiceNow helps Hitachi Vantara overcome legacy HR system
One satisfied ServiceNow customer is the HR shared services team at Hitachi Vantara, a subsidiary of the Japanese IT and industrial equipment manufacturer that focuses on data center infrastructure and consulting services. Based in Santa Clara, Calif., the company is striving to build a "frictionless experience for our employees," said Mia Isnardi-Shook, its vice president of HR technology and enablement.
"I've spent a good part of the last seven to 10 years just really getting myself to understand about the employee experience and the different technologies and what the best approach is to try to deliver a good experience for employees," she said.
Hitachi Data Systems, a predecessor of the Vantara unit, went live on ServiceNow in 2015, starting with the case management feature. It sits atop an aged, on-premises Oracle E-Business Suite R12 HR system that the subsidiary plans to replace with SaaS-based Workday in May 2021 as part of a Hitachi-wide deployment. An applicant tracking system called Greenhouse is integrated with the Oracle HR software.
An HR portal, accessed from a broader intranet portal, went live in 2017, the year Hitachi combined three business units to create Hitachi Vantara. The company plans to move to a more "enterprise" portal, according to Isnardi-Shook, where employees can ask a question without specifying which back-end system it should go to. There also are plans to add an instant feedback feature that pops up when an issue is resolved.
The ServiceNow Enterprise Onboarding and Transitions module, which went live in 2018, has received extremely positive feedback, she said, as executive complaints about the "horrible" old process went away. Hitachi Vantara also uses ServiceNow's IT help desk module.
"For those cross-functional, complex workflows -- whereby you need to engage with IT or with workplace services or security to get a cubicle assigned and to get their badge issued -- we've incorporated all of that into our automated onboarding process," Isnardi-Shook said. Eventually, the company hopes to make it so automatic that a technology package and secure access are assigned automatically to people according to their role. "Today, a manager has to select what an employee needs," she said.
The employee experience will again change significantly once the SaaS HCM suite goes live.
"Before Workday came into the picture, my focus was really on trying to optimize ServiceNow because we had had that investment, and I didn't think I was going to have any chance of improving our HCM," Isnardi-Shook said. "My best chance was to try to maximize ServiceNow as what I would call that 'engagement layer,' a layer where you want all your employees to go first."
She acknowledged that the trend toward developing an employee experience platform is real, but she's realistic about the prospects.
"I do believe that that is what a lot of people are striving towards, [but] I don't think that there is any one single solution that can get everything you need. You're going to have to supplement somewhere," she said.
HCM suite vendors take up the EXP challenge
It stands to reason that the vendors that put the most work into assembling comprehensive HCM platforms would have employee experience strategies, since they already have most of the pieces. But, rather than developing an experience layer like ServiceNow's, they're embedding similar technology throughout their suites. A workflow-based UX maps HR processes to the employee journey, and NLP-enabled HR chatbots give users assistance when they need it. Self-service was already a common feature of HCM suites, and some have optional help desks.
"They're all building experience layers on top of their systems, for sure," Bersin said. "I think it's a little early to tell who [are] going to be the winners."
Meg Bear, senior vice president of engineering and operations at SAP SuccessFactors, described the EXP effort at the vendor -- one of the four, along with Oracle, UKG and Workday, that dominate the SaaS HCM market.
"Where we are seeing growth is in this concept of flipping the script a little bit to put people at the center of the systems so that, instead of just automating HR processes for the benefit of HR, we're thinking in terms of automating processes for the entire employee system," she said. "We are all-in on that big piece." In fact, SuccessFactors in 2019 rechristened its HCM product as an HXM suite, for human experience management.
Bear said another product called SAP Work Zone for HR, in beta now and planned for general release in the fall, provides the workflow and infrastructure layer for connecting the components and is essentially SuccessFactors' employee experience platform. It provides templates, best practices, knowledge management and mobile access intended to help companies simplify employee self-service processes, such as requesting parental leave.
"I think of it as a workflow tool plus a modern view of what a portal used to do," she said.
SuccessFactors also has a partnership with ServiceNow that provides similar capabilities, Bear said.
The other component that makes SuccessFactors HXM an employee experience platform, she said, is a customer and employee experience and survey tool from Qualtrics, another SAP subsidiary that the company now plans to take public while retaining majority ownership.
Qualtrics helps gather feedback from employees on how well HR technologies and processes, such as job interviews and succession planning, are working for them. It also takes snapshots of employees' thoughts and feelings about the organization -- the employee sentiment component of the employee experience strategy. SuccessFactors developers worked closely with Qualtrics to embed the survey capability into more HR processes and then provide HR managers with tools to revise the process based on the feedback, which can come from employees clicking a smiley face or a frown or answering a survey, according to Bear.
Oracle's EXP by another name
Like SuccessFactors, Oracle sells a comprehensive SaaS HCM suite that it has been aggressively modernizing with technologies such as AI, NLP, chatbots and workflows that are some of the building blocks of an employee experience platform, even if Oracle doesn't call it that.
"I think the vision the way Josh laid it out and the white paper subsequently talked about is a little too ambitious," said Chris Leone, senior vice president of development for Oracle's HCM applications. "I don't think there's ever going to be one system that sits on top of all the experiences that you have across every single interaction an employee has in their organization. What I do agree with is creating unified people experiences across key interactions that matter or key journeys that matter."
In Oracle Fusion Cloud HCM, journeys are triggered by events that happen in the system, such as an employee moving to another country. "A transfer journey would be: I just transferred an employee to a new position, and as soon as that transaction happens, you're going to get a transfer journey set of activities [to] engage in," Leone said. The system is also aware of employees' eligibility for certain moves. "It basically looks at you as a person, and as things change in your eligibility record, we will trigger different journeys for you," he said.
He said most organizations have focused on improving the experiences at the bookends of the employee lifecycle -- onboarding and offboarding. "Where we are investing and where I see other vendors investing in is the experiences in the middle," he said. "It might be a career development journey where you're asked to do multiple tasks -- some inside our system, some outside our system -- and string those tasks together in a logical fashion."
Leone said "uber" platforms, like ServiceNow, provide orchestrated processes that string together series of tasks and workflows but can't possibly handle all the necessary transactions because it's unrealistic for an HCM suite vendor, like Oracle, to enable a REST API service for every type of transaction. "They sit on top and they try to orchestrate across multiple systems without having any transactional component other than ticketing, case management and knowledge management," he claimed.
Oracle sells its own HR help desk system, which includes a knowledge management system, that competes with ServiceNow.
"We have decomposed some of our pages in order for you to plug some of those into other systems," he said, giving the example of what Oracle calls "quick actions," such as processing pay slips. "That's what we call a deep link, and if you plugged that into one of the tasks in ServiceNow, you could link into our system. But, again, you're coming into our system to view your pay slip. With all the security that has to be set up, to replicate all the role-based security for every page that we have in our system in ServiceNow -- it's unrealistic."
Leone said, at many organizations, instead of executing a self-service HR transaction, employees are opening a ServiceNow ticket, and another person makes the requested change. "They can create these really nice journeys, but at the back end, there's somebody keying into the system."
ServiceNow on the hot seat
All the grudging respect and criticism directed at ServiceNow shows how much it depends on HCM vendors and how many of them depend on ServiceNow, especially if a customer wants an employee experience platform, perhaps to make an old HR system palatable like Hitachi Vantara did. How do the two sides manage that relationship?
"We have a healthy coopetition with any HCM vendor," said Blake McConnell, ServiceNow's senior vice president of employee workflow products. "HCMs are fundamental to our business because we're not a system of record. We talk to all of those vendors, and we work with [them]."
Besides, the choice of whether to execute tasks in ServiceNow or the HCM platform is up to the customer, he said. "We can easily integrate with an ERP system or an HCM system so that employees can take action and then have that action be executed in their given system of record."
He added that ServiceNow has an open API and ships an integration hub with the platform. Global systems integrators (GSIs) "love the ServiceNow story because it allows them to tell a broader enterprise-wide story and to really start solving for employee challenges that are broader than just a given domain," McConnell said. "Customers can decide: Do they want to do these integrations themselves, or do they want to partner with a GSI? Or do they want to get started by leveraging certain out-of-the-box integrations?"
He said the ServiceNow platform has a "fair amount of overlap" with the EXP vision laid out by Bersin. The vendor is also moving into workplace services, which will enable the platform to cover around two-thirds of the employee service requests in a typical company, he said, and it will continue to "chop away" at more, such as legal services.
ServiceNow is also working to embed feedback through its workflow and use employee sentiment analysis and learning technology to reinforce diversity, inclusion and belonging. It's a far cry from just doing employee surveys every six months. "Why not be getting that feedback," McConnell said, "in the workflow around a given process? Why not insert learning into the workflow, as opposed to learning just being something separate?"
McConnell said ServiceNow believes conversational interfaces will become more important over time, a point Leone echoed, and it will soon offer natural language understanding conversations for specific HR processes.
Integration challenges aplenty
It's not surprising that integration is probably the biggest challenge in assembling an employee experience platform, considering all the applications the system has to work with to have any hope of covering every process in the employee lifecycle.
"Maybe it's 30 that are well-known employee 'mini-apps' that companies want, where there's a little third-party vendor that does it," Bersin said. "But, if you buy that third-party tool, now you have to connect it to your ERP and make sure there's a single sign-on." He said integration challenges also crop up when a company decides to use an application, regardless of whether it works with its existing EXP, such as ServiceNow.
Deloitte Consulting's Docherty agreed that the employee experience layer has these limitations but played down their effect on users.
"At the point where an employee actually has to deal with a transaction in those systems, at that point, they might be brought into that system to complete the transaction," he said. "But, the vast majority of time, the communication is coming from those systems, [and] the notifications or very simple transactions they need to complete, for most of our clients, is done through a single employee experience portal." Users will only be taken to the underlying system if they have to perform a task that's unique to that system.
Isnardi-Shook said the Workday implementation at Hitachi Vantara will require integration. "There are some complexities because, as you start to talk about the different systems that we have and integrating into a new HCM, there are a lot of considerations," she said.
The integration the company already has with ServiceNow and its on-premises Oracle HR is strong and bidirectional, she said. For example, it eliminates the need for data entry for onboarding new hires and creates the new employee record in Oracle HR. But the work to reach that level of integration was significant and required the help of an outside firm during the ServiceNow installation.
Minding the 'E' in EXP
After all this effort to piece together an employee experience platform, how will anyone know if it made a difference?
Docherty said one indicator is a significant increase in the percentage of activities that are completed through self-service. Another telling metric is how many people are using the platform overall.
"I don't care what technology you're talking about. If you don't reach a certain level of adoption, then you would certainly start to question whether employees are valuing and leveraging the tools that are being provided to them to improve their employee experience," he said.
Companies should also survey workers about the employee experience and can even start before the employee onboarding process. Job candidates, especially digital natives, such as millennials, use the talent acquisition process to get a sense of what their experience might be if they take a job, including the technologies they will use to be productive and engage with fellow employees. A positive candidate experience that showcases the experience of employees can help attract talent, Docherty said.
Putting people ahead of technology and staying constantly aware of their needs is employee experience 101. "You need to lean on technology to help enable you, but the technology is not going to be the thing that gets you there," SuccessFactors' Bear said. "The trick is the humans, right? It's the people saying, 'These are the things that are harming me or getting in my way. These are the things that are bothering me.'"
Bersin, chief promulgator of the EXP concept, agreed. "The employee experience is more important than the arcane features of the software," he said. "In the design and the selection of the technology, there has to be someone thinking about how the users are going to interact with these systems." A well-balanced strategy also requires better collaboration between IT and HR, according to several of these experts.
Now, COVID-19 is changing the nature of the quest for the ideal EXP -- like it has so many things -- largely by moving the remote employee experience, not to mention employee wellness, to the forefront.
"All of the theoretical discussions about design thinking and moments that matter and journey maps -- all of that suddenly became urgent," Bersin said. "It's a big lesson in thinking about employees. The other thing that's different is now companies are realizing it's OK to do it in an iterative way. You don't have to get it perfect. You don't have to spend a year designing it. If you spend a week or two designing it and you roll it out and get feedback, you can improve it day by day."