Definition
employee onboarding and offboarding
Employee onboarding and offboarding are two core HR activities that are gaining in importance. Onboarding begins once a job candidate agrees to accept a job. It involves all the steps needed to get a new employee successfully deployed and productive. Offboarding is the reverse of onboarding, and it involves separating an employee from a firm. This can include a process for sharing knowledge with other employees. The retirement of baby boomers and the propensity of millennial-age workers to job hop are among the labor market changes that drive increased attention to onboarding and offboarding systems.
Every major talent management software system includes an onboarding module, and there are vendors specializing in onboarding systems. Offboarding software is also part of a talent management system. Employee onboarding and offboarding have many similarities. Each process requires actions concerning payroll, benefits and assorted legal documents, as well as issuing or taking back keys, badges, IT equipment and network access.
Why employee onboarding is important
Of the two, onboarding is clearly getting most of the HR technology attention today. In a tight labor market, the cost of recruiting and training new workers has employers interested in employee retention. Research papers, as well as the Society for Human Resource Management (SHRM), point to data that claims that half of all senior hires fail within 18 months, and half of all hourly workers leave their jobs in 120 days. Poor onboarding gets some of the blame for this problem.
A company may sell itself to a candidate as a progressive firm that deploys advanced technologies. The candidate might be thrilled, but this image can be inadvertently sabotaged by HR. For example, the new employee immediately receives a stack of paper forms to fill out and sign. IT isn't ready with security credentials. Critical training has not been scheduled. The new employee is wasting time and wondering if he or she made the right decision.
A recent survey by the Human Capital Institute and HR vendor Kronos found that integrating employees into the workplace culture, which includes getting them trained and productive as soon as possible, is a top onboarding goal for employers. This objective may include assigning a buddy employee or ambassador and ensuring meetings with managers are promptly scheduled. Onboarding software can help facilitate this organization and collaboration.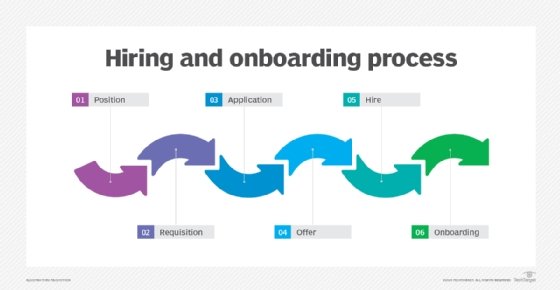 The opposite of onboarding: Offboarding
The retirement of baby boomers is sometimes called a silver tsunami. This phrase is used in tandem with the often-cited figure of 10,000 baby boomer retirements a day. Put another way: A lot of institutional knowledge and skills are leaving the workforce. An offboarding process may begin long before an employee has submitted a retirement request. Older employees may be asked to mentor and help train younger workers to ensure transition. Software can track these training processes. Some of this may be in the domain of succession planning software.
Offboarding is designed to ensure a smooth transition and encourage the person who is leaving to share expertise. The management systems organize everything involved with an exit and, in many cases, are reversing what happened in the onboarding.
In both onboarding and offboarding, HR acts as the coordinator. This means that IT managers and facilities and departmental managers are kept abreast of changes and have access to onboarding and offboarding systems. IT, for instance, will have to ensure that a new employee has network credentials, equipment and training on day one and, later on, verify that access is terminated at the appropriate point. The facilities manager may have to assign parking and enable building access. Departmental managers will want to schedule training and meetings.
First and last impressions matter
Onboarding is important, in part, because first impressions matter. But ensuring a well-organized and positive exit may be equally important. Departing employees may return as full-time workers and/or contractors. Many firms consider their former employees alumni, who may create new business connections and goodwill for the firm. They may also be included in a talent pool.
Demographic and workforce changes may drive more attention to the onboarding and offboarding process. The 2018 Deloitte Millennial Survey found that more than 40% of Millennials plan to leave a job within two years, and less than a third will be around after five years. Generation Z, a group born in the mid-1990s to the mid-2000s that is now entering the workforce, has a 60% chance of leaving a workforce within two years. Only 12% plan to stay at any one job beyond five years, the survey reported.
This was last updated in
September 2018
Continue Reading About employee onboarding and offboarding