Definition
talent management
What is talent management?
Talent management is a process used by companies to optimize how they recruit, train and retain employees. Through human resources processes, such as strategic workforce planning, companies can anticipate their needs and goals and attempt to hire a workforce that reflects those needs. The plans for managing talent may include talent acquisition, local parameters, budgets and staffing requirements, among many other strategies.
Why is talent management important?
Companies may struggle to reach their goals if they are not able to fill the talent needs of their workforce. Having a strong talent management strategy can improve employee satisfaction, retention of top talent, financial goal-reaching, productivity and innovation. An actionable, well-planned talent management strategy can improve individual employee and company success.
What are the benefits of using strong talent management?
Some benefits of using a talent management process include the following:
Revenue. A stronger workforce commonly improves profit.
Production. Capable and hardworking employees create stronger possibilities for effective production and plentiful output.
Quality. Talented employees produce high quality work. It is more likely an employee will do their best work if they are happy with and feel supported by the company.
Cost. By investing in high-quality employees, companies can keep costs lower as managing employee churn is time-consuming and expensive. Companies can also avoid additional costs by promoting and advancing employees from within, as well as taking measures to avoid employee burnout.
An ideal high performing employee has industry-specific characteristics. These might include broad or specialized skill sets, knowledge of a product or research area, the ability to learn quickly and a willingness to gain the skills needed by a company.
Members of a company's HR department or leadership team can learn skills to improve their ability to manage the talent within the organization. Talent management software and other HR technologies help hiring teams search for and screen candidates.
There are two common ways to match a desired candidate profile, including the following:
Training current employees to improve their skill set. This involves assessing the employees' current competencies, tracking their ability to learn new skills and retain them and investigating their willingness to step into more difficult responsibilities.
Hiring new employees with needed skills. It can be harder to find an employee who not only already has the number of skills necessary to perform a job function but is willing to leave their current position somewhere. Finding talent this way is usually more costly than promoting someone within the company, but it could provide more of a guarantee that they will be able to perform their assignments well.
Key components of talent management
Important parts of talent management include the following:
Relationships. How long a person stays at a company or in their career depends on their relationships with co-workers, managers and the organization. Relationships can also affect the success of an employee's experience with a business and their happiness at work.
Flexibility. Companies can improve their talent management by providing more options for their employees, such as a broad range of roles and opportunities for working remotely or improvements to work-life balance.
Engagement. One of the proven ways to retain top talent is to proactively check in with employees about their satisfaction levels and goals.
Opportunities. Providing educational opportunities, advancement options, great benefits and other incentives plays an important role in the talent management lifecycle.
Budget. Planning budget needs in advance is important to make sure a company can match the timing of their workforce's plans and ambitions.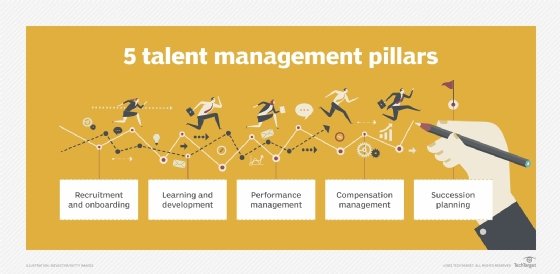 6 steps of the talent management process
While each company differs based on their needs, following these six steps can help ensure a robust and successful talent management process.
Onboarding
Onboarding is potentially the most crucial aspect of talent management. In order to train a strong work staff, an organization needs to start with the right people. Thorough screening for top talent, wide reach for recruiting and strong referral incentives are all important tools.
Training
Once an employee is invested in their role and their company, they can be inspired to learn new skills in many ways. For some, the motivation may come simply from wanting to learn more. For others, the existence of incentives could be motivating, such as a potential raise or promotion. A training matrix set up by management will help employees to track and advance along a pathway to new skills. This process is mutually beneficial to the employee and company as the person's contributions become more valuable and they can improve their skill set.
Performance analysis and review
A proven way to encourage employees to keep advancing their skill sets and career tracks is to maintain consistent, organized performance reviews. Involving employees in the process of mapping out their goals helps to increase their commitment and investment in learning and development. A common misconception is that training employees makes them more likely to leave a company for better roles elsewhere. However, they are more likely to leave if they are not challenged and allowed to advance within their organization.
Advancement and promotion opportunities
Giving employees room to explore different career paths within a company will encourage them to always expand their knowledge and skill sets. Another strategy to encourage advancement is to create an employee development plan. These should include targets for the employee to aim for, goals, tasks and desired outcomes. They might also include courses or programs the employee could participate in to learn new skills. It is important for mentors and managers to help employees develop their goals within the company and try to align their projected personal outcomes with the company's goals and their own careers.
Exit interviews
A necessary part of talent management includes offboarding employees. These may be individuals who found new opportunities elsewhere, or those who may not have been the best fit with the company's long-term goals or budget. There are many legal and emotional considerations that go into the exit process, all of which need to be handled with care. Exit interviews provide an opportunity for an employee to discuss reasons for leaving and their opinions on the job, managers and the organization. An employee's feedback can be used to help the company improve. Previous employees can continue to be assets, helping to place new candidates or find new business for those they maintained positive relationships with.
Succession planning
Organizational succession planning involves knowing which roles may open when employees move, change roles or retire. It's key for a company to have a plan in place for these possibilities.
Talent management best practices
A commonly overlooked element of a talent management system is to be an organization where people enjoy working. This requires time and energy and should be a constant work in progress. Maintaining positive employee experience helps companies to attract and retain people from a wider range of geographies and backgrounds. This results in widening the possibilities of great projects and growth that may not have been imaginable with a limited staff.
Other best practices include the following:
Allow natural and organic employee feedback.
Focus on mission, branding and reputation for a strong foundation.
Recognize and award employee achievements.
Encourage communication between organization structures.
Keep processes transparent.
Align business and employee goals.
Build profiles for successful work.
Plan for succession.
This was last updated in
January 2022
Continue Reading About talent management
Dig Deeper on Talent management