Definition
compensation management
What is compensation management?
Compensation management is the discipline for determining employees' appropriate pay and benefits. A critical element in talent management and employee retention, it uses financial and nonmonetary benefits to attract recruits, reduce turnover, spur performance and boost employee engagement.
Compensation management is typically carried out by HR professionals, who are responsible for ensuring that salaries and bonuses remain competitive and benefits change with the needs of the workforce. The HR leaders in this role must gather and analyze internal and external salary figures, demographic and economic statistics and other relevant information. They are also keen to understand the complexities of benefits administration.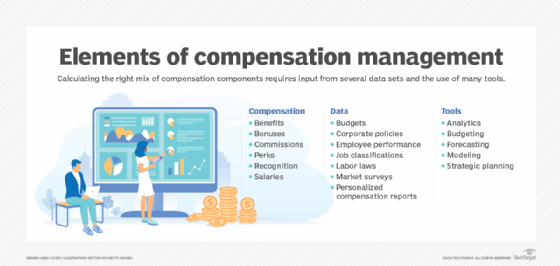 Why is compensation management important?
Several factors make compensation management an essential practice in modern organizations:
Salaries are typically a business' biggest cost. Executives need compensation data to prepare and monitor budgets and plan their compensation strategy.
Employers face new pay equity laws that require them to report employee wages along with data on gender, race, ethnicity and occupational role. U.S. states that have adopted these laws, notably California in 2021, use this data to identify wage patterns that suggest discrimination. On the federal level, the U.S. Securities and Exchange Commission in late 2020 began requiring firms to report human capital metrics, including pay equity.
Apart from new laws, employers are giving pay inequity issues more attention as part of their diversity, equity and inclusion (DEI) efforts.
Remote work is prompting some organizations to change compensation strategies. Employees who move from high-wage regions, such as Silicon Valley, to Midwestern cities may see their pay reduced to local prevailing wages. Keeping salaries competitive in an era of flexible and hybrid work is becoming more complicated.
Compensation management software
Compensation management software is a standard component in human capital management and talent management suites. Its primary purpose is to give executives, hiring managers, recruiters and HR staff information about the available budget for employee salaries and industry compensation rates for similar positions. It also serves as a centralized system for managing every type of compensation, including monetary compensation, such as bonuses and performance incentives, and nonmonetary compensation, or perks, such as extra time off, flexible work hours, public recognition and wellness programs.
Compensation management software also provides tools for calculating and communicating total rewards, a personalized statement of the value of each employee's compensation package, including benefits like health insurance and retirement accounts.
Like other HR applications, compensation management software increasingly relies on machine learning to spot disparities in data and ensure salary rates are competitive. Platform vendors have also been adding data analytics tools and access to cloud-based anonymized data to make it easier for employers to benchmark pay rates against other firms in their industry.
Compensation managers can use the software to gather salary data by industry, company size, job role and geography. Other sources of wage information include government data, information from publicly available sites that collect user-reported salary data and data purchased from third-party firms that conduct ongoing salary and benefit surveys.
Nevertheless, compensation management systems have limits. For one thing, they're not very good at connecting pay to employee potential. Patty McCord, a former chief talent officer at Netflix, argued in a 2018 Harvard Business Review essay, "How to hire," that the compensation analysis is "based on the historical value of what employees have produced rather than on their potential to add value in the future."
Another trend affecting compensation management software is the adoption of on-demand pay, also known as earned-wage access. It gives employees the option to receive pay for hours already worked instead of waiting for a check every week or two. Numerous niche vendors specialize in SaaS for managing earned-wage access.
Compensation management software market and vendors
The major HCM suite vendors all include compensation management software in their platforms.
Some of the largest or highest-profile vendors are ADP, Bamboo HR, Oracle, SAP SuccessFactors, UKG (formerly Kronos and Ultimate Software) and Workday.
There are also smaller, niche vendors that specialize in compensation management, such as CompTrak, HRSoft and TalentComp.
What to look for in compensation management software
The following are must-have features:
a configurable, drag-and-drop dashboard to help executives understand compensation trends and costs;
automated, customizable reporting;
visualization tools for creating charts and graphs that will also look good in Microsoft PowerPoint presentations;
analytical tools that give HR managers the ability to analyze data easily;
the ability to run comparisons of wages by industry and geography; and
support for third-party add-on tools.
Benefits of compensation management
Ensuring that salaries are competitive is the main benefit of compensation management. Up-to-date market data gives hiring managers critical information they need when making offers to candidates. The same applies to raises and bonuses for current employees, who have ways to find out about their peers' salaries and benefits. A good compensation management system is alert to changes in the market, which can help with attracting and retaining employees. It can also motivate employees, boost retention and reduce turnover. Those impacts, in turn, save money on recruitment and training costs.
More broadly, the right mix of compensation can motivate employees to improve their performance, productivity and creativity, which in turn can boost the organization's revenue, efficiency and ultimately its profitability.
Compensation management specialist role: Salary and career info
In small firms, HR managers may double as compensation managers. But generally, compensation management is a distinct government-recognized occupation with a median wage of $125,130 in 2020, as reported by the U.S. Bureau of Labor Statistics. The lowest 10% earned less than $70,920, and the highest 10% earned more than $208,000.
About 18,700 people in the U.S. are compensation managers, and the role is growing at about 4% a year.
The future of compensation management and benefits
Compensation management has had to adjust to rapidly changing workforce priorities. HR departments are increasing their use of analytical software to meet their DEI goals. They are analyzing compensation management data for wage disparities by gender and race, from entry-level positions to senior management.
Before the COVID-19 pandemic, wellness incentive programs, in particular, had a significant impact on employee compensation packages, and this role has only grown. Financial support for the home office setups of remote and hybrid workers is also becoming part of compensation management. Remote work has also increased compliance issues as employees are increasingly located in multiple states and internationally.
Because benefits are an important part of a firm's compensation program, compensation management software needs the flexibility to handle new types of benefits as well as changes to existing ones.
For example, some corporate wellness technology programs offer activity-tracking smartwatches, such as the Apple Watch, to employees at no charge and reduced costs -- if they meet fitness goals. The watch's data, such as the number of steps taken per day, is collected. If an employee doesn't meet the goal, they may have to pay the full cost of the watch.
There are also benefit packages that offer employer-subsidized DNA testing, as well as flexible work options, phased return to work for new parents and reimbursement for adoption and eldercare consultants.
This was last updated in
December 2021
Continue Reading About compensation management