Sergey Nivens - Fotolia
SaaS HCM tilts power to business side of HR-IT partnership
HR leaders joined Deloitte consultants in describing a shift in responsibilities, ownership and technical challenges of SAP SuccessFactors and Ultimate Software deployments.
Moving to SaaS HCM can deliver more than just the IT labor and cost savings and ease of use for which public cloud applications are known. It also often puts HR in the driver's seat for technology purchases, dramatically shifting authority away from IT and making the HRIS role essential to success.
That was the takeaway from SaaS human capital management (HCM) users and implementation consultants who spoke on a panel at the HR Technology Conference & Exposition, which was held last week in Las Vegas.
For Jennifer Paske, HR manager at Waterstone Mortgage Corp., based in Pewaukee, Wis., IT's involvement in a four-month project to deploy SaaS HCM from Ultimate Software was limited to the five hours it took to configure single sign-on.
"If we didn't take on single sign-on, we would not have needed partnership with our IT department," Paske said, adding that IT was well-aware of problems with the on-premises systems and why HR wanted to move forward. "They knew that this was my baby," she said.
The dynamic was similar at Cintas Corp., a Cincinnati-based provider of uniforms, floor care, and other products and services for businesses, which went live on SAP SuccessFactors for SaaS HCM and payroll in January.
"We did want to own our own system," said Julie Pettit, HR information system (HRIS) consultant at Cintas, noting that both on-premises and SaaS HCM were considered. "We wanted to be in control of our system," but not have to use internal IT, she said.
SuccessFactors was Cintas' first large investment in the cloud. It's part of a broader strategy to integrate SAP systems, including financials, and consolidate the separate systems of the three main business divisions. The necessary data sharing and breaking down of silos required Pettit's project team to keep IT's system architecture and integration expertise close by -- Cintas built, or had SAP partners build, more than 80 integrations with outside vendors.
"We spent a lot of time in our corporation going toward SAP to create that similar platform," she said.
"While we don't have IT supporting us directly, and HR is in the driver's seat of ownership, we make sure we stay in alignment with IT, because we don't want to go too far down a path that doesn't keep our systems in sync enough to be able to deliver enterprise-wide data to our leaders," Pettit said.
Deloitte sees SaaS HCM empowering HR
Kristin Starodub, a principal in Deloitte Consulting's human capital management practice who worked with Cintas, explained how, in her experience with clients, SaaS HCM changes HR's relationship with IT.
Starodub said while HR departments have always owned the business requirements for technology purchases, SaaS HCM gives them even more control over the software itself.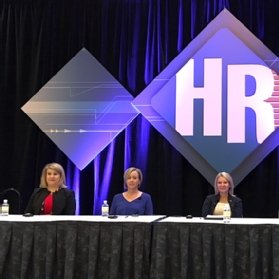 "It really does empower the HR department," she said. "Moving to a SaaS product can be a defining moment for an HR organization. It's a fundamental shift in the way in which companies manage vendors and manage software."
IT and HR take on distinctly different roles in a world enabled by cloud technology, she said.
"With a SaaS product that's configurable and not customizable, and much less deep in programming [demands], it's an opportunity for HR to take ownership -- not just with a better relationship, but in the management and execution of the system," she said. "The configuration becomes much more end-user-focused. It's simpler in many ways."
Moving to SaaS HCM also shifts the balance in system administration, allowing it to be moved into an HRIS group overseen by HR.
"IT can provide HR with the background on what a system's change management process looks like and a release management process looks like," she said, but roles and responsibilities for maintaining elements of the system have changed.
Pettit described how the shift played out at Cintas.
"We developed an HRIS team that is responsible for the configuration, as well as partnering with Deloitte for [application management services] to be another layer of technical support." But HR practitioners are the business owners.
"I have a business owner that owns onboarding. They own the process; they need to understand the functionality, [but] they do not do any configuration. My HRIS team does the configuration. So, there's a separation. And within HRIS, we have someone who doesn't have configuration access, but does the role-based permission[s]."
Pettit said she underestimated the importance of having HRIS in place early. The staff of two HRIS people has expanded to eight or nine, with additional help from Deloitte.
"We have an HRIS team who wasn't along for that journey," she said, because most of its members came aboard just two months before go-live.
"That's been hard to catch up on and slowed us down in being able to establish governance practices [and] release management," Pettit said. "So, we are now taking a step back and analyzing those practices [and] getting those new employees trained so that they can help us with the system."
Paske described how, in contrast, Waterstone HR -- and not HRIS or IT -- took ownership of the Ultimate Software project.
She and one of her direct reports personally handled the activation of the Ultimate time management and payroll system.
"You're doing all of the activation yourself. You're touching every keystroke yourself. If I have to make a change, I know how to go back and make those changes," she said.
"We wanted this system to work how we wanted it to work for us and for other departments," she added. "You have to be able to say, 'You know what? This doesn't really work for my company. How do I make this change?'"
HRIS has important role in data management
An audience member asked if the panelists see more interest in low-code/no-code development approaches and the use of APIs to access data lakes on SaaS HCM platforms.
"It depends on the vendor and the platform you've selected," Starodub said. "Many of the vendors are now offering real-time analytics at the point of transaction. So, while you're making the decision on promoting an employee, there'll be data there available to you about when their last promotion was [and] where they sit within [salary] bands."
Some vendors use data lakes to provide an integrated data platform, she said.
"In my experience, there is a level of technical acumen that HRIS teams are achieving more and more in order to be able to triage data, but this may be where IT still plays a significant role if you're looking at APIs and true integration to a broader enterprise data system," she said. "That's where the IT partnership still remains really strong."
Pettit said the Cintas HRIS team was assembled from a variety of skill sets.
"We actually have a few people who have come out of our internal IT [department], and they focus more on the integrations and the more technical piece, while others that we hired were more functional analysts or business analysts or people who sat in HR, and they do more of the front-end configuration," she said.
Any actual developers are IT people who work with Deloitte on integrations.
Starodub said HR departments have a decisive role in shaping data integration efforts. To start, they need to be clear on how much historical reporting they need and how they're going to achieve it. She said some choose to only collect employee data going forward, because the data quality in legacy systems is poor. Others -- Waterstone included -- are able to migrate data to the new SaaS HCM platform.
IT is more likely to understand the data model and how to get data out of legacy systems.
"The conversion itself requires collaboration across HR, IT -- if you're using an implementation partner, your solution consultant from the vendor -- all of those groups have to work together. Because then you have the technical aspect of just converting the data [and] loading it."
The reality, however, is IT -- and even some software vendors -- don't understand the nuances of HR data.
"That becomes part of the opportunity with cloud solutions," Starodub said. "When you're bringing the administration of the system closer to the people that own the business requirements and understand the data model and are processing it on a daily basis, it's more of an opportunity to ensure that the data is high-quality."
Dig Deeper on Core HR administration technology