Sergey Nivens - Fotolia
People analytics software drives need for HRIS skills
HR managers are revising job skills, looking for people with analytics ability and technical expertise. Can you build a dashboard and parse data in a new, fresh way? You're in demand.
Demand is rising for human resource information systems employees with analytics and IT skills. They don't have to be data scientists or accomplished programmers, but they need to take data from people analytics software and use it to create fresh insights. It will also help to have some basic IT skills.
Demonstrating HRIS skills that include these capabilities will improve your odds of getting a job.
Keith Nichols, director of global HRIS at Universal Weather and Aviation Inc., a corporate flight service, described the ideal candidate: It is someone who "understands how to pull data, how to use business intelligence tools, how to create dashboards -- that's just a part of the role now."
One of the key HRIS skills is creativity, Nichols said. He wants a "Sherlock Holmes-type of person," who will discover "what's behind the numbers."
Seeking creative minds with HRIS skills
Jason Romero, assistant superintendent of HR for the Del Mar Union School District in San Diego, echoed this need for creativity in working with people analytics software.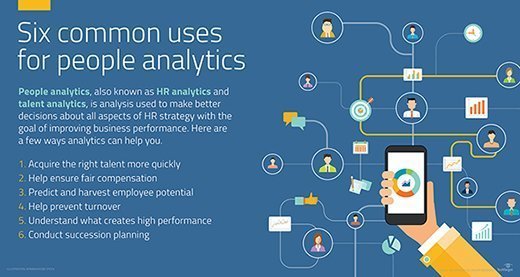 "We're not just looking for somebody that can manipulate analytics; we want somebody that can do something with it," Romero said. They want candidates that "can interpret that data."
We're not just looking for somebody that can manipulate analytics; we want somebody that can do something with it.

Jason RomeroAssistant superintendent of HR, Del Mar Union School District
Cloud systems are driving these changes. They deliver more data and analytical tools to HR departments. Nichols, for instance, said UltiPro, one of Universal Weather's systems, offers access to more data.
These general job requirements -- HRIS familiarity and analytical capability -- appear in job ads.
Tech career site Dice ran an analysis of HRIS jobs, at the request of TechTarget. It has about 65,000 jobs on its site. It only found 100 jobs, on any given day, seeking HR-specific tech skills. Job titles associated with HRIS included business analysts, technical leads, HRIS reporting analysts, HR coordinators and HR generalists.
Dice said: "Many [HRIS jobs] mention statistical analysis, experience [in] project management and business analysis."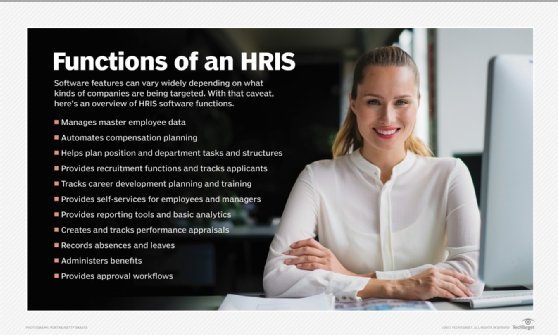 Demand rising for analytical skills
In its client surveys, The Hackett Group, a management consulting firm, sees rising demand for analytical skills, said Tony DiRomualdo, senior director of its HR executive advisory program. Due to cloud adoption, he said, the demand is more for analytics than technical skills.
Nearly 75% of all HR organizations have some type of cloud-based system in place. Cloud systems are predominant in 25% of HR departments, DiRomualdo said.
"There is much more of an emphasis and importance on analytics," DiRomualdo said. Firms need "someone who is comfortable with being able to take data and draw insights from that data."
Larry Duong, HRIS manager at Kinross Gold Corp., a Canadian-based mining company, said these skills can be learned on the job. All it takes is someone who is passionate about technology and has an innovative mind.
Duong, who uses SAP SuccessFactors, said metrics and data are critical in mining. The firm tracks multiple data points in every aspect of the operation.
Analytical skills needed within HR
"HR has to be in the frontline of looking at data as well," Duong said.
One thing Duong and others point out is that these analytics and HRIS skills need to be in the HR department.
Partnering with IT won't work, said Neese, vice president of talent acquisition at Paycor, a payroll and HR systems vendor.
"There's no question in my mind we've got to hire these technical skills within the department," Neese said. He has partnered with IT on some technical aspects. But technical people working in HR will have the subject matter expertise that's needed to identify "additional areas of opportunities" on products.
The skills HR needs are evolving, but the list may be long, said Nov Omana, a technology consultant who heads Collective HR Solutions.
Those HRIS skills include cloud technology, data governance, vendor management and "strategic on a technical framework," which includes developing an HR "synchronized with the technical business for the company," Omana said. Another important skill is project management, including implementation skills and team building.
Nikki Vasser Glee, general manager of HR IT at a large Fortune 500 firm that she asked not be identified, believes that HR employees need to have an understanding of technology.
Glee, who had 15 years of experience in IT prior to taking her most recent job a year and a half ago, said she was hired because of her tech background. "I had to understand IT and all the many facets of IT," she said.
Glee's philosophy is: "If you can think it, you can do it." But to achieve it means having an ability to work with technical staff. That is something she will look for in HR hires.
Dig Deeper on Core HR administration technology