ekkasit919 - stock.adobe.com
At HR Technology Conference, Walmart says virtual reality works
Virtual reality may be on the cusp of mainstream adoption for HR. It provides an engaging learning experience for employees, according to one early adopter: Walmart.
LAS VEGAS -- Learning technology appears to be heading for a major upgrade. Walmart is using virtual reality, or...
Continue Reading This Article
Enjoy this article as well as all of our content, including E-Guides, news, tips and more.
VR, to train its employees, and many other companies may soon do the same.
VR adoption is part of a larger tech shift in employee learning. For example, companies such as Wendy's are using simulation or gamification to help employees learn about food preparation.
Deploying VR technology is expensive, with cost estimates ranging from tens of thousands of dollars to millions, attendees at the HR Technology Conference learned. But headset prices are declining rapidly, and libraries of VR training tools for dealing with common HR situations -- such as how to fire an employee -- may make this tool affordable to firms of all sizes.
For Walmart, a payoff of using virtual reality comes from higher job certification test scores. Meanwhile, Wendy's has been using computer simulations to help employees learn their jobs. It is also adapting its training to the expectations of its workers, and its efforts have led to a turnover reduction. Based on presentations and interviews at the HR Technology Conference, users deploying these technologies are enthusiastic about them.
Walmart employees experience VR's 3D
"It truly becomes an experience," said Andy Trainor, senior director of Walmart Academies, in an interview about the impact of VR and augmented reality on training. It's unlike a typical classroom lesson. "Employees actually feel like they experience it," he said.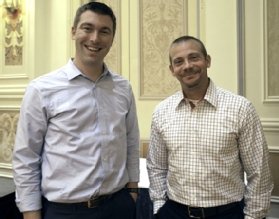 Walmart employees go to "academies" for training, testing and certification on certain processes, such as taking care of the store's produce section, interacting with customers or preparing for Black Friday. As one person in a class wears the VR headset or goggles, what that person sees and experiences displays on a monitor for the class to follow.
Walmart has been using VR in training from startup STRIVR for just over a year. In classes using VR, Trainor said the company is seeing an increase in test scores as high as 15% over traditional methods of instruction. Trainor said his team members are convinced VR, with its ability to create 3D simulations, is here to stay as a training tool.
"Life isn't 2D," said Brock McKeel, senior director of digital operations at Walmart. For problems ranging from customer service issues to emergency weather planning, "we want our associates to be the best prepared that we can get them to be."
Walmart has also created a simulation-type game that helps employees understand store management. The company plans to soon release its simulation as an app for anyone to experience, Trainor said.
The old ways of training are broken
The need to do things differently in learning was a theme at the HR Technology Conference.
Life isn't 2D.

Brock McKeelsenior director of digital operations at Walmart
The idea that employees will take time out of their day to watch a training video or read material that may not be connected to their task at hand is not effective, said David Mallon, a vice president and chief analyst at Bersin, Deloitte Consulting, based in Oakland, Calif.
The traditional methods of learning "have fallen apart," Mallon said. Employees "want to engage with content on their terms, when they need it, where they need it and in ways that make more sense."
Mallon's point is something Wendy's realized about its restaurant workers, who understand technology and have expectations about content, said Coley O'Brien, chief people officer at the restaurant chain. Employees want the content to be quick, they want the ability to swipe, and videos should be 30 seconds or less, he said.
"We really had to think about how we evolve our training approach and our content to really meet their expectations," said O'Brien, who presented at the conference.
Wendy's also created simulations that reproduce some of the time pressures faced with certain food-preparation processes. Employees must make choices in simulations, and mistakes are tracked. The company uses Cornerstone OnDemand's platform.
Restaurants in which employees received a certain level of certification see higher sales of 1% to 2%, increases in customer satisfaction and a turnover reduction as high as 20%, O'Brien said.