Digital adoption platforms can improve employee experience
DAPs guide employees through new systems and offer tips on workflow best practices. Turnover and onboarding challenges drove demand for DAPs before COVID-19 raised the urgency.
The COVID-19 pandemic has forced many workers to learn to use more technologies than ever, as video conferencing, collaboration tools and remote processes became essential to conducting business. How companies go about keeping remote employees efficient and engaged amid this sea of tools -- while ensuring a positive employee experience -- is an increasing area of focus.
Fortunately, there's a fast-growing category of software designed to help companies with this very problem. Digital adoption platforms, as they're known, are embedded across an organization's apps, relying on a combination of AI and analytics to essentially keep an eye on what employees are doing, providing tips and guidance on how to work with various tools.
"It's like having an expert sitting at your elbow as you use these applications," said Dion Hinchcliffe, vice president and principal analyst at Constellation Research. "We can create experiences instead of just throwing tech at people."
Increased role of technology in employee experience
Unless you've been sleeping under a rock for the past decade, it's been impossible to escape the term "customer experience." The desire to make it easier, and even fun, for customers to purchase products has coursed through the veins of companies like an infusion of needed blood.
But more recently, another group of users has attracted the attention of IT and HR leaders, buoyed by the impact of the COVID-19 pandemic: employees.
Even before the pandemic, the employee experience had grown significantly more complex. Case in point: Contact center workers, who aren't exactly the most highly trained or educated part of a company's workforce, have to learn to navigate as many as 40 applications to do their jobs, according to Hinchcliffe.
The pandemic has exacerbated this issue, as millions of workers have been forced to work from home. Many companies have been surprised by how efficient having people work remotely has been, and are thus considering retaining that model permanently.
The swiftness with which this trend is developing is notable. Hinchcliffe said employee experience has typically not made organizations' top 10 priority lists in previous years, but now it typically is one of the top two priorities.
Turnover, onboarding drive interest in digital adoption platforms
Most of the digital adoption platforms (DAPs) in the market today are from niche vendors such as Appcues, UserIQ, WalkMe and WhatFix. However, in 2018, Oracle bought a DAP vendor called Iridize and said it would include the technology in its Oracle Guided Learning platform. SAP partner OnScreen specializes in the ERP vendor's platforms.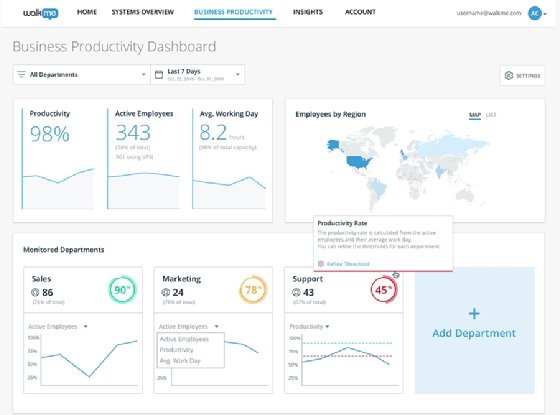 Hinchcliffe said DAPs were already rising in prominence over the past few years because of two factors: record-high employee turnover rates and longer onboarding processes. The high turnover has led to more people being hired for specific projects, and a DAP becomes a valuable tool to get these often temporary employees up to speed faster.
Arthur Mazor, principal and global HR transformation practice leader at the Deloitte consulting firm, said DAPs are essentially replacing less efficient methods, such as providing training or asking employees to read manuals or FAQs, for which employees no longer have patience.
"Even watching videos doesn't meet the pace of the activity that today's workplace demands," he said.
Mazor believes a contributing factor to the rise of digital adoption platforms is the expectations employees now bring with them into the workplace. Outside of work, they're able to conduct much of the business of life using technology, and they don't need any help to make it happen.
"I can just do stuff without any coaching," Mazor said many employees are thinking. "Why can't I do that in the workplace?"
The reality is digital workplace technology tends to be much more complex than consumer technology. As an example, Hinchcliffe gave a scenario in which an employee must interact with a dozen different systems to complete a sale, with each system designed to manage a piece of the process. The employee must also handle side scenarios and exceptions.
In such a setting, DAPs can guide the employee through the experience, moving them efficiently through the systems and "learning" where inefficiencies exist and can be improved.
Matt Cain, a research vice president at Gartner, said via email that digital adoption platforms, when used effectively, inject organizations with a combination of efficiency and agility by directing employees down the best paths, thereby eliminating manual data entry and tracking.
"Performing tasks more quickly can enable new employees to become fully productive faster and existing employees to change rapidly as business processes change," Cain said. "For example, tenured sellers will be able to focus more on selling than the execution of tasks."
Cain said DAPs are most helpful when employees have to rely on multiple tools to do their jobs, tasks are complex and performed infrequently, and business processes change frequently.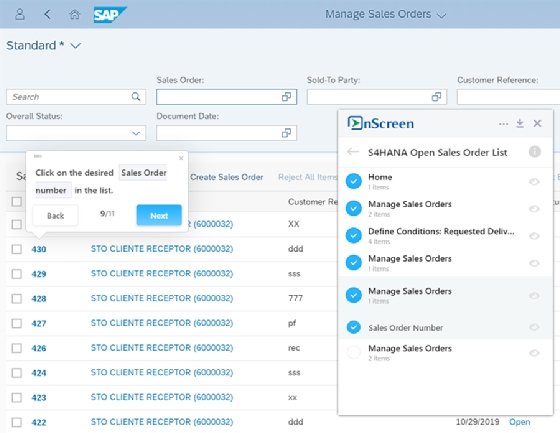 DAPs could aid digital transformation strategies
But there's another, larger objective of many companies that DAPs help with: digital transformation. As organizations are increasingly infused with digital technologies, many are looking to replace old manual and analog processes with digital automation. That journey is only possible if employees are fully engaged with this universe of digital tools, which is where digital adoption platforms come into play.
As digital transformation takes hold, and DAPs help employees make the most of the tools being placed before them, companies envision a future in which the friction that exists between employees, business processes and technology has been removed, or at least minimized -- thus helping to improve a key component of the employee experience. That future, said Hinchcliffe, is coming fast.
"We are clearly headed for a renaissance," he said. "Employee experience is going to go through an accelerated process. It's going to be bumpy, but in two years, we're going to be in a better place. I'm excited for what the future holds."