Rawpixel - Fotolia
PTC headquarters follows open-plan digital workplace strategy
Moving from suburb to booming Boston Seaport District required a huge HR change management effort and interior design that ensures the right ratio of collaborative and private space.
PTC's entire image is built around practical applications of bleeding-edge technology. The maker of computer-aided design software and related tools for manufacturers was early to catch the IoT wave and more recently moved into virtual and augmented reality. Its website is chockablock with gorgeous 3D images of spacecraft, colorful cutouts of jet engines and shots of fit models staring intently at screens.
So, it's not surprising that, when PTC relocated its headquarters from the Route 128 suburb of Needham, Mass., to a 17-story, elliptical glass high-rise in Boston's booming Seaport District, it executed a digital workplace strategy that resulted in an office packed with eye-popping digital imagery, networked IoT sensors and sleek furniture -- capped by a museumlike corporate experience center and employee cafe on the top floor.
"They really viewed this move as very transformational for them," said Tim Bailey, lead architect on the project and associate partner at Margulies Perruzzi, a Boston architectural and interior design firm. "They really wanted to show that they're leaders in the technology that they produce."
PTC executives also saw the move as essential in attracting younger talent that tilts toward an urban lifestyle. In addition, it was a chance to reset the corporate culture and inspire employees to greater creativity with an open-office, activity-based design that offers a variety of workspaces for people to work individually or in groups.
While the still trendy open-office idea has been around for a while, the new PTC headquarters takes it a huge step further with a radical departure from walled offices and cubicles: 100% unassigned, or "free address," seating. Workers have assigned floors and departmental "neighborhoods," but when they arrive there, they check a wall monitor displaying Steelcase Live Map software to find open seats. Employees get a backpack and an assigned locker to leave their things and grab a wireless keyboard and mouse before heading to a workstation.
Moving from a suburban campus on a pond next to the Charles River to the hottest neighborhood in one of America's most congested cities, plus the unassigned seating, required the 1,000 PTC employees in the headquarters to accept two major changes in their lives. PTC HR aimed to help employees adapt with a yearlong change management program that continues well past the Jan. 22 move-in day.
A moving employee experience
Facilitating the move to Boston was HR's initial priority, according to Kathy Cullen-Cote, executive vice president and chief HR officer. "Even myself, when they first told me that we were going to be moving to Boston, I resisted," Cullen-Cote said. "I think that's important, as I rolled out the program, to remember that I felt some resistance."
Frequent communication was "a huge piece in the success," she said. There were weekly newsletters about the Seaport move, and each month, one of the weekly socials was dedicated to answering questions. Rosa Mexicano, a restaurant in the Seaport, catered food, and WageWorks explained the commuting benefits PTC would provide. (It reimburses half the expense and hires a ferry to short-circuit traffic between a commuter rail station and the Seaport).
Glint pulse surveys provided managers and HR near-instant feedback about the move. Some employees were initially angry because they felt something was being taken away from them, according to Colleen Simonelli, vice president of diversity, inclusion and organizational development. "We wanted to get a sense of, post-move, how people were feeling," she said. "We did a survey a couple of weeks after the move, and the results were positive."
Employees were asked to volunteer as Seaport champions, and a core team provided a way to give feedback to peers instead of escalating it to a boss. "We have very active employee resource groups here, and they're very generous in volunteering in helping to shape our culture," Simonelli said. A pre-move party was held in the new office. "We were trying to prepare everyone, get them excited [and] get their hearts and minds around what this would actually mean," said Diane Young, senior director of global benefits and employee programs.
On moving day, champions handed employees information packets and led them to their neighborhoods. "We had hundreds of people helping to support this," Simonelli said. "It was really special. We had City Year volunteers that, when you walked into the building, they would cheer you. Imagine that you've just taken your new commute, you arrived at your new office, and you walk in, and there are 25 people clapping and cheering you on."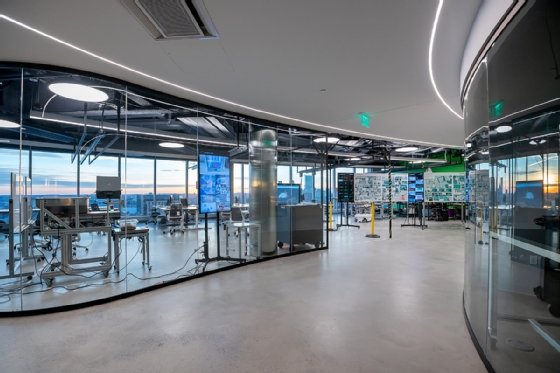 The long day ended with an after-party at a nearby Kings bowling alley.
Change management "was really such a big piece of it -- that did take a lot of time," Young said. "Going into the project, you're focused [more on] the tactical [part] of planning the move, picking the furniture, the design and all that, but the employee impact is really, really important. I can't stress enough how much time should go into that."
Acclimating to unassigned seating
Despite the disruption of the move, "there was probably the most noise around the open-office concept," Cullen-Cote said. In Needham, most engineers had their own office, but at 121 Seaport Blvd., none of them would.
"In the first couple of days, it's uncomfortable because, instead of going to your desk that you've gone to for however long, now, you have to go and find a locker and put your things down, and then you have to choose a desk," she said. "Where are your friends sitting? What if I want to stand versus sit? What if I want two monitors, but there are no more seats with two monitors?"
A lot of thought went into choosing the best ratio between open seats and enclosed spaces, according to John Civello, vice president of corporate real estate and workplace. "We heard a lot of pushback immediately about how 'it will be awful. I'll never be able to find a place to have a private call,'" he said. "People have heard all the negative stuff about open plan and all the nightmare scenarios where a company would build out 100 seats and two huddle [small meeting] rooms."
To avoid such horror stories, a typical floor in the new headquarters has one enclosed space for every four tables. "We really went over and above to make sure that we had enough of these private spaces that people could use when they needed to," Civello said. "We haven't really eclipsed 50% to 55% utilization on a given day. So, there's plenty of private space for people." PTC occupies nine of the 17 floors, and its lease guarantees room to expand.
Bailey said his firm used metrics from past projects to strike the right balance and asked employees how often they collaborate and make private calls. The 100% unassigned seating also forced a rethinking of the usual rules about the space needed for each person. One conclusion was that there should be a huddle room for every 20 people. "They had very private, siloed spaces in Needham," he said. "We ended up bumping up the number of private spaces a little bit, just to offset that drastic change."
"The tricky thing is, because they are 100% unassigned, we're basically designing a space that can satisfy all of the departments," Bailey said. "Some departments like legal and HR need more private space."
To familiarize employees with the new work environment, HR ran discussion sessions and learning labs. Local office designer Red Thread, an authorized supplier of the furniture and audiovisual (AV) equipment maker Steelcase, set up furniture in Needham for workers to try. They could book a huddle room -- affectionately renamed "cuddle rooms" -- or use a "phone booth" to make a call. They could rate the spaces on CrowdComfort online software. Employees were also given the chance to name kitchen areas, called "hives."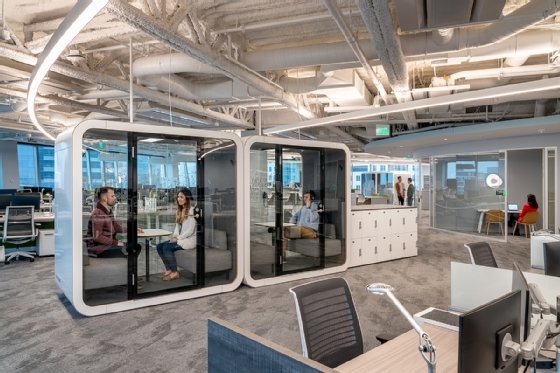 Digital workplace strategy for global collaboration
The building is outfitted with products from PTC customers, making the vendor's industrial design and IoT tools the foundation of its digital workplace strategy. Steelcase used Creo 3D computer-aided design software to design the furniture, for example, and the building controls are from Schneider Electric, an early user of PTC's ThingWorx IoT platform.
Employees experience the digital workplace strategy as soon as they enter the ground floor. Otis Elevator Co. control panels require riders to press the floor icon three times if three people are going to the same destination and then scan their badge. Algorithms assign cars to meet demand in the most efficient way. Later this year, a Steelcase Live Map smartphone app will let workers spot open seats before they reach their floor.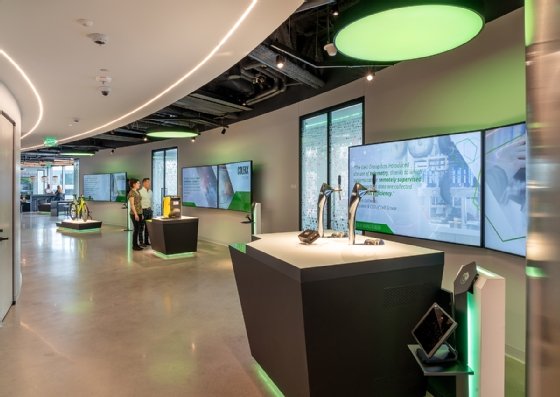 Another Steelcase program, RoomWizard, enables reserving of meeting rooms. Heat sensors and motion detectors can tell when reserved rooms and workstations are unoccupied, and after a few minutes, Live Map will make them available. Aruba wireless access points provide Wi-Fi -- and, soon, beacons for proximity awareness and wireless apps -- atop a Cisco network backbone. Cloud telephony from Boston-based Fuze connects voice over IP on smartphones and PCs to the standard telephone lines in conference rooms. Every workstation has dual monitors that remember user settings, and most conference rooms have Cisco WebEx whiteboards (see sidebar).
Conferencing's role in digital workplace strategy
IP-based conferencing is key to facilitating collaboration across PTC. "It's fundamental to our success because so many people are working all over the world," Civello said.
The IP connections, including TCP/IP conference calling, make it easier to collaborate on documents and still interact face to face. PTC will also roll out Cisco Teams and Microsoft Teams collaboration software over the next two quarters.
When a user books a room in PTC's room scheduling software, it also books the room's Cisco WebEx board, according to Tom Salvoni, director of infrastructure and architecture. "They'll book a WebEx on the invitation itself, [and] they'll walk into the room, and there will literally be a green button on the screen saying, 'Are you ready to start your meeting?' You say yes, and it activates everything."
Civello called AV setup one of the project's biggest challenges. "The way that industry is changing, the level of complexity and the rate of change [are] significant," he said. "The days of buying a projector and hanging it on the ceiling and pulling down a screen are over. Right now, you have all these boards that are in all these rooms, and they all have their own IP address, and they're all on the network. The complexity around that implementation -- I will admit that I underestimated that."
A really cool place
Civello expressed amazement at how the planning and plug-and-play technology made for a speedy move. "That afternoon, in my floor, everybody was working. I've been in this business for 25 years, and when you do a move like this or a corporate headquarters, it usually takes five days for people to unpack and set their PC up. With this move, people just showed up with a backpack, plugged in and went to work."
Young said the unassigned seating has fostered collaboration. "People are just walking over and getting things done very quickly. They're talking, meeting. It's formal and informal," she said. "It's just a much more collaborative workspace than it ever was before."
For Cullen-Cote, "the environment is so energized. It's just bright and shiny, and people are smiling more." One employee described it to her this way: "It's like getting a new job in a really cool place and bringing all your friends with you."
Dig Deeper on Employee experience