adimas - Fotolia
Why enterprise adoption of cloud UC should accelerate in 2019
Enterprises like Pacific Dental and PTC are adopting cloud UC to get a consistent, reliable experience across various offices and geographies without overextending IT staff.
Enterprises are increasingly embracing cloud UC as a way to provide consistent, easy-to-manage telephony services across numerous office locations in different geographies -- a sign that those technologies have matured significantly over the last several years.
In percentage terms, UC as a service (UCaaS) is now growing faster among enterprises than among small businesses, which years ago were the first to embrace UCaaS, according to data released this month by Synergy Research Group, based in Reno, Nev.
The number of UCaaS seats among enterprises grew by 57% in 2018, compared to 23% growth among small businesses and 36% growth among midsize companies. The research firm classified businesses with more than 1,000 employees as enterprises and those with fewer than 100 employees as small.
PTC, a Boston-based software vendor with 6,000 employees in 30 countries, recently replaced a hodgepodge of on-premises telephony technology from Avaya, Cisco and other vendors with UCaaS from Fuze.
"I don't think PTC could have made this move five years ago," said Jason Mahoney, principal telecommunications analyst at PTC. "Voice over IP was a nightmare when it first rolled out."
Pacific Dental Services, which has 10,000 employees and manages 700 offices in 20 states, adopted UCaaS from RingCentral last year, doing away with a cumbersome mix of on-premises analog and IP telephony hardware.
David Baker, CIO of Pacific Dental Services, echoed the sentiments of PTC's Mahoney: UCaaS wasn't ready to support use cases like his company's several years ago. Enterprises typically require more advanced calling features and are wary of adopting untested emerging technologies.
"Three years ago is when things started to change. Right now I think we are at a state of maturity with some of the better players that are proven, and I think it's just going to get better," Baker said. "I think from this point onward I would never even consider on prem again."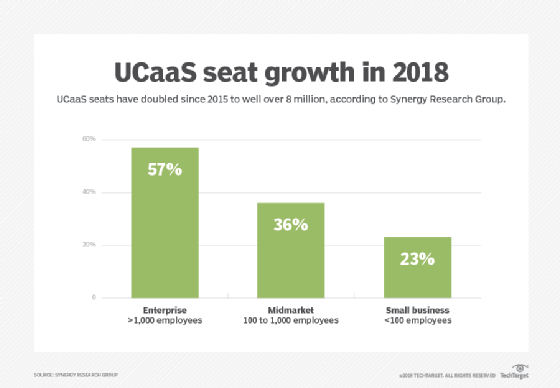 Enterprise cloud UC provides consistent, hassle-free telephony
Like many enterprises, PTC had accumulated telephony hardware from several vendors over the years, and its IT staff was struggling to manage contracts with dozens of service providers and management companies around the world.
The company viewed cloud UC as a solution to that problem and began piloting UCaaS in 2016 as part of a broader effort to move storage, development and other technologies to the cloud.
"What we found out through our journey with Fuze and through the exploratory period was that Fuze becomes the one vendor," Mahoney said. "They are your service provider; they are your carrier; they are your hardware manufacturer."
The switch boosted business for PTC, too. Fuze was able to provide sales teams with local numbers in each country that they wanted to target, regardless of where the sales teams were based. As a result, more potential customers began picking up the phone because they recognized a local number, Mahoney said.
For Pacific Dental Services, moving UC to the cloud was about addressing the poor quality of service and frequent maintenance issues of its on-premises telephony. The company wanted to free IT staff to work on other operational matters.
"You can invest millions and millions of dollars on great on-prem installs, and then you need a bunch of really skilled engineers to run that stuff," Baker said. "And I wanted to keep it as simple as possible and get out of the operational support on this type of system."
Regulatory, feature hurdles remain for enterprise cloud UC
Despite the increased adoption of UCaaS by enterprises in 2018, small and midsize businesses still account for 90% of the more than 8 million UCaaS seats worldwide, according to Synergy.
Many large businesses may still have reservations about cloud telephony.
Enterprises in some verticals have regulatory requirements that require them to retain control over UC traffic within their data centers. Others may need complex integrations between UC and other business apps that the one-size-fits-all model of UCaaS can't yet support.
"Microsoft is pretty famous for changing their APIs and interfaces, and [integrations] break all the time when that forced upgrade occurs," said Dave Stein, principal at Stein Technology Consulting Group.
In some cases, UCaaS may not support the advanced calling features every enterprise needs. Many users of the on-premises version of Microsoft Skype for Business have resisted moving to cloud-based Microsoft Teams for that reason.
"I have seen situations where there were issues with features that were not there, and maybe an assumption was made that it was," said Melissa Swartz, founder of Swartz Consulting LLC. "But I see that less and less."
Synergy expects the use of UCaaS to increase rapidly in the coming years. UCaaS adoption has still only penetrated 10% of the total PBX market.