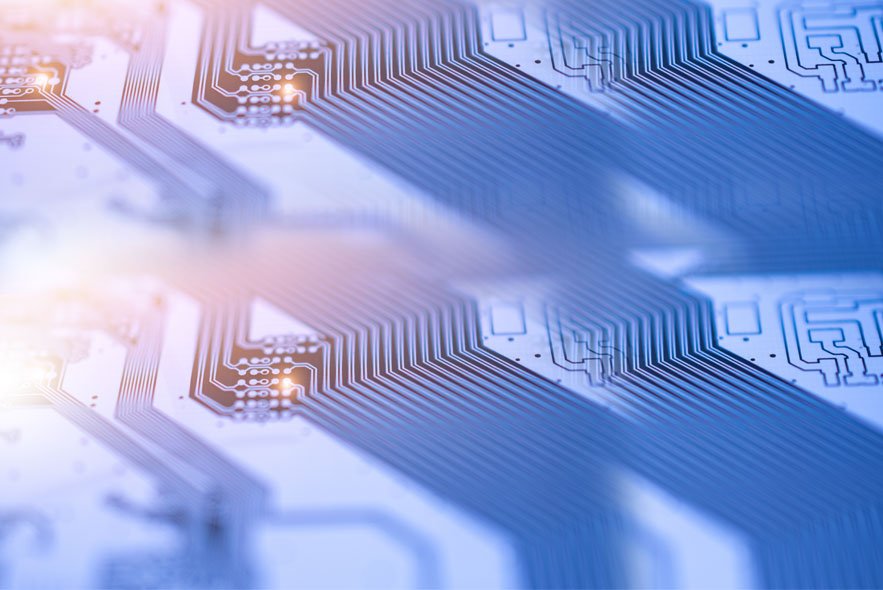 13 of the Best Team Collaboration Tools
The COVID-19 pandemic has made it clear that team collaboration tools are more than just communication novelties. They're indispensable.
No doubt, you've tried one or two collaborative tools in a pinch. Who hasn't been in a Zoom meeting in 2020? But now you must think of a long-term solution. And that solution must allow you to accomplish more than just discrete tasks, such as messaging or file sharing. They must be able to handle disparate functions for widely scattered teams.
How to Choose the Right Tool
There are scores of such tools on the market. So, where do you start? Consider these four things: 1) Who needs them? 2) Why do they need them? 3) What kinds of collaboration tools do they need? 4) How are security and compliance addressed?
1. Who needs them?
How many team members are there?
How often will they use the collaboration tool?
How many different roles are represented among the users?
Many collaboration tools don't dictate which of their plans -- small, medium or large enterprise -- are right for your team. Rather, they relegate the amount of per-user storage space based on the number of users. There's nothing to say that small enterprises need less storage space per user, but that's how many pricing models are structured. Slack, for example, offers 10GB per user of data storage in its standard model and 1TB of storage per user in its enterprise model.
Some vendors, such as Zoom, do set prices by the number of users. In its case, Zoom allows up to 100 participants in its free and Pro versions, and up to 1,000 participants in its Enterprise Plus model.
2. Why do the team members need them?
Do they simply need face-to-face communication?
Do they need to share files and edit them in real time?
Do they need to manage workflows?
Specific benefits that come from using team collaboration tools include the following:
improved and faster communication, especially among remote teams;
a clearer exchange of information because all communications, files and progress updates are centralized;
faster file sharing, resulting in a more efficient feedback process;
a decrease in miscommunication because all communication is recorded;
improved insights into each team member's and the total project's progress;
improved team unity because team members can connect with each other on a personal level; and
increased productivity resulting from improved teamwork and cohesion, as well as access to centralized information.
3. What kinds of collaboration tools do they need?
Do employees need lots of online storage? If so, does the collaboration tool work easily with online storage apps they already have, such as Dropbox or Box?
Do they need to communicate with individuals within the group? Can access rights be assigned to certain portions of the app?
Do they need to use the app while mobile?
The primary types of team collaboration tools are file-sharing tools, instant messaging (IM), cloud storage, online whiteboards, document synchronization, video conferencing and calendar sharing tools.
File-sharing tools enable teams to quickly distribute and transfer files and provide access to other members. These applications remove the transfer process from email, relieving inboxes from the distracting flood of files and notifications. Shared files can be anything from documents to videos or even software.
IM applications enable teams to exchange text messages and online files in real time. Video files, voice communication and video conferences are supported by most IM apps.
4. How are security and compliance addressed?
The emergence of team collaboration apps in the broader unified communications stack offers many productivity benefits for end users. But team collaboration integration poses a unique challenge for IT departments, particularly in highly regulated industries. The ability to share files within an organization, but outside of the corporate network, creates the potential for leaking sensitive information or intellectual property, even accidentally.
IT administrators should ensure that chosen apps offer a level of data security that aligns with established security and compliance policies within the organization.
Types of Collaboration Tools
Choosing the right collaboration tool is a bit of a balancing act. You want enough functionality to make steady progress with your job, but not so many functions that they pull you down. Few collaboration tools nowadays accomplish only one or two tasks. Yet, most specialize in one area while offering multiple functions.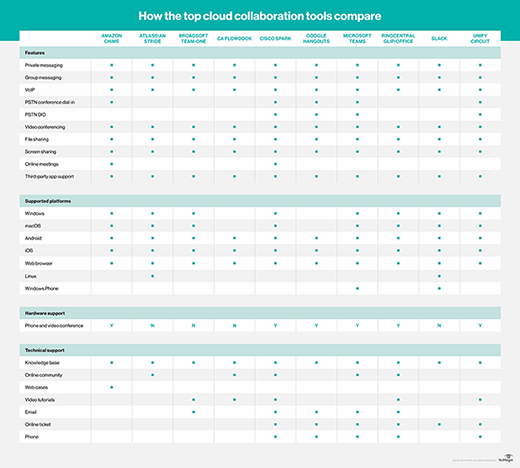 Workflow and Task Management
Sometimes called social task management, task management is the real-time, collaborative software-based approach to business activities that have traditionally been conducted through asynchronous processes such as document sharing and status updates. Task management software takes on many forms. Top software on the market includes:
Salesforce. Launched in 1999 as a "salesforce automation" provider, Salesforce is a good example of how collaboration platforms have grown. It bills itself as an integrated customer service relationship management platform that provides collaborative tools for sales, marketing, ecommerce, application development, customer service and employee relations. Each of these collaborative tools can be used to manage specific tasks (e.g., create service work orders) or a series of tasks outlined in a workflow. But at its core, Salesforce is known for its collaborative abilities to view a company's relationship with the customer from start to finish, including what interactions employees have had with the customer and the status of any one task.
Microsoft Power Automate. Formerly known as Microsoft Flow, the workflow manager can be incorporated into larger enterprise applications. Power Automate allows employees to create and automate workflows and tasks across multiple applications and services without help from developers.
Project Management
Overlapping in many ways with task or workflow management, project management emphasizes the planning and review processes. Top project management software includes:
Asana. The software provides users visibility into tasks and projects at hand. It smartly positions itself as a champion of remote project collaborations, offering users the ability to slice and dice project visibility as they see fit. It's become particularly well known for its use of Kanban boards to help those familiar with Agile project management techniques visualize their projects.
Monday.com. This software is the closest competitor in terms of functionality to Asana. Both offer ways to centrally manage communication and data from different apps in one location. Monday (formerly known as Dapulse) integrates communications into workflows to make it more apparent what is being said by whom and at what point.
Others that provide similar functionalities with minor differences include:
Wimi: Emphasizes rights-management and document version control
Redbooth: Focuses on project timeline visualization
As of August 2020, per-month, per-user versions of these products began at:
Wimi: $15
Asana: $11
Redbooth: $9)
com: $8, with a minimum of five users
Video and Audio Collaboration
In these pandemic times, video collaboration -- including video conferencing, screen sharing, instant messaging and document sharing -- has become the go-to communication tool. Popular video and audio collaboration tools include:
Webex
GoToMeeting
Microsoft Teams
Zoom
Amazon Chime
Many business users were already familiar with Cisco's Webex, LogMeIn's GoToMeeting, Microsoft Teams and similar applications when Zoom roared into the mainstream business consciousness in early 2020. The logical step has been to compare products, for example, Microsoft Teams vs. Zoom.
Features that should be considered when comparing products include:
Pricing: Prices vary widely, depending on whether video conferencing is part of a bundle and whether other collaborative features, such as the ability to record or having multiple administrators, are included. Pricing for Microsoft Teams, for example, ranges from the free version to $57 per user per month as part of Microsoft 365 E5. And Webex's published prices range from its free version to $27 per month per user for up to 100 users.
Implementation and ease of use: Most collaborative tools use the software as a service (SaaS) model, so implementation is generally not an issue. The differentiator has become how well the collaborative tool can integrate with other, specialized applications. For example, Zoom now connects with electronic health record (EHR) provider Epic's telehealth application, allowing healthcare organizations to launch Zoom with an Epic video visit workflow. Mio, based in San Antonio, Texas, has created an integration tool for Teams users who want to include Slack and Webex users.
Video conferencing capabilities and limitations: Much depends on how many people will be using it, what exactly they will be using it for and what bells and whistles they need. Free versions typically limit the length of the video calls, as well as the number of users. Larger, licensed versions offer whiteboarding, private sidebar chats during calls and other features.
Telephony capabilities and limitations: Many variables determine the price and quality of the telephony services offered as part of a unified communications bundle, such as whether it can handle phone and PBX, public switched telephone networks (PSTN) and audio conferencing duties. Users also need to decide whether they need to be able to switch between the desktop and mobile versions, whether they need dedicated business numbers for each team member, or how much they're willing to spend on outbound calls. For example, Amazon Chime offers pay-per-use pricing, no long-term contracts, and the ability to switch between basic features that don't include a charge and features that do include a charge.
Integration capabilities and features: It's now expected that collaboration tools should be able to integrate with other apps to streamline and automate many business processes. One of Microsoft Teams's biggest benefits is its ability to seamlessly integrate with other Microsoft Office 365 products, as well as with ServiceNow, Salesforce, Trello and other popular enterprise applications. Cisco Webex can be tightly integrated in a hybrid cloud architecture with its on-premises unified communications (UC) platform.
Team Communications
At the heart of any collaboration tool is the ability to communicate. Ideally, this happens regardless of where the team members are or on what communications platform they are working. But some collaboration tools emphasize personal communication -- particularly email alternatives -- over other tools, such as workflow or document sharing. Top team communications tools include:
Slack. The most obvious of these tools, Slack markets itself as a replacement for email because it directs social media feeds, email and other sources into user-specified channels. Those channels are defined along projects, people or whatever you choose. Slack connects with more than 2,200 apps, including Google Drive, Salesforce and Gmail.
CA Flowdock. This tool allows various communications media -- email, chats, videos, etc. -- to flow into one space, segmented by topic, project or person. It offers more than 100 integrations, segmented into the following:
Project management: Asana and Basecamp
Coding version control: Beanstalk and GitHub
Customer support: Zendesk and Desk.com
Wikis: Assembla and Redmine
Continuous integration: Ansible and Code Climate
Monitoring: Airbrake and Pingdom
Single sign-on: OneLogin and SAML 2.0
Security and Compliance Concerns
Shadow IT has long been a headache for medium- to large-sized enterprises. The problem has become a massive migraine during the pandemic because many organizations that can have remote workers are advising their employees to work from home to avoid contamination in the office.
Security and compliance concerns have also grown where collaboration and unified communication overlap.
Typically, team collaboration software vendors identify the security specifications to which their tools adhere. For example:
| | |
| --- | --- |
| Collaboration Tool | Security and Trust Certificates |
| Slack | ISO/IEC 27001, ISO/IEC 27017, ISO/IEC 27018, SOC 2, SOC 3, CSA, HIPAA, FedRAMP, FINRA, GDRP commitment |
| Monday.com | ISO/IEC 27001, ISO/IEC 27701, ISO/IEC 27017, ISO/IEC 27018, ISO/IEC 27032, SOC 1, SOC 2, SOC 3, EU-U.S. Privacy Shield principles |
| Asana | PCI, SOC 1, SOC 2 |
| Zoom | SOC 2 (Type II); FedRAMP (Moderate); GDPR, CCPA, COPPA, FERPA and HIPAA Compliant (with BAA); Privacy Shield Certified (EU/U.S., Swiss/U.S., Data Privacy Practices); TrustArc Certified Privacy Practices and Statements; Zoom's security controls also align with the UK National Cyber Security Centre's (NCSC) cloud security principles |