Fotolia
8 ways to make the most of OneDrive file sharing tools
More and more organizations are using OneDrive for enterprise content collaboration. Read how Microsoft's collaboration tool can fit into your daily workflow.
Many users rely on Microsoft OneDrive cloud storage to access, edit, share and save files from any device, at any time.
Using OneDrive, Office 365 users can access files both online and offline without relying on SharePoint. This flexibility has encouraged users to adopt OneDrive and move files away from SharePoint.
OneDrive is fast becoming a go-to for sharing and collaborating on digital content. Still, many users aren't aware of all the ways OneDrive can fit into their day-to-day workflows. Here are eight ways to maximize the OneDrive file sharing and collaboration capabilities.
1. Use OneDrive with anyone
The Office 365 platform comes with the OneDrive service, which gives users access to cloud storage, enabling them to share and collaborate on files. Users can also use OneDrive file sharing with non-Office 365 users internally or with collaborators beyond the firewall, increasing the value of the service.
2. Share content using links
Office 365 users can share files or folders using a self-generated link in OneDrive. This makes it easier for content owners to manage permissions and share content, both inside and outside the organization. The link can be shared via email or from within the OneDrive menu.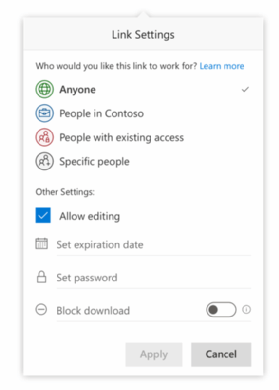 3. Protect content when sharing it with others
Shareable links enable quick and efficient distribution of content to external users, but can also pose security risks if the links get into the wrong hands.
Microsoft has added an option where links expire as a safety mechanism to prevent data from being accessible long term. This gives content owners more control over how files are shared and the ability to retract links when needed.
4. Restrict access to the shared content
When collaborating on files, there is always the risk of users downloading files and storing copies offline.
To avoid data leaks, OneDrive plans to release a feature later this year enabling users to specify whether other users can download shared files. Files with these permissions can only be accessed and previewed from a web browser.
5. Co-authoring files in real-time
Enterprise users often find themselves exchanging files through email, which leaves room for error. When storing files in OneDrive, users can simultaneously edit files and track changes over time. This eliminates the need to use email to communicate changes to documents.
6. OneDrive apps support mobile collaboration
Collaborating and sharing content is no longer limited to just desktop apps. OneDrive apps are available for Android and iOS devices, and Office 365 users can take advantage of all the OneDrive desktop features directly from their mobile devices.
7. Access to OneDrive from Microsoft Teams
The new integration between Microsoft Teams and OneDrive enables users to share content stored in OneDrive directly within the Teams app. Individuals working together have immediate access to their data without leaving their communication tool.
8. Keep tabs on important documents with OneDrive notifications
Similar to the SharePoint Alert feature, OneDrive lets users receive notifications when certain files are updated without logging into the portal. Comments or annotations can also be added to documents to help track the changes made.