Brian Jackson - Fotolia
Webex Teams vs. Microsoft Teams: Choosing the right platform
Find out which collaboration platform is the best fit for your business in the Webex Teams vs. Microsoft Teams showdown. Compare security and collaboration tools, as well as price models.
Cisco and Microsoft have long been competitors in the enterprise collaboration space -- first in instant messaging,...
Continue Reading This Article
Enjoy this article as well as all of our content, including E-Guides, news, tips and more.
later in telephony and meeting platforms. Now, the competition is in team collaboration apps. Both offer similarly named and functioning applications: Cisco Webex Teams and Microsoft Teams, respectively.
When analyzing Webex Teams vs. Microsoft Teams, both team collaboration tools offer persistent messaging in channels or virtual rooms. Both offer the ability to escalate a chat-based conversation to a conference call, with or without video, and integrate team spaces with a variety of third-party apps.
Webex Teams and Microsoft Teams even extend their experience to touchscreens, with the Cisco Webex Board and Microsoft Surface Hub, respectively. Both services are cloud-based, but also offer hybrid deployment models to integrate team collaboration features, such as persistent chat and meetings, with on-premises telephony platforms.
The similar naming and feature sets have created a challenge for IT buyers: When they talk about Teams, are they talking Cisco Webex Teams or Microsoft Teams? And which is the right choice to buy?
Webex Teams vs. Microsoft Teams: The differences
As much as the apps are similar, they also have significant differences in the following areas:
Collaboration and productivity. As noted, both Teams applications offer persistent chat, third-party application integrations and the ability to escalate text-based chats to rich voice, video and screen sharing-enabled meetings. Cisco goes a step further on the hardware side by integrating its Webex Board touchscreen device with Webex Teams, enabling team members to use the board as a video conferencing endpoint, as well, for ideation.
Microsoft's core value proposition is its integration with Microsoft Office, enabling users to access, edit, comment on and share documents stored in its OneDrive file sharing platform directly within Microsoft Teams spaces.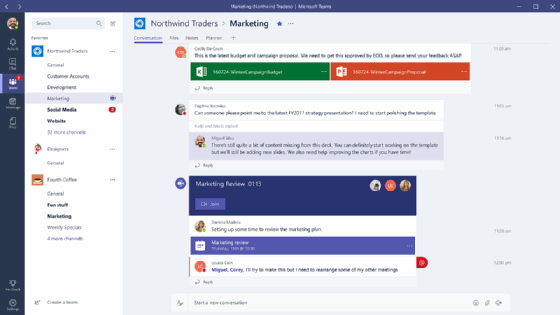 Telephony. Cisco's calling model is based on three approaches. For small and midsize businesses, Cisco offers Webex Calling through a variety of partners. For larger customers, Cisco offers either on-premises platforms or single-tenant platforms hosted by a partner. The Webex Calling model uses the Webex Teams interface, or a simplified dialer, enabling customers to integrate chat, telephony and calling.
On-premises and hosted customers may integrate Teams with Cisco Jabber, using it for persistent team chat and meetings, while using Cisco's legacy calling platform for telephony.
Microsoft offers a similar model. Customers may use Microsoft Teams as their calling platform, or they can integrate Teams with on-premises or hosted Skype for Business Server deployments. Cisco provides PSTN access through partners such as IntelePeer, West and ThinkTel, whereas Microsoft offers Calling Plan, a fixed-price set of local and long-distance minutes directly provided by Microsoft. Microsoft also allows customers to use their own Session Initiation Protocol trunking services.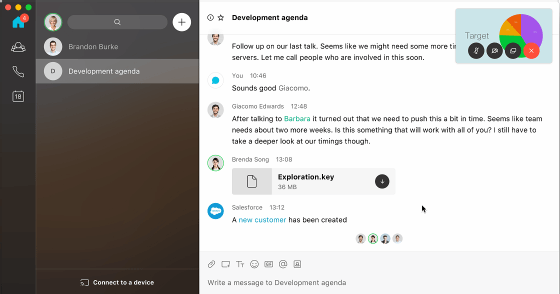 Video. Both apps offer video conferencing for mobile and desktop-based users. Cisco natively supports extending meetings to standards-based conference room systems, as well as its own video conferencing endpoints. Microsoft partners offer room systems, but integrating Microsoft Teams with non-Teams room systems requires additional software or services from partners such as BlueJeans, Pexip or Poly.
Security. Cisco touts its breach lock technology as a key differentiator, which provides end-to-end encryption of all Webex Teams data and allows customers to hold their own encryption keys. Cisco also offers federation between different organizations using Webex Teams, eliminating the need for users to switch between workspaces and reducing the risk of guest accounts that may serve as a vector for data leaks. Microsoft Teams only supports encryption at rest and in motion, as well as mobile device management controls via Intune. It does not yet support interorganizational federation or customer-held encryption keys.
Plans and pricing. Both Cisco and Microsoft offer freemium versions of their Team apps, with limited functionality. Cisco offers bundled licensing for Webex Teams and Meetings, as well as licensing as part of its Flex Plan offering. Microsoft Teams is essentially free for those already using Office 365 E3 or E5 licenses. Calling features require an E5 license or are available at additional cost for other licenses.
Looking at Webex Teams vs. Microsoft Teams, perhaps the primary differences are in terms of product direction. Cisco continues to focus on maintaining support for on-premises and partner-hosted calling platforms, integrating Webex Teams for group collaboration.
Microsoft, on the other hand, has made its Teams app the center of its unified communications universe, delivering a rich telephony experience, coupled with messaging, meetings and extensive third-party integrations. Microsoft's strategic direction is to move users to Microsoft Teams, having announced end-of-life for Skype for Business Online in July 2021. While Microsoft continues to support on-premises Skype for Business Server, the only path to the cloud going forward is to Microsoft Teams.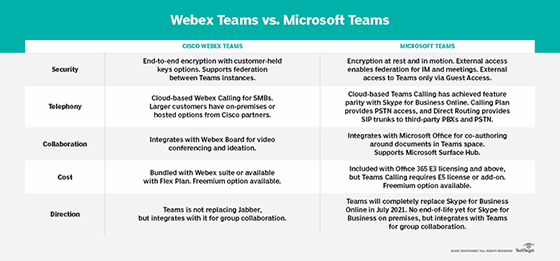 Cisco's team collaboration product is extremely attractive to those with an installed base of Cisco voice and video endpoints, whereas Microsoft adoptees tend to value Microsoft Teams' high level of integration with Office. Conduct due diligence on both apps, as well as other alternatives that may provide value to your organization.