Fotolia
Cisco looks to close gaps in Webex Teams video conferencing
Cisco Webex Teams still does not have all the same video conferencing features as Webex Meetings.
Cisco has promised to bring more advanced video conferencing features to Webex Teams eventually. But for now, users must rely on the vendor's Webex Meetings product for full-featured video calling.
Cisco has been working for years to bring the two apps closer together. But despite relying on the same cloud infrastructure, Teams still lags behind its collaboration cousin.
Webex Teams lacks polls, in-meeting chat, screen-sharing with remote desktop control, 5x5 video displays and key host settings like the ability to automatically mute attendees upon entry.
What's more, Webex Teams users cannot access essential video conferencing features without a license for Webex Meetings. Those capabilities include meeting recording, guest access and dial-in numbers.
Despite marking Webex Teams as an all-in-one collaboration app, Cisco generally sells the product in a bundle with Webex Meetings.
"We are actively working to bring all the advanced video conferencing capabilities of the Webex Meetings to Webex Teams," Cisco said in an emailed statement.
Later this month, Cisco plans to address one significant shortcoming in Webex Teams by expanding the product's video display. The app will soon support a 3x3 video grid. But it will still show fewer video panels than Webex Meetings, which has a 5x5 array.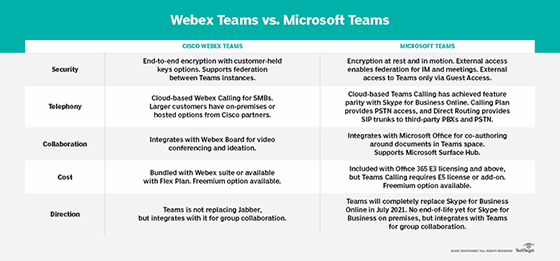 Demand for large group video meetings has soared amid the coronavirus pandemic. People want to be able to see everyone on screen at the same time. Some customers have chosen a video platform based solely on this issue. Cisco did not say when it would enable a 5x5 grid view in Webex Teams.
Another feature missing from Webex Teams is a "health checker" button, like the one in Webex Meetings for troubleshooting connectivity issues. Furthermore, the video interfaces of Webex Teams and Webex Meetings are not identical, which could confuse users who host meetings in both.
Cisco launched Webex Teams as Cisco Spark in 2015. The app initially relied on a separate cloud engine than Webex Meetings. The company later rebranded the product as part of a broader strategy to streamline its portfolio of communications apps.
Unlike competitors Microsoft and Slack, Cisco has not disclosed how many people use its team collaboration app. However, the company said 324 million people attended a Webex meeting in March.
"Obviously, it's been a work in progress from the Webex Teams side for a couple of years now," said Josh Warcop, senior solutions engineer at Byteworks, a Cisco reseller. "We're probably going to see a lot more feature parity here just this year."
On the flip side, Cisco said it was also working to bring at least two Webex Teams video features to Webex Meetings. One is the ability for anyone to start a meeting, not just the host. The other is the integration of Meetings with video mesh nodes, which let businesses keep some video traffic on premises.
Dig Deeper on Video conferencing and visual collaboration