Fotolia
Microsoft Teams to get 7x7 video layout by late August
Following months of user uproar, Microsoft Teams will get a 7x7 video layout by the end of August.
Microsoft Teams will soon display up to 49 video participants on screen simultaneously. The vendor will begin rolling out the 7x7 video layout this month and plans to provide the feature to all users in public preview by the end of August.
A larger group video display quickly became the most requested feature in Teams history amid the pandemic. When the virus forced most businesses to close offices in March, Teams only displayed four people on screen at one time.
Microsoft launched a 3x3 video layout in May but still trailed Zoom, which displays a 7x7 grid, and Cisco Webex, which supports a 5x5 pattern. The shortcoming has led some Teams customers to use Zoom for larger meetings. The introduction of a 7x7 grid could change that.
"This will definitely bring Teams to parity and fight the Zoom erosion," said Joshua Tretakoff, head of business development at JustAnswer, an online help service. Tretakoff recently began holding some meetings on Zoom because of the small video display in Teams.
Tretakoff is also glad that Microsoft will soon let as many as 1,000 people participate in a meeting, up from 250 people. His company maintains a GoToMeeting license for larger meetings today. "And we'll be glad to consolidate back on to Teams," he said.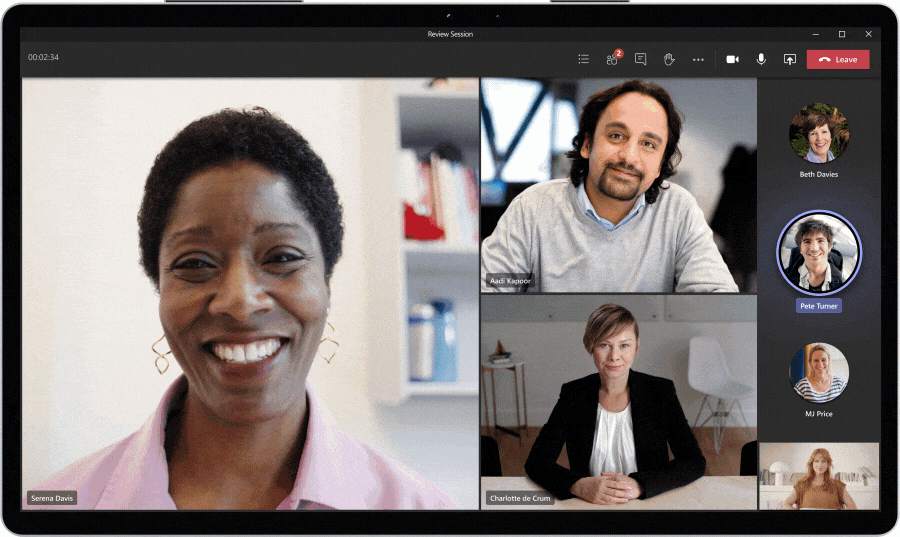 More than 56,000 Teams users asked Microsoft to support a more substantial group video display through the vendor's user feedback forum. That's more than twice the number of users who voted for the second most popular feature request, the ability to log in to multiple Teams accounts simultaneously.
Microsoft said the 7x7 video layout would launch in preview, however. That means the company hasn't finished engineering the feature, which could cause users to encounter glitches. Companies will need to activate the new multi-window meeting setting to use the 7x7 grid.
Microsoft attempts to create an immersive meeting experience
Microsoft also unveiled this week a unique new meeting display called "together mode." The feature places video participants in seats in a virtual auditorium.
Microsoft designed the setting using the science behind virtual reality. The company wants to make people feel connected to colleagues by simulating the spatial relationships that exist while sitting together in the same room.
The feature is unlike any video display on the market today. But it's an open question whether businesses will use together mode when Microsoft launches it in August. The company plans to eventually add support for more virtual environments, such as a coffee shop.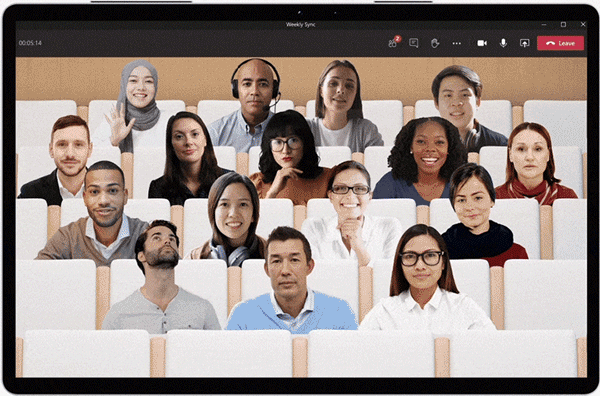 Later in 2020, Microsoft will also alter its traditional meeting display. The new screen will place the most active meeting participants in the most prominent positions, keeping audio-only users off to the side. The update will also let users view video feeds even when someone is presenting a PowerPoint.
Other future enhancements include real-time transcription, closed captioning with speaker attribution, emoji reactions, and video filters for adjusting light levels and camera focus. New features earmarked for the rest of the Teams app include suggested replies, a tasks tab and integration with the AI voice assistant Cortana.
However, Teams users are still waiting for many less flashy enhancements such as a better calendar and parity between webinars and meetings. Some users have expressed frustration about Microsoft prioritizing attention-grabbing features to battle Zoom instead of fixing more fundamental issues with the platform.
Dig Deeper on Video conferencing and visual collaboration