rocketclips - stock.adobe.com
Microsoft Teams to display 9 video panels, but users want more
Microsoft Teams will display as many as nine video feeds at once by early May. But some users say the change doesn't go far enough.
Microsoft Teams will soon display up to nine video feeds at the same time -- more than double the number today but still not enough for some customers.
The Teams upgrade, scheduled for release by early May, follows complaints in the last month by tens of thousands of users. Some of them have turned to rival services that are far more generous with video feeds.
Joshua Tretakoff, head of business development at Teams customer JustAnswer, bought a Zoom subscription so everyone in his group could see one another.
"Sure, nine is better than four, [but] it's nowhere near good enough," he said. JustAnswer, based in San Francisco, is an online help service.
Microsoft plans to increase the limit above nine feeds in the future to satisfy customers like Tretakoff. But the company has not said when that will happen.
Meanwhile, rivals have become a better option for large meetings. Zoom shows up to 49 video streams at one time, while Cisco Webex displays as many as 25 simultaneous feeds.
Microsoft's upcoming release also includes a change that will reserve the nine-person display for users that have their webcams turned on.
Currently, Teams shows on its display the four most recent people to make noise in a meeting. If a user's webcam is off, the person's name or phone number occupies one of the four slots.
The new configuration will address users' frustration over audio-only participants unnecessarily blocking their view of colleagues that are on camera. Background noises make the problem worse by causing audio-only participants to take over the screen even when they are not talking.
"This should greatly improve the quality of video meetings within Microsoft Teams," said Phillip Lyle, assistant vice president of enterprise and research infrastructure at Chapman University.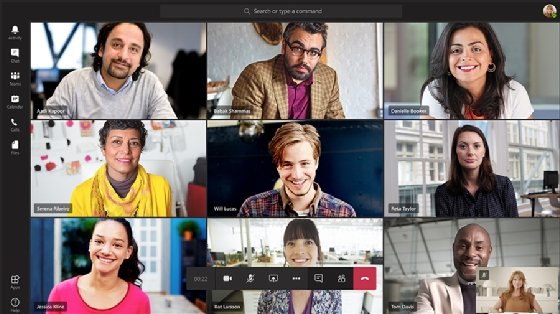 Demand for lifting the four-person cap on Teams shot up as state governments in March forced businesses to close offices to prevent the spread of the new coronavirus.
A post requesting the feature on Microsoft's user feedback website received fewer than 4,000 endorsements between 2016 and the middle of March 2020. As of April 14, the post had over 40,000 votes, making it the most requested feature on the forum.
Teams is growing at an exponential rate because of the pandemic. The app added 12 million daily active users in one week alone in March, bringing its total to 44 million.
But competitor Zoom has also been growing rapidly. Although Zoom's rise in popularity revealed some security lapses, the product hosted 200 million daily meeting participants in March, up from 10 million in December.
Zoom's success exposed Microsoft's failure to address the demand for large meetings adequately, Tretakoff said. "I think Teams really had an early opportunity, and they just squandered it a little bit."
Dig Deeper on Video conferencing and visual collaboration