Eugenio Marongiu - Fotolia
At long last, Microsoft Teams to get multiwindow support
Microsoft Teams is finally getting multiwindow support to help with multitasking.
Microsoft Teams will soon let users open chats, calls and video meetings in separate windows. The long-sought feature will help people multitask in the team collaboration app.
Microsoft plans to finish rolling out pop-out chats this month. Teams will get multiwindow support for calls and video conferences sometime in June.
Nearly 20,000 people have asked Microsoft to add multiwindow capabilities to Teams since the first request in 2016. It's yet another example of an essential feature of Skype for Business that's still missing in Teams.
"It's like not being able to open multiple Word or Excel documents at the same time," said Andrew Dawson, an IT professional based in the United Kingdom. "Archaic!"
Without the ability to open multiple windows, users can only do one thing at a time in Teams. The limitation forces some companies to use other communications apps in conjunction with Teams.
Jacques Detroyat, an IT manager for a company based in Switzerland, said one common workaround is for users to message on Skype for Business or WhatsApp during Teams meetings.
The setup is not ideal, Detroyat said. "It's a bit like writing with a badly sharpened pencil or trying to have a conversation in a noisy environment: You can do it, but the experience won't be great."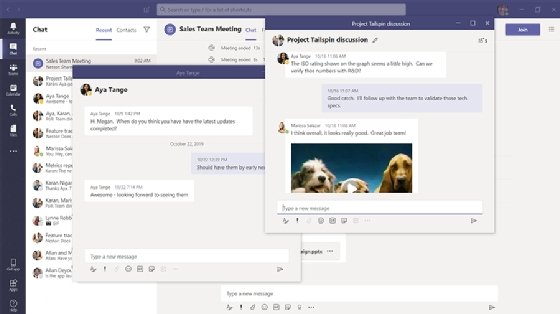 Some users want the company to support multiwindow viewing in even more scenarios. For example, Microsoft could let users edit a document in Teams in one window while searching for information they need in another. But the company has not committed to doing so.
Users will be able to open multiple Teams windows only in the Windows and Mac desktop apps. Microsoft has not said whether users of the web app will eventually get the upgrade.
The launch of multiwindow support will not solve another problem that users face. People want to be able to open separate Teams windows for different accounts on desktop. Microsoft has committed to letting users sign in to multiple accounts at the same time. But it has not provided an update on the feature in months.
Teams has attracted millions of new users during the coronavirus pandemic. The app grew from 20 million daily users at the end of 2019 to 75 million daily users in April.
The increased usage of Teams has made its shortcomings more aggravating to users. Complaints include the app not having a large enough group video display or a robust calendar.