OneDrive 3.0 gets Microsoft 365 Copilot, refreshed interface
Microsoft dusts off its OneDrive cloud file-sharing utility and adds connectivity to Microsoft 365 Copilot AI digital assistant, a new look and more features coming in December.
Microsoft will update its OneDrive enterprise file-sharing system in December -- only the third major upgrade since its release in 2007. Users will get Copilot AI connectivity, as well as a design refresh and AI search capabilities.
Copilot, a generative AI assistant that can perform tasks such as writing emails in the user's tone, writing proposal drafts from notes and summarizing meetings into text files, is available as an add-on for $30 per month. Microsoft rolled out a Copilot for Office integration last month.
Joint users of Copilot and OneDrive 3.0 can use the AI tool to similarly find, extract and summarize content in a morass of unsorted files. They can also receive a daily summary of document work to keep informed on progress of files they're working on with coworkers.
Previous versions of OneDrive had made it easy to toggle between owned and shared documents. OneDrive 3.0 will bring more collaboration-centric tools.
"Collaboration has taken center stage and has become the standard instead of the exception," said Jeff Teper, Microsoft president of 365 Collaborative Apps and Platforms, in a video introducing OneDrive 3.0 earlier this month. "It should be effortless to locate, organize and synthesize the most crucial information, regardless of where it lives."
Copilot features, depending on their execution, could make AI usage a part of the typical worker's daily routine, said Nicole Denman Greene, an AI analyst at Gartner.
"Ultimately, the goal is making the way we consume and engage with content faster and easier," Greene said. "Copilot for OneDrive is one of those easy, everyday AI applications because it's just making it more accessible to a broader group of people and enhancing productivity in a way that the user interface doesn't even need to change."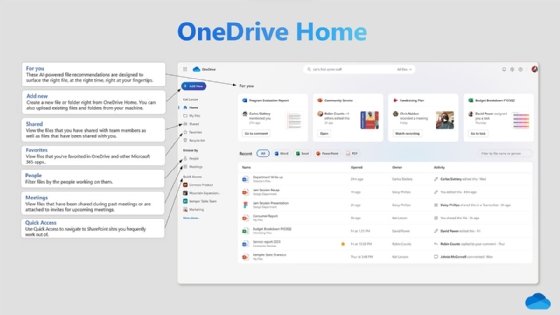 Microsoft mum on native app support, interface
One promised new feature in OneDrive 3.0 enables users to open OneDrive documents -- such as Adobe Acrobat PDFs or CAD models -- natively in the apps in which they were created. Microsoft said this was a much-requested feature.
A Microsoft spokesperson said any app already supported on Windows or Mac will work with the "open in native apps" feature. Using the prompt, users will be able to open any files with the default app -- when it has been already specified for files of that type -- or an app picker will pop up for users to choose the native app.
Users of OneDrive 3.0's web interface also will see a cosmetic refresh with the Fluent interface design in December, which Microsoft is rolling out to many Windows 11 Office applications. Fluent is an open source software framework that aims to standardize design, internationalization and accessibility. Microsoft also claims the Fluent design improves app performance.
Other features Microsoft plans to build into OneDrive 3.0 include tools to give users the ability to better group and organize files, such as putting video and photo assets together in one place and granting the ability to choose colors for folders.
Don Fluckinger covers digital experience management, end-user computing and assorted other topics for TechTarget Editorial.