Fotolia
Ten Windows 10 Fall Creators Update features to know
Microsoft introduced some significant changes to Windows 10 in the Fall Creators Update. The My People app, for example, lets users pin contacts to their task bars.
The Windows 10 Fall Creators Update features a wide range of improvements. In addition to the interface itself, the update also enhances components such as Cortana and the Microsoft Edge browser.
The degree to which these updates affect the enterprise depends on how users work and which Windows features they incorporate into their daily workflows. There's definitely enough in the update to provide most users with at least some level of benefit.
Fluent Design System
The Fluent Design System is a new interface standard for Windows components and applications. The Fluent system continues to build on the Metro look Microsoft first introduced with Windows Phone 7, bringing changes related to motion, translucence, blur, depth and more.
Microsoft started out small in the Fall Creators Update, applying the Fluent design only to the Start menu, Action Center and a few other components. Most of the changes are fairly subtle, but Microsoft plans to continue to push the new design.
Improved input
The Windows 10 Fall Creators Update features improvements to Windows touch and inking features. Touch users get an updated keyboard that supports text prediction and shape writing -- forming words by swiping over the keys.
Microsoft also boosted the Stylus, making it easier to write, scroll and navigate the interface. In addition, the update includes a new find my pen feature that tracks where the user last worked with the pen. The update also makes it possible to use a stylus as a PowerPoint remote clicker.
The Fall Creators Update adds more advanced dictation support, using cloud-based speech recognition services. Microsoft has also introduced Eye Control so users with disabilities can operate an on-screen keyboard and mouse with just their eyes.
OneDrive Files On-Demand
Microsoft introduced OneDrive Files On-Demand in Windows 8, but it disappeared in Windows 10. One of the key Windows 10 Fall Creators Update features is the return of OneDrive Files On-Demand.
Users can once again access their OneDrive files in Explorer, just like those stored on the local drive. If a user double-clicks a file, it downloads to the PC, where he can edit it locally. Users can also select which files to make available offline.
OneDrive Files On-Demand can help save local drive space and enable users to more easily access files from any device.
My People
With My People, users can pin up to three contacts to their taskbars, making it easier to communicate with them via email or Skype and to access their contact details.
Users can also drag files to their pinned contacts to share documents, and they can scroll through past communications with those individuals. If users want to include more than three contacts, they can add them to the new My People hub.
Windows Mixed Reality
One of the most highly touted Windows 10 Fall Creators Update features is Mixed Reality, a set of technologies that cover both virtual reality and augmented reality. Vendors such as Acer, Dell and Samsung now offer virtual reality headsets to use with Mixed Reality. Users can also take advantage of Mixed Reality Viewer, a Windows 10 app that enables augmented reality by overlaying computer-generated images onto the real world.
Mixed Reality technologies may still be relatively young, but they offer the enterprise a great deal of potential for finding new ways to collaborate on projects, train employees, present ideas to clients and more.
Photo and video improvements
The Photos app now lets users add filters, text and 3D effects to photos and video clips. The app also includes Story Remix, a new feature that enables users to easily create videos that incorporate photos, video clips, text, music and other effects.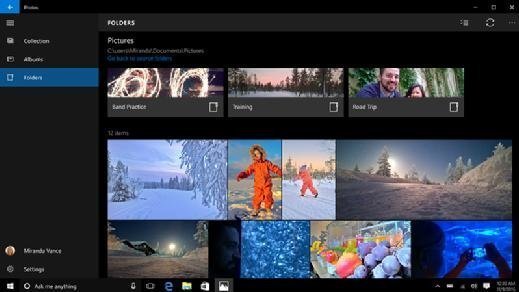 In some circumstances, such as having to pull together client presentations at the last minute, the new and improved capabilities should be useful.
Cortana improvements
Cortana has also received its fair share of improvements with the Fall Creators Update. At the top of the list are the voice-activated power commands that enable users to log off, restart or shut down their systems, even from a locked screen.
In addition, Cortana now displays search results in a scrollable panel rather than launching the Edge browser. Cortana's settings are integrated into Windows settings. Cortana can also suggest reminders when taking a photo.
Administrators can still use group policies or mobile device management to control Cortana in the workplace while enabling users to be more productive.
Edge improvements
Microsoft has enhanced the Edge browser in several ways, focusing in on the PDF and e-book readers. Users can fill in PDF forms, save and print them. They can also rotate PDF documents that show up sideways. With PDFs or e-books, users can highlight text, add annotations or make notes with their pens. The updated browser also enables them to edit their browser Favorites and pin webpages to the task bar.
The big question for the enterprise is whether these changes are enough to get users to switch to Edge. Most users have migrated to Google Chrome, and it does not appear that this will change anytime soon.
Mobile device integration
Microsoft continues to expand its role in the Apple iOS and Google Android worlds.
Microsoft continues to expand its role in the Apple iOS and Google Android worlds by including new Windows 10 Fall Creators Update features specific to mobile users. One of the most important is Continue on PC, which enables users to start web browsing on their mobile devices, and then continue in Edge on their PCs.
Microsoft also offers Launcher for Android -- formerly known as Arrow Launcher -- which enables users to access their Windows calendars, documents and recent activities from their Android devices.
Beefed-up security
The Windows 10 Fall Creators Update features a number of security enhancements, such as removing the SMBv1 protocol from clean installs and adding Windows Defender Exploit Guard, an embedded OS component that protects files and applications. The update also includes new antiransomware capabilities and additional safeguards in Windows Defender.
In addition, the Edge browser is now capable of running inside a sandboxed environment, but only in Windows 10 Enterprise.
Dig Deeper on Windows OS and management