Definition
Microsoft Cortana
What is Microsoft Cortana?
Cortana is Microsoft's digital assistant. First launched in 2014, Cortana was originally developed for the Windows Phone 8.1 and is included in other Windows devices and operating systems (OSes), including Windows 10 and 11.
Cortana can perform the following actionable tasks:
alert users to upcoming meetings;
answer user questions;
search the user's PC and the web;
set reminders;
show users the weather; and
open applications.
The text- and voice-enabled virtual assistant uses the Microsoft Bing web search engine to perform tasks such as answering questions. Cortana is integrated across the Microsoft 365 product suite for use with Windows OSes version 2004 and later and the Microsoft Edge browser.
Cortana was a major addition to Windows 10 when the OS released but has since fallen in relevance. Microsoft later began reducing Cortana's prevalence in Windows systems, with Cortana no longer being used in the device setup process and no longer being enabled by default in Windows 11. In March 2021, the Cortana mobile app was shut down entirely. Over time, Microsoft has added and removed features.
The name Cortana comes from Microsoft's flagship game series Halo. The series, originally developed by Bungie and then 343 Industries, features an artificial intelligence (AI) character of the same name from the 26th century. Cortana's voice actress, Jen Taylor, also voices the Cortana voice assistant for Windows in the U.S.
How does Cortana work?
Like Apple's digital assistant, Siri, Cortana responds to natural language and can perform a variety of organizational tasks for users, including setting reminders, scheduling calendar events, calculating math problems, and converting measurements and currency.
To make Cortana work, users must enable the speech, inking and typing settings and turn on their location tracker. Users can also manage what information Cortana is able to access.
To activate Cortana, a user can say "Hey, Cortana" if voice settings are enabled, press the Windows key plus C or click the Cortana button next to the search bar on Windows 10. In Windows, the Cortana window then appears and the user can type in their question or request.
Command prompts a user can enter include the following:
"What is the weather?"
"Open [website name]"
"Set an alarm for [time]"
"When is my next meeting?"
"Open Outlook"
Cortana's features
With Microsoft's fading support for Cortana, the digital assistant has lost more features over time. However, Cortana still includes the following features:
Use of natural language. As opposed to having to use specific words, users can make requests in plain English.
Multitasking. On Windows 10 desktops, Cortana can open programs, find files and read or send email messages. Users can, for example, type a request to Cortana or turn on the microphone and speak to the program.
Integration with Microsoft Edge. In Edge, users can highlight a word or phrase and Cortana displays more information on the topic.
Reminders. Connected to Office 365, Outlook.com or Gmail, users can create and suggest reminders.
Calendars. Working with Outlook, users can manage their calendar and make appointments or block off time for meetings.
Accessibility features. These include settings to read overviews of new emails, read high-priority emails or find the best times for meetings.
As for features that were removed, Cortana can no longer be requested to play music, control video streaming services, create location-based reminders or control smart home devices.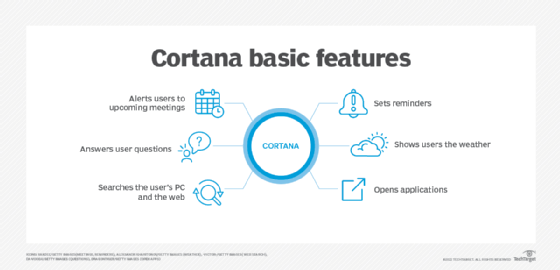 How to disable Cortana
If users do not want to use Cortana, they can turn the program off. To turn Cortana off in Windows 10, open Settings, then select Privacy and Microphone. Then de-select Cortana's access to the device's microphone. App permissions can also be turned off in the settings.
In Windows 11, Cortana is disabled by default, but if reenabled, to disable again, the user can perform the following steps:
Open the Settings app.
Type Cortana in the app list search box.
Select the three dots next to the Cortana option and Advanced options.
Disable the Cortana toggle for Runs at log-in.
Doing this means Cortana will not start automatically when the user logs into a Windows 11 PC.
Because Cortana's memory is non-volatile, user preferences the program gathers are available if and when the user decides to turn Cortana back on. To reenable Cortana, go through the same steps and just toggle the Runs at log-in option.
Cortana competitors
Cortana's competitors include Google Assistant, Siri and Alexa. Google Assistant is Google's voice assistant AI for Android devices. Siri is Apple's personal assistant for iOS, macOS and watchOS devices that uses voice recognition and is powered by AI. Alexa enables an Amazon Echo device to listen for user commands to perform a multitude of tasks, including playing music, answering questions, creating and editing to-do lists and setting a timer or alarm.
Many of the tasks these virtual assistants can perform are quite similar; for example, they can:
receive news updates;
check current traffic conditions;
view current weather conditions;
set reminders and alarms;
find information about local attractions;
answer questions via the voice assistant's connected internet browser; and
integrate with platform-specific apps or devices.
Alexa commands can also be customized. Customized voice commands, or skills, can be more versatile, opening new ways for users to interact with Alexa. For example, users could set a skill to order a product from a specific retailer, turn Echo smart speakers into security devices, make donations as well as support other languages for different users in one household.
Future of Microsoft Cortana
Cortana was originally a direct competitor to other voice assistants, but Microsoft has slowly been dropping support for the Halo-inspired voice assistant. In 2019, Microsoft's CEO stated that the company no longer sees Cortana as a direct competitor to Alexa or Siri. After this, the company began changing Cortana from an assistant for different software integrations, as it slowly lost more features. In January 2020, the Cortana mobile app was removed from markets in areas such as the U.K., Canada, Australia, Mexico and Germany. In July of the same year, Cortana was removed from the Xbox Dashboard. In early 2021, the app was removed from iOS and Android app stores. Over time, Cortana lost functions such as being able to play music or control other devices.
With the release of Windows 11, Cortana is now disabled by default. It also is no longer used during the device setup process and is not pinned to the taskbar. Although Cortana is still on Windows devices and can be enabled, its continual loss of functions and lack of support in the new Windows OS means that it may lose further support in the future.
Learn more about the hurdles Cortana has for enterprise Teams, such as potential security and privacy risks.
This was last updated in
January 2022
Continue Reading About Microsoft Cortana
Dig Deeper on Windows OS and management