Fotolia
Windows 11 explained: Everything you need to know
Windows 11 becomes available Oct. 5, but Windows 10 will be supported through October 2025. Here's what you need to know about the newest OS.
Microsoft will make Windows 11 generally available on Oct. 5. This is the latest version of the tech giant's operating system.
Microsoft said Windows 11 will have a simplified user experience and design. There will also be several new features, including a new Start button and the ability to download and run Android applications on Windows machines.
But Windows 11 is isn't just a repositioned Start button with an ability to run Android apps.
What are Windows 11 system requirements?
Users who want to install Windows 11 will need relatively new devices -- i.e., those designed and sold starting in 2019. If devices are older, users won't be able to install the OS. Eligible devices should be running Windows 10, version 20H1 or later. Windows 11 will also be available on compatible new devices.
To install or upgrade to Windows 11, devices must meet the following minimum system requirements:
Processor. Need 1 GHz or faster with two or more cores on a compatible 64-bit processor or system on a chip.
RAM. Need 4 GB or more.
Hard disk space. Requires 64 GB or more available storage. Users might need extra storage space to download updates and enable certain features.
Graphics card. Compatible with DirectX 12 or later with a Windows Display Driver Model 2.0 driver.
System firmware. Requires Unified Extensible Firmware Interface and is Secure Boot capable.
Trusted Platform Module. Need to have TPM version 2.0.
Display. Has high-definition (720p) display, 9-inch monitor or larger, 8 bits per color channel.
Internet connection. Users need to be connected to the internet to perform updates, download and use certain features. They also need Microsoft accounts and internet connectivity to set up their devices the first time they use Windows 11 Home edition.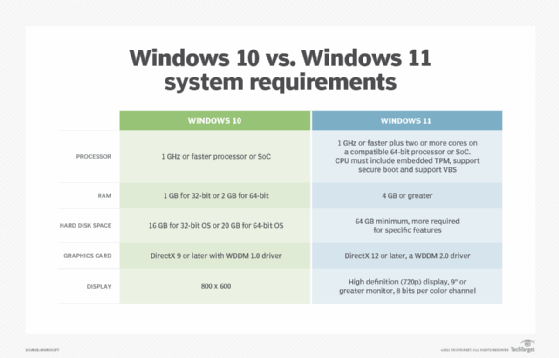 Specific requirements for certain features
Some Windows 11 features have certain requirements in addition to the system requirements, including:
5G support. This feature requires a 5G-capable modem.
Auto HDR. This feature requires a high-dynamic range (HDR) monitor.
BitLocker to Go. This feature, which is available in Windows Pro editions and higher, requires a USB flash drive.
Client Hyper-V. This feature -- available in Windows Pro editions and higher -- requires a processor with second-level address translation capabilities.
Cortana. This feature requires a microphone and speaker. Cortana is currently available on Windows 11 in Australia, Brazil, Canada, China, France, Germany, India, Italy, Japan, Mexico, Spain, the United Kingdom and the United States.
DirectX 12 Ultimate. This feature is available with supported games and graphics chips.
Intelligent video conferencing. This feature requires a video camera, microphone and speaker (audio output).
Multiple Voice Assistant. This feature requires a microphone and speaker.
Snap. Three-column layouts require a screen that is 1,920 pixels or greater in width.
Mute and unmute. To use this feature from the taskbar, a video camera, microphone and speaker (audio output) are required.
Spatial sound. This feature requires supporting hardware and software.
Microsoft Teams. This feature requires a video camera, microphone and speaker (audio output).
Touch. This feature requires a screen or monitor that supports multi-touch.
Two-factor authentication. This feature requires use the of a PIN, biometric (fingerprint reader or illuminated infrared camera) or a Bluetooth- or Wi-Fi-enabled phone.
Voice typing. This feature requires a PC with a microphone.
Windows Hello. This feature requires a fingerprint reader for biometric authentication or a camera configured for near-infrared imaging. Devices without biometric sensors can use Windows Hello with a portable Microsoft-compatible security key or PIN.
Key features in Windows 11
Here are some of the new key Windows 11 features:
A new interface that's similar to a Mac interface. This includes a clean design with rounded corners, pastel colors and centered Start menu and taskbar.
Integration of Android apps into Windows 11. Users can download and install Android apps from the Amazon Appstore via a redesigned Microsoft Store.
Access to widgets directly from the taskbar, and the ability to personalize them.
Integration of Teams into the Windows 11 taskbar.
Xbox console features in Windows 11, including DirectStorage and Auto HDR.
Better support for virtual desktops. Users will be able to set up virtual desktops in Windows 11 like they can with the macOS. In Windows 11, users will be able to toggle between multiple desktops for work, school, personal or gaming use.
Snap Layouts will enable users to organize their apps and windows more efficiently by grouping them together and saving them to the taskbar.
Microsoft has boosted security in Windows 11 by requiring hardware that enables protections such as device encryption, Secure Boot and virtualization-based security, Windows Hello, and hypervisor-protected code integrity. Hardware-assisted security was optional in Windows 10.
Changes in Windows 11
Microsoft is also changing some features in Windows 11.
While Cortana will be included in Windows 11, it won't be activated by default. Microsoft is also removing the timeline feature; however, similar functionality is available in Microsoft Edge.
Tablets will be able to run Windows 11, but a tablet mode will not be available in the OS. Instead, Windows 11 will have features that offer a more intuitive touch experience without the need for a separate mode.
Skype won't be included in clean installations of Windows 11. Microsoft is replacing Skype with Teams chat. The company's goal is to entice more Teams users to try out the app's consumer features and, hopefully, use the communication platform outside of work.
Microsoft is also bringing some changes to the taskbar. For example, users can no longer pin their taskbars to the left or right of the screen. Rather, the taskbar will remain pinned on the bottom of the screen. Live tiles will also no longer be available.
S mode is now only available for the Windows 11 Home edition. S mode -- a version of Windows 10 -- only lets users run Microsoft Store apps. While in S mode, users must use the Bing search engine and the Microsoft Edge web browser. Microsoft designed S mode to enhance the security and performance of Windows 10.
What is the cost of Windows 11?
The Windows 11 upgrade is free to users currently running Windows 10 PCs with a compatible OS. Microsoft aims to offer Windows 11 to every compatible device by the middle of 2022.
Microsoft will release an updated version of its PC Health Check app before the Windows 11 launch. This will enable users to check if their PCs meet Windows 11 system requirements. However, Microsoft will continue to support Windows 10 through Oct. 14, 2025. So, upgrading to the new OS isn't mandatory.
Updates to users running Windows 10 will be rolled out at the beginning of 2022.
How often will Windows 11 update?
Windows 11 will receive monthly quality updates and incremental updates to Windows products. This includes bug fixes, feature improvements and security fixes.
However, there will be a new feature update cadence for Windows 11. These updates include new features, as well as all the previous quality updates. Microsoft will only release one major Windows 11 feature update annually, in the second half of each calendar year.
The Windows 11 feature cadence differs from that of Windows 10. Microsoft releases Windows 10 feature updates twice a year, around March and September.