Workplace transformation: 8 steps to build a successful plan
The pandemic might have changed the workplace for good. Here's how to ensure that your organization's physical spaces, business processes and technology suit employees' workstyles.
A workplace transformation strategy can help enterprises radically improve the employee experience. When done well, it can also lead to more effective business technology and people processes.
What is workplace transformation and what's driving it?
Workplace transformation is the redesign of workspaces, processes and technologies to ensure a good experience for employees. It requires an awareness of the different work styles of employees and how physical space and technology can be adapted to accommodate their different needs.
A comprehensive workplace transformation strategy uses a human-centered design approach and starts by understanding the technology needs of the workforce. This includes how workers interact with operational platforms, connect and communicate with colleagues, and access information across the enterprise.
The events of the last couple of years have shifted employee expectations. "The pandemic's disruption to life at large has set in motion fast-changing trends, from the great resignation to quiet quitting, in an indicator that people are looking for different things at different times from their employers," said Kameshwari Rao, global chief people officer at Publicis Sapient, a digital transformation consultancy. "For organizations to stay on the right foot in these shifting sands, they require a keen understanding of who their people are and how they can transform organizational practices to best deliver value for them."
However, the rapid shift in workplace dynamics has not necessarily sped up digital transformation efforts. "The transformation has been slow. Most organizations have been in triage mode since the start of the pandemic," said Kate Lister, president of Global Workplace Analytics, a human resources consultancy.
She sees many companies still trying to get old practices and processes to work in new ways because no one could predict how remote and hybrid strategies and the return to office would shake out. But now that it's clear hybrid work is here to stay, organizations are finally making decisions about what that will mean to workplaces -- and work processes.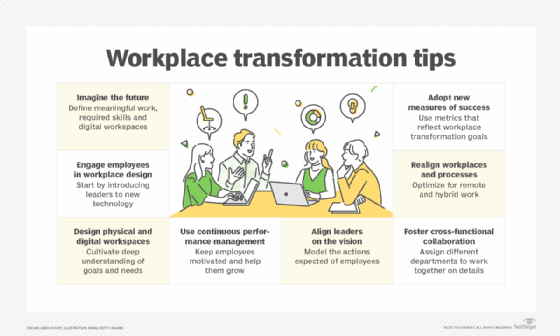 Benefits of workplace transformation plans
There are many ways that workplace transformation programs can impact the business, including the following:
Improve employee morale.
Build buy-in for new automation technologies that improve productivity.
Streamline management hierarchy.
Help the business adapt to new business models.
Promote a learning culture.
Improve collaboration and communication.
Increase trust between employees and management.
Challenges of workforce transformation plans
Businesses face many challenges in getting workplace transformation programs off the ground. Managers and employees must understand some of them to work through them and ensure everyone wins.
Darlene Damm, faculty chair and head of social impact at Singularity University, observed that new workplace models associated with workplace transformation can impact the management process. For example, a remote workplace policy also means employees will take on more responsibility for managing themselves. Managers will need to become more like coaches responsible for empowering employees' work but not controlling it.
When managers aren't nearby, it is natural for them to interact less with employees. Employees need to take on more responsibility for managing their schedules and ensuring their work is of high quality.
It is also important to consider some of the problems new technologies like AI will create. Even though AI is being adopted on a global scale, many firms have not figured out how it could adversely affect workplace transformation efforts. "Companies need to see digital transformation not as something that will happen once every few years, but rather something happening and changing every day and all the time," Damm said.
Carissa Kilgour, principal in workforce transformation at Deloitte Consulting, sees additional challenges that companies face when they implement a hybrid work model. They must determine when they should co-locate, ensure equitable experiences for participants regardless of medium and help sort out difficulties in getting technology to work, according to Kilgour. It's also important to help employees balance life priorities and well-being, build relationships and create a sense of belonging.
Increasingly, Kilgour sees employees toggling between apps, jumping in and out of meetings and managing multiple conversations on multiple platforms. This is not just exhausting. It also increases stress, muddles priorities and makes focusing difficult.
This phenomenon, called context switching, is not just an issue for remote workers. Sometimes it is an outgrowth of transformation efforts that bring in new tools, office layouts and workflows. It has also become the new normal. "It impacts an employee's ability to get work done, resulting in lost time and costing organizations massive amounts of money," Kilgour said.
For more on building an effective employee experience strategy, read the following articles:
Here are some steps organizations can take to help their workplace transformation programs succeed.
1. Define the future state of your digital workplace
An overwhelming number of executives don't plan to return to the way things were pre-pandemic, and employees feel the same way, said Anthony Abbatiello, workforce transformation practice leader at PwC. Organizations have the unique opportunity to define the future of their digital workplace. Teams should start by defining meaningful work and the skills they need to perform it. It's vital to think through the kind of digital workspace that is commensurate with the digital experiences employees expect. It's also helpful to create innovative rewards that align with preferences and are tailored to various workforce segments.
2. Engage your team in defining and designing the workplace transformation.
Abbatiello recommends a people-centric approach to workplace transformation. People adopt what they help to create. It's essential to introduce leaders to new technology in advance to help them understand the bigger picture and why the transformation is vital for the organization. For example, engaging HR leaders with metaverse implementation from the start can be essential if you aim to use the virtual world of the metaverse to recruit, onboard or train employees.
3. Design workplace solutions around the work itself
Kilgour said companies were starting to question the assumption of the workplace as a physical location for some time. Even before the pandemic, distributing and virtualizing work was already a trend. She recommends organizations look at the work they are trying to accomplish and cultivate a deep understanding of the unique needs and priorities associated with those goals. Only then can they effectively determine where, when and how work should be done. A focus on the design and practice of the work itself will dictate the mix of physical and digital workplaces required to support the business strategy.
4. Consider dynamic performance management
Rao argues that a focus on dynamic performance management (also called continuous performance management) goes a long way toward keeping workers motivated and helping them with their growth aspirations while providing new employees the right opportunities. Performance management thus becomes an ongoing activity. For example, employees and managers in Rao's company have weekly one-on-one meetings that broadly revolve around career, growth and opportunities. Quarterly check-ins provide a way to ensure that the conversation around performance and potential is documented. A yearly wrap-up is an excellent way to review the year and can feed into recognition and rewards. "We believe that individuals need to get an opportunity for a promotion when they are ready and there is a business need," Rao explained. "Hence, we have an ongoing monthly promotion cycle." She said these efforts are part of an agile process that creates an enabling work environment for a person to thrive.
5. Ensure leadership alignment on vision
It's also critical for leaders to agree on shared goals. "Change is hard enough without rogue leaders pulling in the wrong direction," Lister said. Leadership must be unequivocally committed to the new vision. Beyond talking the talk, leaders need to walk the walk. For example, if they want to see their people in the office, they must be there themselves. Similarly, if they want people to give up their assigned seats, they should give up theirs. If they want their people to trust them, they must trust them in return.
6. Foster cross-functional collaboration
Digital transformation can change where, when and how work affects the different parts of the organization. Lister recommends that different departments work together to smooth out the details. For example, if HR is leading the change to hybrid work, it needs to work closely with IT to ensure employees have what they need to be productive and effective and that security measures are in place. Real estate and facilities management must also be involved because workplace design and space needs will have to change to accommodate the kind of work that takes place in offices when not everyone is there. Those departments are responsible for the physical manifestation of the new employee experience. Lister refers to the combination of commercial real estate, HR and IT as the three-legged stool of change. If one is missing, workplace transformation won't work. But these are not the only groups that should be at the table. Other essential participants include representatives from finance, legal, communications, marketing, sustainability, procurement, labor representatives, outside consultants and sometimes even customers and vendors.
7. Realign workplaces, practices and processes with where, when and how people work
The rapid transition to remote work caused by the pandemic means many organizations have not revamped their workplaces or work processes to reflect the new ways their people work. "I equate it to getting your first smartphone but only using it to make phone calls," Lister said. Remote and hybrid work are here to stay, which means organizations need to adopt new technologies, work practices, and meeting and communication practices to maximize the potential of remote work. These steps can also help to minimize unintended consequences in effectiveness, productivity, recruitment, retention and sustainability.
8. Measure what matters
New ways of working require new measures of success. Imagine a CFO investing millions of dollars and never looking at how the investment performed. "In many ways, that's what happens with change initiatives," Lister said. If the change an organization is undertaking is intended to improve recruitment and retention, for example, the measures of success should include things like the ratio of job offers to acceptances, the number of applications per job listing and voluntary turnover rates.