kantver - Fotolia
Google age discrimination lawsuit may force HR changes
Discrimination lawsuits can seek broad changes to HR operations, as was the case for Google. That settlement could be a template for how federal courts respond going forward.
Google recently settled an age discrimination lawsuit requiring wide-ranging changes in its HR practices, including in recruiting and employee surveys. The lawsuit may be unique in the management changes it seeks, and may point to the potential impact discrimination lawsuits have on hiring and firing.
In the 2015 complaint, the Google age discrimination lawsuit alleged that the median age at Google was 29 compared to 42 for U.S. workers. The lawsuit claimed Google favored people under 40 in its hiring. Lead plaintiff Cheryl Fillekes, who has a Ph.D. in geophysics, was invited to four separate interviews for different jobs by Google starting at the age of 47, but she was never hired. She blamed age discrimination. The case was filed in federal court in California.
Google's median age was based on third-party data. Tech firms will detail gender, race and ethnic makeup of their workforces in their diversity reports, but do not reveal employee age ranges.
The federal court agreement settled the age discrimination class action case for $11 million. More than 200 parties were part of it. It also required Google to train employees and managers on age-based bias and create a subcommittee in its recruiting operations to focus on age diversity in its engineering positions. Google will have to ensure its marketing reflects age diversity, and departing employees will be surveyed about potential discrimination.
Settlement could raise awareness
Daniel Low, the Washington-based attorney representing Fillekes, said the training and the survey requirements "are intended to raise awareness of the issue of age discrimination to help reduce bias against highly experienced tech workers who struggle to get jobs."
The subcommittee is designed to help ensure "that the hiring process does not structurally disfavor older applicants, and the more diverse marketing materials are intended to encourage a broader applicant pool," Low said.
Scott Edward Cole, an employment attorney in Oakland, Calif., called the Google settlement unusual and creative, and praised the parties for it. "What is unusual about this settlement is that the injunctive relief comes in so many different forms," he said.
"Ageism at companies like Google is an enormous problem, and oftentimes so insidious as to evade legal remedies," Cole said. This settlement "gives me hope that big tech is starting to take these issues more seriously," he said.
William Kerr, a business administration professor at Harvard Business School and co-director of Harvard's Managing the Future of Work initiative, said, generally, these types of court interventions "are as effective as top management wants them to be."
In some settings, "the programs are purely for show and have no material consequence," Kerr said. And in other settings, "when coupled with strong management determination, they can be a sizable lever for change," he said.
An organization like Google can accomplish virtually anything if it really wants to.

William KerrBusiness administration professor at Harvard Business School
The firm's future outcomes as well as released data on key metrics "will show how serious" the firm is about the issue, Kerr said. "An organization like Google can accomplish virtually anything if it really wants to," he said.
Patrick Button, an assistant professor of economics at Tulane University, and a researcher on age discrimination, said he can see the settlement helping to somewhat remedy the age discrimination problem. It may "reduce ageism by creating an awareness of sensitivity around ageism and age discrimination," he said.
"Ageism is pretty widespread, and a lot of people don't realize that it's harmful and illegal," Button said. "I don't think these changes will make a big dent in the problem, but changing workplace attitudes and practices may help."
In an email, a Google spokeswoman pointed out, as noted in a motion approving the settlement, that the firm denies and continues to dispute that it intentionally discriminated against the plaintiff in the case and others who joined it. The firm said that it does not discriminate against applicants on any basis.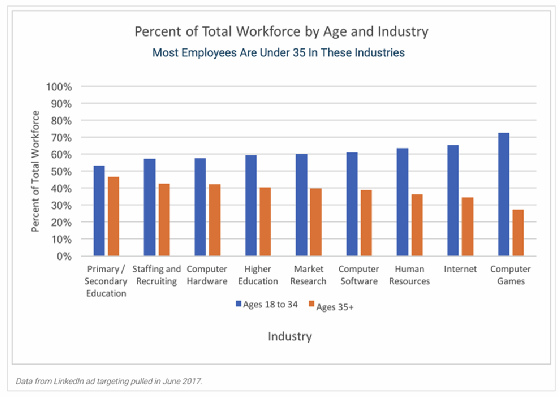 Google is not alone
The age discrimination issue continues to be battled in court by other firms.
IBM is fighting an age discrimination case alleging it favors Millennial-aged workers over older workers. It was filed last year by a 60-year-old IBM employee who was laid off. One of the people deposed in this case is a former IBM HR executive.
In court papers filed July 30, IBM lawsuit plaintiff Jonathan Langley reported: "IBM has laid off 50,000 to 100,000 employees in the last several years, which is proof of IBM's efforts to cast off a large portion of its workforce very recently." This is allegedly based on a deposition by Alan Wild, a former vice president of HR at IBM. IBM disputes the claim and said it does not reflect what Wild actually said.
The claim that IBM has had up to 100,000 layoffs in recent years became a headline last week. On Friday, IBM quickly responded in court papers, accusing its opponents of "abusive gamesmanship" in an attempt "to litigate the case in the media."
IBM countered that the plaintiff's used the 50,000 to 100,000 figure "to create the misimpression that IBM had engaged in a very recent, large-scale restructuring of its workforce." IBM said what happened is different.
In the Wild deposition, the plaintiff's attorneys asked Wild "how many people he would estimate had been laid off in resource actions in the eight years [2011-2018] that he had been at IBM. Wild initially responded that he did not know. When pressed, he agreed that it was 'probably' somewhere between 50,000 and 100,000 over the eight-year period, which is on average 3% of IBM's workforce per year," wrote IBM's attorneys.
According to his LinkedIn profile, Wild has left IBM. His deposition is sealed.
The plaintiff's initial brief also appeared to quote Wild as saying that "IBM set out to slough off large portions of its older workforce using rolling layoffs over the course of several years." This sentence began with only a single quotation mark, which was removed in the corrected brief. The statement was meant to be a deduction and not a direct quote, but it was treated as such in news reports -- to IBM's ire.
Langley's attorneys made no changes in the assertions that the 50,000 to 100,000 layoffs happened in the last several years. The plaintiff's attorneys have accused IBM of keeping them from obtaining documents necessary to prove his case.
IBM's workforce is about 350,000, according to its 2018 annual report. It was 366,000 in 2017, and 380,000 in 2016.
The IBM lawsuit points out that approximately half of its workforce is comprised of Millennials, but this latter point is based on an online interview between IBM's CEO Ginni Rometty and CNBC's Jim Cramer. Neither IBM nor the plaintiff's attorneys commented.