AI in HR recruitment targets high-demand technology talent
As demand for technology talent persists, even during pandemic times, AI, chatbots and machine learning play an increasingly critical role in hiring choosy candidates.
Even when the economy stalls and business conditions slow down, technology professionals are still in high demand, making the use of AI in HR recruitment processes all the more critical in hiring the best talent and edging out the competition.
The skills needed to design, develop and support video streaming, IoT and enterprise software are constantly evolving to meet the ever-changing challenges of technology and demands of customers. "Everything runs off software. Everything we do," said William Tincup, president of talent acquisition website RecruitingDaily.
Even as the COVID-19 pandemic took hold during the first quarter of 2020, job postings for technology roles expanded compared to the same period in 2019. Postings for software developers rose 36%; DevOps engineers, 39%; and database administrators, 21%, according to the tech-focused job board Dice.
"It's still a very intense war for talent for anything that has to do with software," Tincup noted. "If you interact with software, you won't even notice that there's a recession."
In fact, the pipeline of technology talent continues to lag behind demand. For every cybersecurity opening, for example, just 2.3 employed cybersecurity professionals are available to recruit, reported Burning Glass Technologies, a labor analytics software company. That compares to 5.8 available workers for each opening across the country.
Who's interviewing whom?
With qualified candidates in such short supply, talent acquisition has become a pressing, strategic concern for practically every organization that relies on technology. But recruiters in pursuit of technology professionals face challenges beyond the limited talent pool.
When considering a job, tech candidates want to know details of the day-to-day work they'll be doing as well as their proposed salary, benefits package and the nuances of corporate culture. And because they understand technology, they're likely to judge potential employers by how well recruiters use technology to make the entire hiring process simple, personalized and convenient.
Advanced AI in recruitment technologies, including chatbots and machine learning, must not only help recruiters identify the best-matching candidates, but they also must help employers connect with technology pros in ways that are personalized, simple and responsive.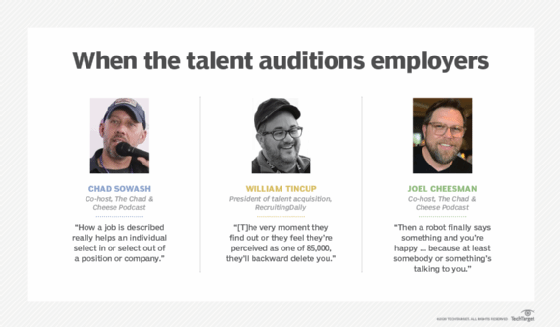 Treating recruits like customers
When recruiters communicate quickly and personally on the candidate's medium of choice, they're able to build a stronger relationship. Effective AI in HR recruitment technologies allows them to connect with more candidates in more targeted ways, said Chad Sowash, an industry consultant and co-host of The Chad & Cheese Podcast: HR's Most Dangerous Podcast, which covers recruiting issues.
Technology allows recruiters to tailor their approach so they can interact with some candidates by text and others through email, whichever the job seeker prefers, Sowash added. At the same time, employers can scale their efforts to identify and reach out to the best candidates more quickly. Speed is important, Sowash noted, because employers who don't proceed quickly from screening to interview to offer run a real chance of losing prospects to a competing employer.
Among the most visible AI in HR recruitment tools adopted in this area are chatbots, which essentially provide answers to frequently asked questions or gather basic candidate information without requiring the intervention of a live person. Chatbots are effective for several reasons, said Joel Cheesman, co-host of Chad & Cheese. On the front end, they're simple to use and convenient. On the back end, they bridge the gap between accessing job postings and applying for jobs through mobile devices, also known as "mobile apply."
Despite growing mobile use over the last decade, the process of mobile apply has been painful, Cheesman said. Chatbots smooth the process by allowing candidates to message the company or a recruiter with their questions or provide basic information like name and phone number.
Chatbots also can help alleviate the frustration of candidates who submit their résumé and follow up with emails but receive no acknowledgement from the employer. "Then a robot finally says something and you're happy, even though you know it's a robot, because at least somebody or something's talking to you," Cheesman reasoned.
Talent acquisition and the COVID-19 effect
The COVID-19 pandemic will shift the talent acquisition landscape in less-than-obvious ways, recruiters believe.
Some changes will be less dramatic than others. The workforce, for example, will continue to communicate, collaborate and maintain their cultures but "in a different light" as they become more distributed, Tincup said. "That's going to impact all tech companies, including those that maybe didn't think of virtual [work] as an option," he added.
Amazon, Tincup noted, is loosening up its once-strict work-on-site policies, which widens the available pool of candidates to those living in far-flung locations or requiring flexible work arrangements.
The lineup of recruiting technologies will likely change as well. Crises like the pandemic are "akin to an asteroid hitting the planet when dinosaurs roamed the earth," Cheesman said. Before the recession of 2008, recruiting companies like CareerBuilder, Monster and Kenexa ruled the industry. The economic downturn created a foothold for firms such as Indeed, Glassdoor and smaller applicant tracking system vendors like iCIMS and Jobvite. "I fully expect this [transition] to be very similar," Cheesman said.
He also said he expects to see a surge in recruiting automation. Employers who are currently undecided about technologies like chatbots and programmatic advertising, he explained, will realize that "this is their opportunity to replace the people who were doing the recruiting."
Target, tailor, personalize
Using AI in HR recruitment can help structure engagements with individual candidates. As they weigh a new job, tech candidates want to know what they're getting into, so employers need to paint a detailed picture of the job, its challenges and its purpose, Tincup said: "It becomes an interesting conversation at the very beginning. 'Are you even interested in this? If you're not, that's okay. I'll have some stuff down the road that might fit you better.'"
That means it's important to provide candidates with quality, tailored information, Sowash said. "How a job is described really helps an individual select in or select out of a position or company," he explained. "We have to understand the type of information that we're providing so that somebody can actually look at a job posting that's not a technical document and say, 'Oh yeah. I'm good for this,' or 'I'm not good for this.'"
Because they're in high demand, tech professionals are often inundated with recruiting messages. Too many messages can potentially turn them off to a company's brand or overshadow a particular message of interest to them. Communicating en masse with tech candidates doesn't work, Tincup said, "because the very moment they find out or they feel they're perceived as one of 85,000, they'll backward delete you." Tech recruiting is akin to "big game hunting," he added. "It's all highlight personalized. It's not a game of sending an email campaign."
To establish a strong connection, recruiters have to be "super flexible," Tincup advised. "[Y]ou have to learn as a recruiter to meet [job candidates] where they are. If they want to talk on the phone, you talk on the phone. If they want to text, you text. If they want to use chatbots, you go that route. If they want to talk after hours, you talk after hours."