HR chatbots take on recruitment, benefits tasks
HR chatbots are taking on straightforward administrative tasks in recruitment and benefits. And that could be a good thing for HR managers.
Chatbots are practically a given for online retail, but they're also starting to make their way into a less obvious space -- the HR department.
HR chatbots, which can run the gamut in sophistication from static to dynamic interfaces, are being deployed to handle basic recruiting tasks and answer simple benefits questions. The motivation for use of the technology is also basic: HR departments want efficiency.
But HR managers who want to invest in the technology should approach the decision with caution. Like with other technology investments, shiny new objects don't automatically solve business problems. They should also be prepared to manage employee expectations.
HR chatbot is newest recruiter
For Zurich-based The Adecco Group, the largest temporary staffing firm in the world, HR chatbots came into focus as a way to automate administrative tasks for recruiters, who spend a lot of time filtering through candidates and matching qualifications to specific jobs.
Angie College, senior vice president of operations for the general staffing group in Adecco's North America branch, saw chatbots as a way to enable recruiters to spend more time building relationships with job candidates, which the company felt was crucial, as well as speed up the filtering process.
"It's a very tight market," College said. "There are more jobs than applicants. So, getting to those applicants quicker and identifying where they best fit is critical right now for everyone."
After someone applies for a job, a chatbot -- in Adecco's case, Mya from Mya Systems Inc. -- immediately engages with the candidate. Mya conducts a prescreening, asking client-specific "knockout questions," according to College. If a candidate doesn't complete the process, Mya can notify a recruiter to follow up. If the candidate appears to be a good fit for the position, Mya will schedule an in-person interview and add the appointment directly onto the recruiter's calendar.
"To the recruiter, it's very seamless," College said. "The chatbot conversation is stored so that the recruiter can quickly go back, look at the conversation and prepare for the interview."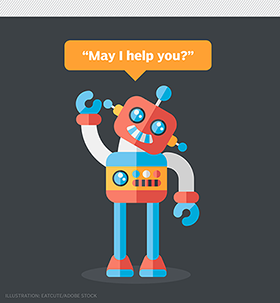 Integrating an HR chatbot, also known as a conversational AI platform, such as Mya, into front-end systems to achieve the kind of seamlessness College was after meant partnering closely with Adecco's IT department.
"We wanted to make the recruiters as efficient as possible, allowing them to focus on where we think they benefit our business most," she said. "We worked heavily with our IT department, as we had to build out APIs and figure out how to streamline those conversations into the desk."
Recruitment is the most mature area for HR chatbots, according to Helen Poitevin, an analyst at Gartner. The technology, which Gartner predicted will be deployed by 50% of medium-to-large enterprises in some capacity by 2020, can help HR departments respond to new pressures created by online job boards and professional networking sites, where applying is as easy as a click of a button.
"It's a common experience across recruiting functions where [employees] often struggle with an influx of applications that are not relevant for the roles they're trying to fill," Poitevin said.
HR chatbots like Mya act as a first line of interaction, collecting candidate information, prescreening applicants and scheduling interviews. "This is very attractive to many recruiting functions because it doesn't open up any risk around discriminatory practices or fear that you're using algorithms to decide how you recruit," Poitevin said. "They're also using some of these more advanced techniques to bring efficiency to your recruiting operations."
AI hype outpaces chatbot abilities
HR departments, rather than IT executives, are a direct target for technology companies selling HR chatbots, according to Poitevin. That's often a nonissue for IT, because integration with other applications is limited and tends to happen within the HR function alone. "IT might not be involved because this is not a build context," she said. "It's more of a buy [for an] out-of-the-box recruiting chatbot or recruiting chat functionality to support that process."
Some products lie on the smart end of the chatbot spectrum. Mya, for example, uses natural language processing (NLP), a kind of AI designed to understand and respond to human language, to learn conversation as it interacts with candidates. If Mya encounters language it doesn't understand, someone on College's team works with Mya Systems to address the issue.
While the hype around AI drives customers to AI-enabled products, Poitevin warned that hype currently outpaces capability. Other products take the form of an FAQ or script, Poitevin said, but for some recruiters, that might not be a bad thing. "Some of the more scripted ones might help them to have a more chat-based or conversational-based user interface without all of the headaches of training and trying to improve performance," she said.
It's another way of saying that a business case is a better place to start than a technology -- a sentiment echoed by College. "You need to understand your business to understand what to solve for," she said. "Rather than get excited about a piece of technology, where are your gaps? What kind of improvement are you looking for? What kind of ROI?"
Meet Benny, an HR chatbot
HR chatbots haven't been relegated to recruitment alone. At LogMeIn, a cloud-based collaboration software provider, the HR department introduced a chatbot last fall to assist employees through the annual benefits enrollment process in the United States.
Susan Treadway, senior director of HR operations at LogMeIn, said open enrollment is one of the busiest times of year for the Ask HR desk, drowning her staff of four in questions and taking them away from other responsibilities. Using LogMeIn's own Prompt AI chatbot software, Treadway and her team trained "Benny" to be a first point of contact for queries. Anything Benny, which underwent testing before launch, couldn't answer was bumped up to a human on the Ask HR desk.
Treadway described the chatbot as a "tremendous support." Benny, an employee that can work 24/7, successfully answered 75% of employee queries, which enabled Treadway's team "to answer and get to more complex questions faster," she said.
You have to continue to manage expectations about what a chatbot can do.

Susan TreadwaySenior director of HR operations, LogMeIn
Like Mya, Benny, which employees can access through the instant messaging tool Slack, is underpinned by NLP. Although monitored and tweaked on the back end, Benny can also refine its responses based on its interactions.
Integrating Benny into a place where employees spent time naturally was key, according to Jo Deal, chief HR officer at LogMeIn. "Slack is known across LogMeIn as a place to go and find updates," she said. "And our CEO uses it regularly."
Timing of the launch was also critical. LogMeIn launched Benny around open enrollment, when employees naturally turned to HR with questions, and they promoted the tool to employees with encouragement to give Benny a try, according to Deal and Treadway. The internal marketing campaign included T-shirts that read, "Ask Benny!"
"We marketed the heck out of Benny in every communication that we put out on open enrollment, and we used every vehicle possible," Treadway said.
What LogMeIn's HR department didn't expect was the complexity Benny would face. Some employees asked multipart questions too difficult for the chatbot to answer, one even claiming Benny was broken when it couldn't respond. "You have to continue to manage expectations about what a chatbot can do," Treadway said.
But Treadway and Deal said Benny proved more successful than not. They plan to expand the chatbot into other transactional HR areas, such as performance coaching and goal setting.
"In two years' time, I would like to look back and say that Benny is involved in fielding a lot of the questions for all of our big talent events throughout the year," Deal said.
Dig Deeper on Core HR administration technology