Sergey Nivens - Fotolia
SuccessFactors customers to see big Qualtrics impact
SuccessFactors is rethinking its HCM suite as it works to integrate Qualtrics into its applications. But HR managers are concerned about more than 'X' and 'O' data.
LAS VEGAS -- At the SAP SuccessFactors customer conference, SAP's $8 billion Qualtrics acquisition seemed like the tail wagging the dog. Employee experience was such a central theme that SuccessFactors may rebrand HCM as HXM -- Human Experience Management.
It may have been a lot for SuccessFactors customers to take in.
Some SuccessFactors customers are measuring employee experience with deeper analysis of employee behavior, such as time to complete certain tasks. But others, who were not Qualtrics users, were still assessing its capabilities.
What SAP made clear is that Qualtrics is important to the future of SuccessFactors.
Qualtrics "allows us now to really rethink almost every transaction in every application that we're investing in," Greg Tomb, president of SAP SuccessFactors, said at a meeting with press and analysts at SuccessConnect 2019.
Qualtrics sells an "experience management" or XM platform. It captures and measures employee experience (EX), product experience (PX), customer experience (CX) and brand experience (BX). The platform can combine experience data with a company's operational data.
The use of sophisticated employee experience measuring was illustrated by Hernan Garcia, vice president of talent and culture at Tecnológico de Monterrey, a university in Mexico. Garcia's team studies employee experience as well as the efficiency of a process, including the time it takes to complete something.
"We measure both how they feel, how they interact, but also how much time, how many clicks, how many people they need to touch" to complete something, Garcia said during a press and analyst meeting. The school can improve the experience of employees by directly making changes to processes that affect it, he said.
The university was awarded SAP's annual 2019 Klaus Tschira HR Innovation Award on Tuesday, which is named after an SAP co-founder. The university has about 31,000 employees and 160,000 students.
SuccessFactors is delivering some Qualtrics integrations, such as with employee records. It is also building capability to integrate with SAP Analytics Cloud so that companies can include both "X" or experience data and "O" or operational data in their analytics programs, said Amy Wilson, head of products and application engineering at SuccessFactors.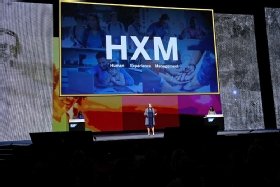 The SuccessFactors and Qualtrics integration work will continue into next year. For now, SuccessFactors and Qualtrics are separate applications, but "seamless," Wilson said. SAP's ultimate plan is to embed Qualtrics into SuccessFactors, she said.
But the employee experience discussion can't just focus on X and O data. It must reconcile with the major workforce changes looming, said Vera Cuevas, a SuccessFactors user and HRIS senior manager at a technology firm she asked not be named.
"There's probably going to be a lot of jobs across a number of different industries that might go away, that might be automated," Cuevas said. "It will be interesting to see how you retain that employee engagement while at the same time you are moving employees in different jobs, or in some cases eliminating industries."
Another attendee, Catrena Hairston, a senior learning professional at a U.S. government agency, said the ability to use both experience and operational data makes sense and may be useful. But she will have to see it in action. "I'm not into vaporware, so I'll have to see if it works with our data," Hairston said.
Dig Deeper on Core HR administration technology