Argus - Fotolia
SAP Sapphire Now to focus on Qualtrics and CXM, not restructuring
SAP is gearing up for its annual conference. Experience management and Qualtrics are sure to be on the agenda, but the vendor's recent layoffs and executive moves likely won't be.
SAP Sapphire Now 2019 promises to be one of the most consequential events in the company's recent history.
In standard fashion, SAP will showcase its latest technology and product advancements at the conference, and it's expected that the customer experience management (CXM) platform, Qualtrics, will be featured prominently.
However, recent corporate restructuring efforts, including layoffs of more than 4,000 employees and changes at the executive level, are raising questions about the company's future direction that need to be addressed, according to some SAP insiders.
As such, this year's show, which takes place in Orlando this month, may be the "most important Sapphire Now for SAP in years," according to Jon Reed, analyst and co-founder of Diginomica.com.
"SAP's significant executive leadership changes mean customers will be looking hard at the leadership on display at the keynotes," Reed said. "I think customers are a bit weary from the succession of big buzzwords and concepts these last few years, from SAP Leonardo to the 'Intelligent Enterprise' to C/4HANA and now 'XO' [experience and operations data]."
SAP does need to talk about the role of Qualtrics, which the company acquired last fall for a reported $8 billion, according to Reed. The acquisition was a bid to integrate its CXM data with SAP's intelligent enterprise transactional applications. Reed is also hoping SAP will clearly explain how customers can benefit from the CX data and applications in the short and long term.
"It's important to note this is the first co-located CX Live event taking place alongside Sapphire Now," Reed said. "I understand interest in this CX event is high, and SAP believes that this reinforces their CX and C/4HANA emphasis, but they still have to get a good, coherent and actionable message across."
While Reed does not believe that SAP will address the restructuring, he thinks the company should.
"SAP should comment on these issues as their global commitment to diversity and an exceptional workplace is one of SAP's greatest strengths," he said. "They need to reconcile those two things and I believe software vendors should be open with their customers about such moves and why they were made."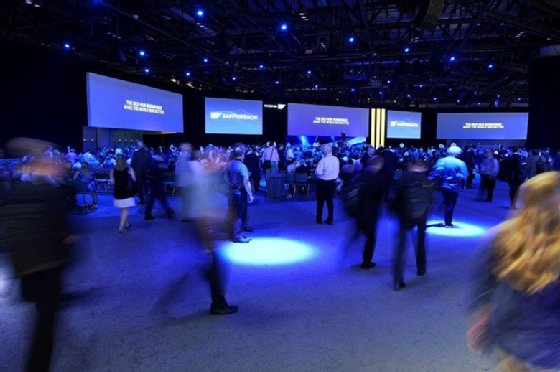 CMX will be everywhere
Qualtrics and CMX will likely dominate the discussion at SAP Sapphire Now, according to Shaun Syvertsen, managing partner at ConvergentIS, a consulting firm based in Calgary, Alberta.
ConvergentIS, an SAP partner, helps customers design and develop mobile applications and has a particular focus on SAP Fiori UX. It's also one to the first companies to go live with S/4HANA.
"For [SAP Sapphire] this year, I'm expecting the [concept of] 'experience matters' and Qualtrics to be everywhere," Syvertsen said. "There will also be some excitement generated around the new, younger [executive] team members at the senior level."
While Qualtrics and CXM may dominate the agenda, SAP's struggle to increase S/4HANA adoption should be addressed, according to Ben McGrail, managing director for the U.K. and Ireland at the SNP Group.
"It's common knowledge that S/4HANA adoption rates are below the expected levels," McGrail said. "At SAP Sapphire this year, I would like to see some communication from SAP on how they intend to address this gap and help ... companies move beyond the standard brownfield and greenfield deployment methods."
For its part, SNP Group, an SAP partner based in Heidelberg, Germany, plans to showcase its "bluefield implementation" approach to help companies move to S/4HANA faster and for less money, McGrail said. A bluefield implementation is an automated software-driven process that bridges the gaps between a greenfield approach, which is an all new implementation that can require reengineering existing processes, and a brownfield approach, which is the migration of an old system to S/4HANA wholesale without taking advantage of the new capabilities.
Experience economy is promising, but more needed
Gavin Quinn, founder of Mindset Consulting in Minneapolis, agreed that the "experience economy" and Qualtrics will get a lot of attention at this year's SAP Sapphire.
However, Quinn, whose firm specializes in SAP design and UX development, also hopes to see more information about C/4HANA, the convergence of S/4HANA Cloud and on-premises S/4HANA, and more clarity on SAP Cloud Platform and SAP Data Hub.
"The C/4HANA announcement felt very much last year like a huge investment, a new UI, and a comprehensive platform," Quinn said. "But when you saw it play out over 2019, it was very much just a rebranding, or repackaging of SAP Cloud for Customer, Gigya, SAP CRM and so on. I'd like to see that it's a real, new consistent platform."
Red Wings Shoes, a Mindset customer, is scheduled to take part in a panel at the Sapphire SAP Global Partner Summit to talk about how Qualtrics is playing a key role in better understanding its customers and helping it to innovate more rapidly, according to Quinn.
However, Quinn said he's also wary of predicting what may happen at SAP Sapphire. "I like to see how the vendor does and then make an assessment," he said.