At Sapphire Now, McDermott targets the experience economy
Experience management was the overriding theme at SAP Sapphire Now, where SAP executives talked Qualtrics, experience data and why feelings matter.
ORLANDO -- In today's experience economy, companies need more than operational data to succeed.
That was the message SAP executives delivered at Sapphire Now, where Qualtrics, the company's newly acquired darling and provider of customer experience management software, was on full display.
The decision to acquire Qualtrics for $8 billion last fall could be critical for SAP going forward as customer experience carves out an economy all its own. The experience economy, as it's dubbed, demands that companies deliver superior customer experience -- and only those that do will win.
In his opening keynote at Sapphire Now, SAP CEO Bill McDermott said that if companies are going to compete in such an economy, they need to align experience data, or what SAP calls X-data, with operational data, or what SAP calls O-data.
"To deliver a good experience, SAP is the richest source of operational data, O-data; but we didn't have experience data, X-data. This is what people are feeling, what they want, what delights or disappoints them -- and feelings matter," McDermott said. "These inputs about customers, employees, products, your brand should be guiding the operational systems of your companies."
SAP's own X-data was "disorganized at best or non-existent at worst," McDermott said, which led him to conclude that SAP needed to have the platform that combines operational data with experience data.
Unknown X data is a problem
Qualtrics CEO Ryan Smith joined McDermott on stage and stressed that in the era of smartphones and social media, customers have never had a better environment to evaluate companies that provide a great experience -- and those that do not.
"Today organizations are disproportionally rewarded when they deliver great experiences," Smith said, "and absolutely punished when they don't."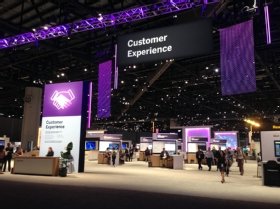 But most organizations don't know where their X-data is and how to manage it.
"[X-data] is everywhere," Smith said. "Teams and departments across the company are all collecting their own X-data and it's not coordinated at all. No one has control and there's no governance or security, and because it's not connected to business operations, it's hard for businesses to close the gaps."
At Sapphire Now, SAP announced ten products designed to combine X-data with O-data and enable businesses to analyze and improve four core business experiences -- customer, employee, products, and brand. The customer experience management (CXM) products enable companies to monitor and analyze the beliefs, emotions and intentions of customers, employees, suppliers and partners, according to SAP.
Four products will focus on customer experience, three on employee experience, and three on market research. They will enable companies to embed X-data directly into enterprise applications such as ERP, CRM and HCM.
XM message substantive but lacks clarity
Sapphire Now's opening keynote was a little more substantive than in some of the previous years, according to Jon Reed, analyst and co-founder of Diginomica.com. Still, SAP and Qualtrics need to do a better job of explaining what experience management (XM) is, he said.
"The problem with all the experience management and intelligent enterprise stuff almost feels like technical cotton candy. It sounds really good, but how do you actually digest it," Reed said. "I think customers are in really different positions when it comes to whether they're going to go that route, and if they go that route, whether they're going to go with SAP or any number of other vendors."
However, Smith's take on the experience economy making or breaking companies was right on, Reed said.
"So much of the message resonates, but how do you present it in such a way that doesn't sound too futuristic or be too buzzword heavy, which is where SAP struggled a little bit today," he said.
Reed also called SAP C/4HANA a work in progress as an integrated product suite.
"There are a number of acquisitions in there that are not all stitched together yet," he said. "So you can't layer experience data on top of a bunch of silos and hope to accomplish anything."
More research on CXM needed
Stephen Guile, SAP development manager for the City of San Diego, had not heard of Qualtrics' XM platform before the keynote, but thought it might provide a way to better understand how the city's SAP applications are used. Guile helps develop applications for the city, which runs several SAP systems, including SAP ECC, SAP SuccessFactors and SAP Ariba.
"It's hard to get the whole thing from a ten minute presentation, but I'd like to do more research on it," Guile said at Sapphire Now. "I think it could give perspective on how users like our applications. Any time you can get the pulse of your end users, you're only going to get better, as long as you listen to what they have to say."
The San Francisco 49ers are an organization that's serious about getting customer experience right. One bad game day experience can drive a fan away for good, according to Moon Javaid, vice president for strategy and analytics for the 49ers. The NFL team built its own customer experience application called Executive Huddle on SAP Leonardo technology.
But Javaid doesn't think the 49ers need Qualtrics in addition to its own customer experience data sources.
"We have a level of customization that we like within our organization and that we're capable of doing, so for me that's not the right solution," he said.
But for organizations that don't have their hands on X-data or the resources to generate and analyze that data, Javaid believes they're in good hands with Qualtrics.
"Surveys are exceptionally important to help your customer experience out, and Qualtrics has the best brand reputation within the industry," he said. "It's not cheap, but the companies that don't have the capabilities in-house are willing to invest in those reports. There's not another survey platform that can do it better than them."