Despite glitches, SAP shines light on intelligent enterprise at Sapphire
Technical troubles marred the start of SAP Sapphire Now Reimagined, but CEO Christian Klein was largely successful in defining the SAP intelligent enterprise, according to experts.
SAP Sapphire Now Reimagined started not with a bang but a whimper.
The virtual conference, which replaced the canceled SAP Sapphire Now due to COVID-19, was billed as the coming out event for recently installed CEO Christian Klein. However, registered users who attempted to log into the opening keynote were met with "page can't be found" or "service unavailable" messages.
After several minutes, the SAP Sapphire Now Reimagined home page login button was replaced with a button directing users to view the keynote address on Twitter's Periscope streaming video service.
Any reasons for the login issues were not disclosed, but SAP addressed the issue with the following statement:
"We profoundly apologize for technical difficulties with this morning's premiere broadcast. Once we encountered the issues, we immediately went live on Twitter and LinkedIn to provide our audiences access. The Sapphire Now Vision keynote will be made available as soon as possible."
The company also sent an email to registered attendees apologizing for the "unexpected technical issues," and included links to the content on Twitter, LinkedIn and YouTube.

Digital transformation no longer an option
In his pre-recorded keynote, Klein presented SAP's vision of the intelligent enterprise as a necessary transformation for companies wading through the current COVID-19 crisis, which has caused economic turmoil around the world. The intelligent enterprise is a data-driven transformation to improve existing processes and develop new business models. Becoming an intelligent enterprise, which generally means adopting cloud-based systems that incorporate modern technologies such as advanced analytics, AI and machine learning, enables companies to be more resilient, profitable and sustainable, Klein said.
"This crisis will affect businesses for months, or probably even years," he said. "The digital transformation [to the intelligent enterprise] is no longer an option, but a must. When we can't interact in person; we are forced to find other ways of doing business. Companies which use innovative technologies were more competitive before the crisis and are more resilient in the crisis."
He focused on the automotive industry as one example that has enormous impact on the global economy but has been ripe for transforming to the intelligent enterprise. This transformation can help the industry deal with the disruption from COVID-19, changing business priorities and changing consumer demand. The auto industry must deal with cratering sales and technical challenges due to global climate change, and the companies that become intelligent enterprises have the best chance at surviving, Klein said.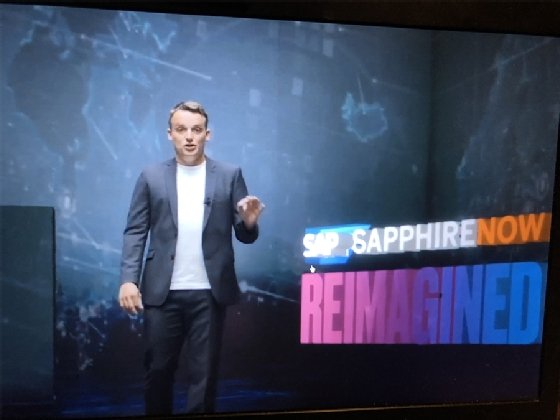 To illustrate this, Lutz Meschke, Porsche AG's deputy chairman and member of the executive board, finance and IT, explained how it has made SAP its digital core, which provides the technology and platforms needed for a digital transformation, to deal with innovation, cost and competitive pressures. Klein showed how the digital core has translated into a new way to serve its customers, walking attendees through an end-to-end personalized experience for purchasing a Porsche, starting with configuring the car, moving through processes for manufacturing, delivery and second life, or what happens to a car and its parts after it has been used.
Sustainability and global climate change have emerged as significant focus areas for SAP, as Klein said that the contributions of enterprises must be accounted for to combat climate change and argued that the technology SAP provides can help reduce the environmental footprint.
"If major industries such as utilities, agriculture and transportation alone were to use digital technology to significantly reduce their carbon output, this could equal the positive impact of 500 billion trees," he said.
An initial stumble, but an effective message
The technical difficulties were a big stumble for SAP, particularly as it tries to transform into a cloud company. They cast a shadow over Sapphire Now regardless of how good the content was, said Paul Saunders, research director at Gartner.
"You could easily dismiss it and say that everyone has technical issues, but this was completely avoidable for a pre-recorded conference," Saunders said. "It's also ammunition for all of SAP's detractors who will use it to bolster their claims that SAP doesn't 'get' cloud."
Nonetheless, the keynote was good, he said, as Klein needed to -- and largely succeeded in -- putting his stamp on SAP after the leadership of longtime CEO Bill McDermott and the quick parting of ways with Jennifer Morgan, who served in her co-CEO role alongside Klein for only six months.
"Klein is very different to McDermott, who wasn't just a salesman, he was a showman," Saunders said. "But a traditional 'Bill McDermott presentation' would not have been fitting in the current climate. Klein needed to come across as knowledgeable, confident, empathetic and human -- and he accomplished that well."
The technical issues were a bad look for a technology company, but there was some good messaging, agreed analyst Jon Reed, co-founder of the enterprise computing news and analysis site Diginomica.com. He described the climate change issue as being nice to hear but said a more timely and direct message about the COVID-19 disruption might have been better.
"I would have liked to hear much more on how SAP is helping companies reopen safely, perhaps from some of its own customers that are doing just that," Reed said. "However, I do like SAP keeping the climate change impact issue going, as it does still matter, and the profitability and sustainability message is a good long-term message for SAP to be putting out there."
Holger Mueller, vice president and principal analyst with Constellation Research, said that some of the messages were important despite the technical issues. In particular, the personalized experience of purchasing a car demonstrated the value of the intelligent enterprise.
"These end-to-end processes are what SAP customers want to see and need, and it was good to see an SAP CEO talk about the complete stack that is needed," Mueller said. "SAP also made it clear that it really is committed to sustainability, which is a good positioning long-term, although short-term it will be overshadowed by the enterprise challenges with COVID-19 restarts and [related] challenges."